MLB.com Columnist
Phil Rogers
Family ties give Aramis good reason to end stellar career
Brewers third baseman ready to move forward following 2015 season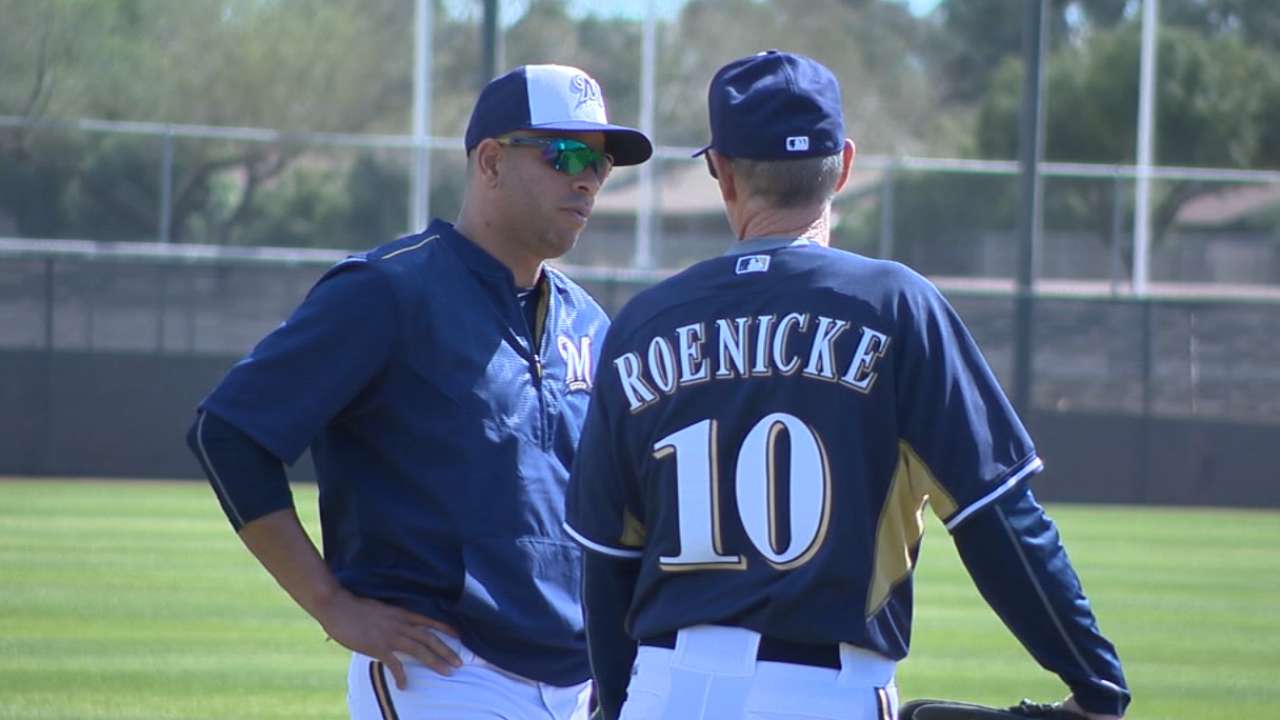 PHOENIX -- All-Star third basemen don't grow on trees, especially not three-time All-Stars.
Then there's Aramis Ramirez. He would have been a four-time All-Star, but declined to make a last-minute trip to Phoenix as a replacement in 2011. He and his family had made plans when he was initially named to Bruce Bochy's team and he didn't feel right breaking them, as much as he would have liked to hang with the game's best players.
That was his crowd, after all.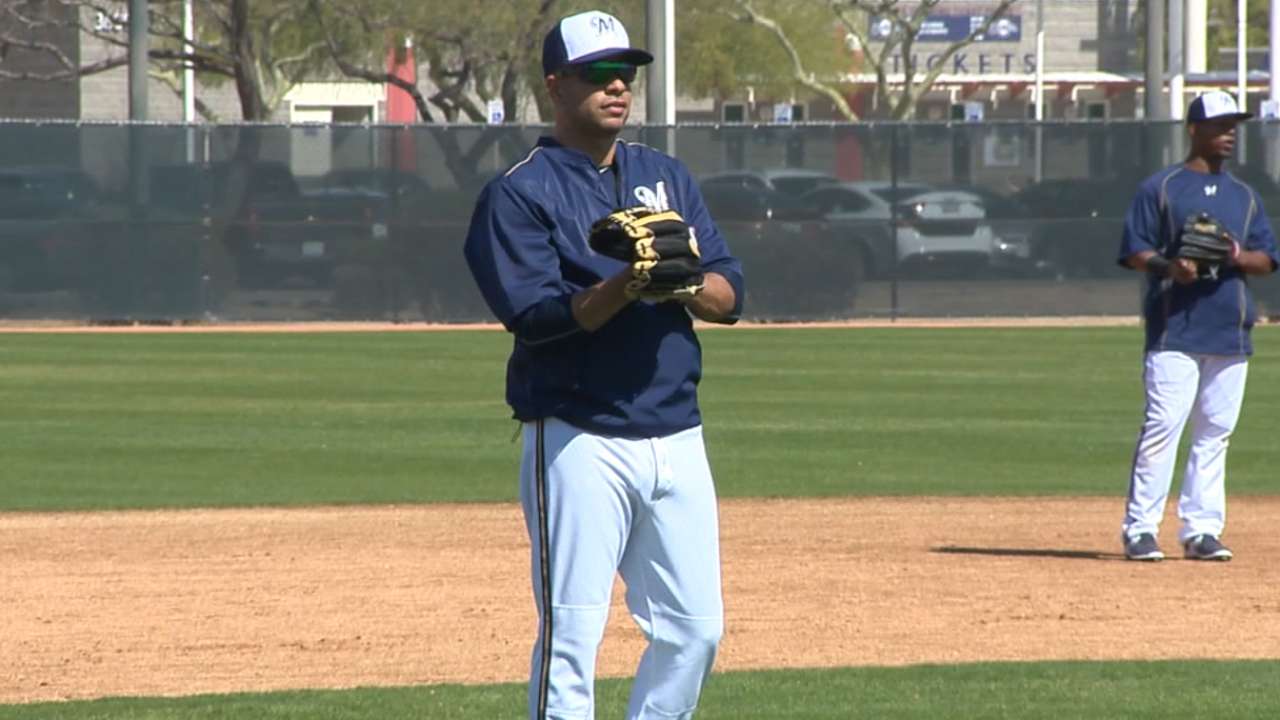 While the Brewers weren't fully prepared for Ramirez's announcement that he plans to retire at the end of the season, they weren't shocked, either.
"I certainly get it," manager Ron Roenicke said. "Talking to him, I certainly understand. … Aramis' family is very important to him. He's had a great career. He's set financially. For him to make a decision on what's best for his family, I think that's great for him."
A lot of guys in Ramirez's situation would try to stretch their career as far as possible, as 17 seasons as a Major League regular have gotten him into Hall of Fame discussions. But it's clear the 36-year-old from the Dominican Republic is prepared to walk away no matter what happens in 2015.
He left himself a tiny bit of wiggle room to change his mind in an interview at the Brewers' Maryvale Baseball Park complex, but none with his 2-year-old daughter, Cristal Marie.
"When I was leaving [home] this year, it was tough," Ramirez said. "I don't think I can do that anymore. I promised my daughter this is the last time I leave her."
Ramirez signed with the Pirates when he was 16 and was traded for the first time at 25. He ended the post-Ron Santo revolving door at third base with the Cubs and has given the Brewers three good years after Theo Epstein came to Chicago, bringing a rebuilding program with him.
"The goal for every Major Leaguer is you want to play 10 years in the big leagues, have a nice career," Ramirez said. "I've been here for 17 years. I think I have a nice career, and I think enough is enough."
Ramirez, who was elected to the National League All-Star team as a starter last season, is a .285 career hitter with 369 home runs and 1,342 RBIs despite injuries that limited him to fewer than 100 games in five seasons. He played 133 last season, but was on the disabled list for a month with a strained hamstring, which caused him to work harder than ever this winter.
He says his goal is to play 140-145 games. Roenicke's goal is to get him up to the plate with the game on the line as often as possible.
Ramirez has a major impact on his teams. The Brewers were 66-67 when he played last season. In the wins, he batted .344 with a .921 OPS. In the losses he hit .224 with a .585 OPS.
When he hit, they won. When he was shut down, they lost.
Last season, Ramirez hit .314 with runners in scoring position. He's a .295 hitter with an .894 OPS with runners in scoring position over his career.
Roenicke played eight Major League seasons, most as a platoon outfielder and pinch-hitter. He says he never really was comfortable hitting in high-pressure situations, and that he played alongside a lot of great hitters who shared that discomfort.
"Aramis is one of the few guys in baseball that seem to pick up his game when you have people in scoring position," Roenicke said. "A lot of people drive in runs. But some guys do it in the second inning and some guys do it when the score is 10-2. Aramis is one of the guys who, when it's on the line and you need a big at-bat, he's one of those guys who seem to pick up his game. The mentality of most guys is, 'There's pressure there.' There are only a few special people in the game that actually do get better and have better at-bats when people are out there and the game's on the line."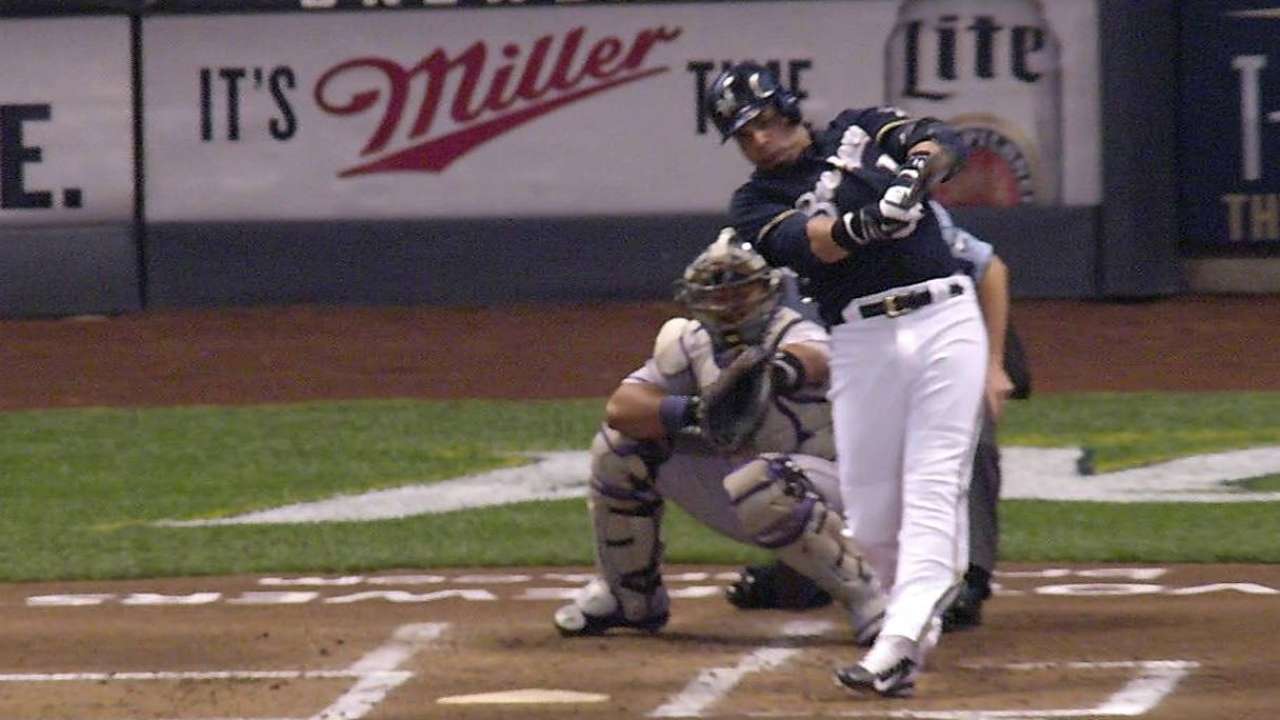 Ramirez says he hasn't tried to put his career into perspective, in part because it's not over.
"That's up to you guys,'' he said. "I think, personally, I did pretty good in my career. I was an everyday player from start to finish. I had some good years."
If you want to be considered a possible Hall of Famer, third base is a good place to play. There are only 16 third basemen in the Hall, and the Baseball Writers' Association of America has elected only three in the last 32 years.
Ramirez enters the discussion largely because he's sixth all-time with 365 home runs while playing third.
"It's kind of hard to stay away from that [talk]," Ramirez said. "My friends back home always talk to me about that, about my numbers. They even pull out Hall of Fame numbers from third basemen and say I have better numbers. I don't pay attention to that. I have one more year here. We'll see what happens after that."
Baseball-reference.com lists Carlos Lee, Scott Rolen, Santo and (for the start of his career) Evan Longoria as similar players to Ramirez. It's Santo, who once broadcast games that Ramirez played, who generates the most conversation among Ramirez's supporters.
"He's the first one they bring up," Ramirez said. "They say I have more homers, more doubles, more RBIs. Whatever. He was a different player. I can't compare myself to him. Everything is different. He's a Hall of Famer, so he's pretty good."
Based on formulas like WAR, Ramirez's career doesn't hold up to Santo and other Hall of Famers. But there's no doubting he was pretty good too.
Barring a dramatic ending with the Brewers or a team trading for him at mid-season, his career will end with the same missing piece as Santo -- a World Series ring. He was just about as close as you can get without going to the Series in 2003.
Ramirez had a good view of Cubs teammate Moises Alou trying to grab Luis Castillo's slicing foul into the left-field bleachers at Wrigley Field in Game 6 of the 2003 NLCS. So would he have caught it if not for Steve Bartman's infamous interference?
"I think so," Ramirez said. "If he hadn't got in the way, he had a play. But that doesn't mean we were going to win it. We would probably have advanced to the World Series, but we have one more game to go."
Ramirez admitted that the play comes up all the time when he and Alou get together, but said they don't blame Bartman.
"The ball was in the stands," Ramirez said. "Any other fans that sit in that seat were going to reach for the ball. The ball was in the stands. … Maybe they would have gotten seven straight hits [after that play]. You just never know. In baseball you just never know what's going to happen. There's no guarantee. If he had made that play, we might not have won anyway. It was only a 3-0 game. You never know what's going to happen."
Maybe Ramirez and the Brewers can make some magic in his last season.
Phil Rogers is a columnist for MLB.com. This story was not subject to the approval of Major League Baseball or its clubs.