Tabata alters swing to get lift on the baseball
Pirates outfielder discussed changing hitting approach with former teammate Byrd
BRADENTON, Fla. -- Jose Tabata put on a show during batting practice at Pirate City on Friday, the shouts and cheers of his teammates heard among the loud bangs of several home run-distance shots crashing into the roof over the batting cages and clubhouse beyond the high left-field fence.
As it turns out, Tabata spoke with a former teammate to tweak his swing this offseason -- and not just so he could put a few dents in the Pirate City roof, either.
The Pirates recommended that Tabata, 26, reach out to Reds outfielder Marlon Byrd to talk about trying out a new approach. A few years ago, Byrd redesigned his swing to provide more leverage and loft, and the Pirates wanted Tabata to take a similar step.
"He's worked very hard with that throughout the winter," Pirates manager Clint Hurdle said. "I think the reps are just giving him a better feel for it. He's shown a liking for it and understands the reason why we're asking for it."
The reasons are obvious when looking at Tabata's performance. The outfielder has hit only 17 home runs in 482 games in the Majors, none of them in his 186 plate appearances last season. Despite a career .275 batting average, his slugging percentage is just .379.
Tabata's swing used to slice down as his bat moved through the zone, driving the ball into the ground. The end result was that nearly 60 percent of the balls Tabata put in play were grounders. The Major League average last year was 44.8 percent.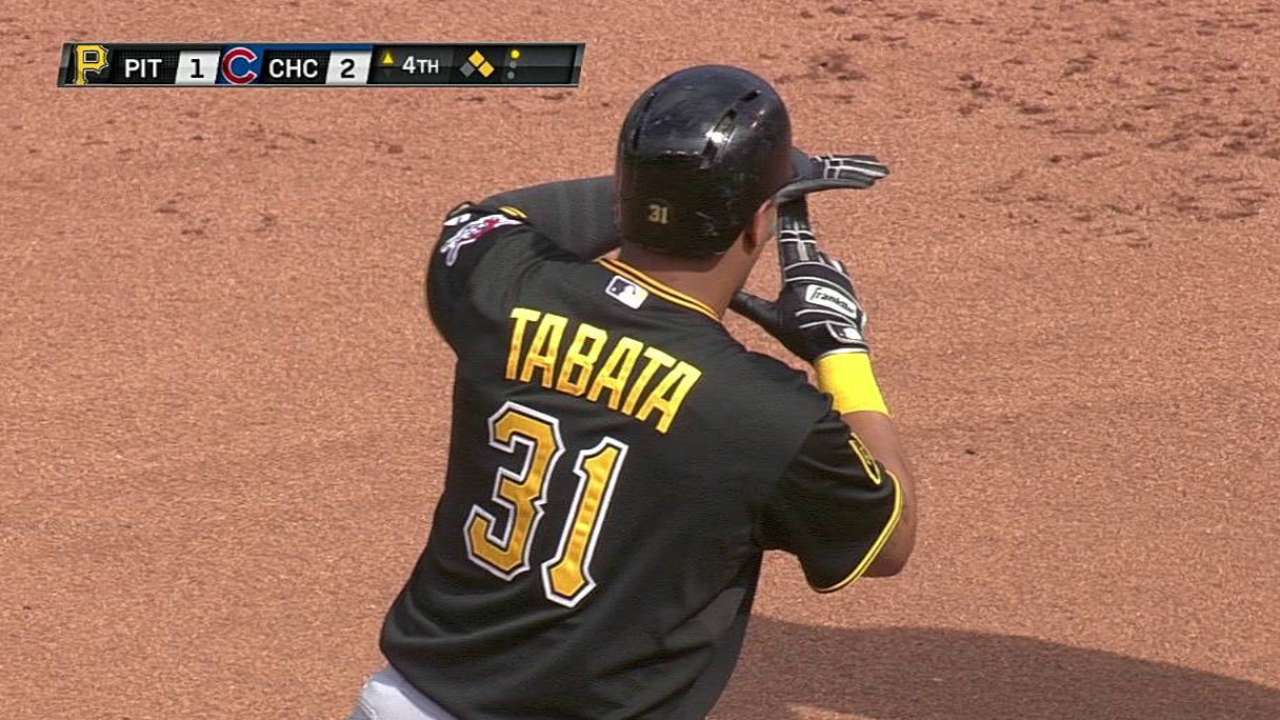 Pittsburgh doesn't want to see Tabata turn into an upper-cutting hacker at the plate, but he's more likely to be productive if he's hitting more line drives and deep fly balls.
"It's something that takes time. He's getting his reps in the cage," Hurdle said. "We just think there's a little bit more there, and why not at this point in time see if he can incorporate that in his game as well?"
Tabata is coming off a disappointing year in which the Pirates outrighted him to the Minors and designated him for assignment. He still has two more guaranteed years and $8.5 million remaining on his six-year contract extension.
But Hurdle spoke highly of the way Tabata handled himself this offseason, starting with his willingness to change his swing, but also for his attitude. The former top prospect reported to camp a few pounds lighter and has improved his agility, Hurdle added.
"Nobody's got a contract that lasts forever. He's still at an age-appropriate time where there's more in front of him. He's hungry," Hurdle said. "He wants to play. He wants to contribute. He wants to find that game that he had a couple years ago.
"I believe he's come in hungry. It's the best shape he's come in, the best focus he's had. That doesn't mean it was ever bad before. There just comes a time where you get a little bit hungrier, you get painted in a corner in a little different way, you know there's a little bit more fight on your hands."
Adam Berry is a reporter for MLB.com. Follow him on Twitter at @adamdberry. This story was not subject to the approval of Major League Baseball or its clubs.