Bautista excited about additions to clubhouse
All-Star outfielder has high expectations after a busy offseason for Toronto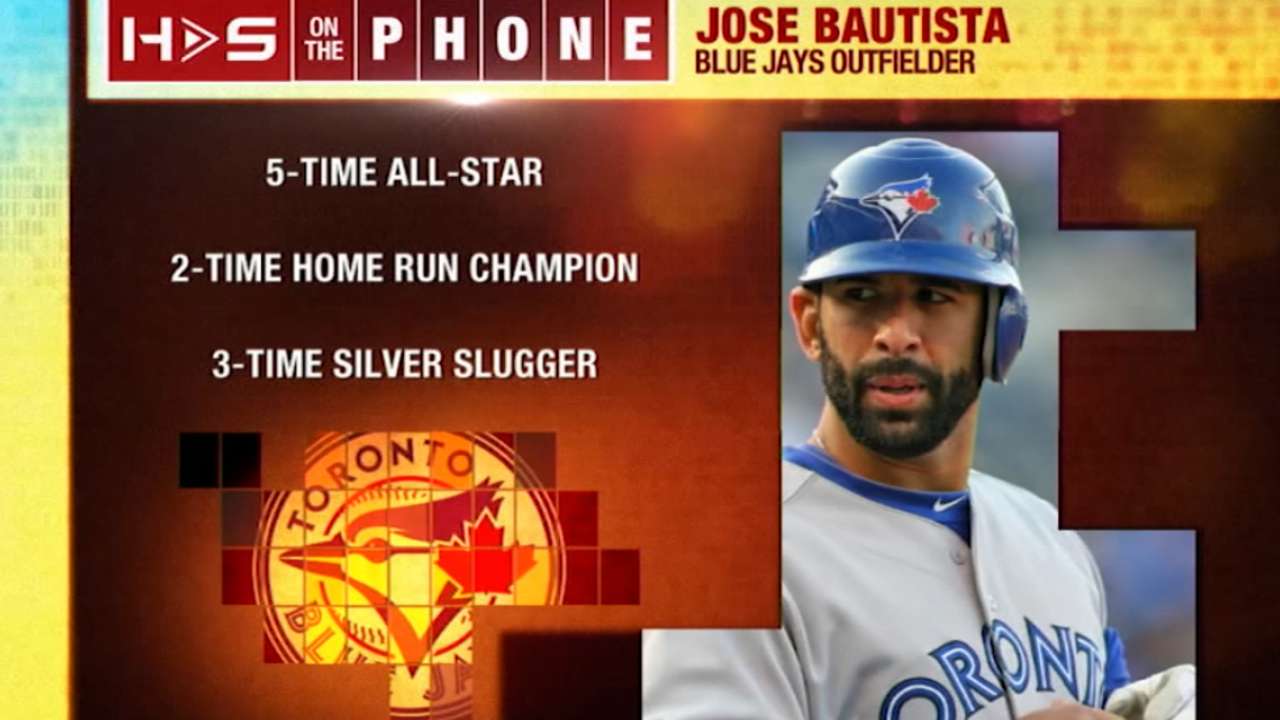 DUNEDIN, Fla. -- Jose Bautista gave a ringing endorsement to the additions Toronto made during the offseason on Friday afternoon. He suggested that the incoming players are "maybe an uptick or two more competitive than some guys who have been here in the past."
Bautista's comments came on the day the Blue Jays officially opened camp with their first full-squad workout. Grapefruit League games are scheduled to begin on Tuesday, and by the sounds of it, Bautista is expecting big things following the offseason additions of Josh Donaldson and Russell Martin.
The 11-year veteran didn't want to get into specifics about which departing players he was talking about, but he does believe there's an added benefit to having guys who approach the game with visible passion.
"It's huge because you know people aren't complacent with losing," Bautista said. "You walk around after a loss of a crucial game, or a bad beating that you took, and sometimes you see people and you don't know what they're thinking. I'd rather at least know.
"I can't say that I can read minds and I can't say that I thought that guy didn't care but if I don't know, it makes me think. I look at you, we got our butts handed to us 10-0, or 9-1, I'd rather be able to see in your body language or your facial expressions and know that you are upset that we got our butts kicked. Some people in the past, I can't say that was there."
One person who won't be accused of playing without much passion is former infielder Brett Lawrie, who was dealt to Oakland during the offseason for Donaldson.
It wasn't immediately clear if Bautista was referring specifically to former Blue Jays outfielder Colby Rasmus or possibly even Adam Lind. The former designated hitter has a notoriously laid-back approach and recently expressed dissatisfaction with the organization's medical staff after he played for almost a month on a broken right foot in 2014 without an official diagnosis.
Bautista's message on Friday afternoon was that he expected a different type of attitude from the Blue Jays this season. That won't guarantee any additional wins but there is genuine excitement that Toronto might be able to take the next step.
"Time will tell, but we have great guys," Bautista said. "We had great guys before. It's hard to knock on any of your teammates, current or past. Everybody comes in here trying to do their job. Everybody's situation is different, so people's feelings vary from guy to guy. But I feel like we jelled together well last year, and I feel like we're going to be even better this year. We have a common goal, and that's to win."
Gregor Chisholm is a reporter for MLB.com. Read his blog, North of the Border, and follow him on Twitter @gregorMLB. This story was not subject to the approval of Major League Baseball or its clubs.