A-Rod gets reps at first base, preps for transition
Former Gold Glove Award winner has 'good tutor' in Teixeira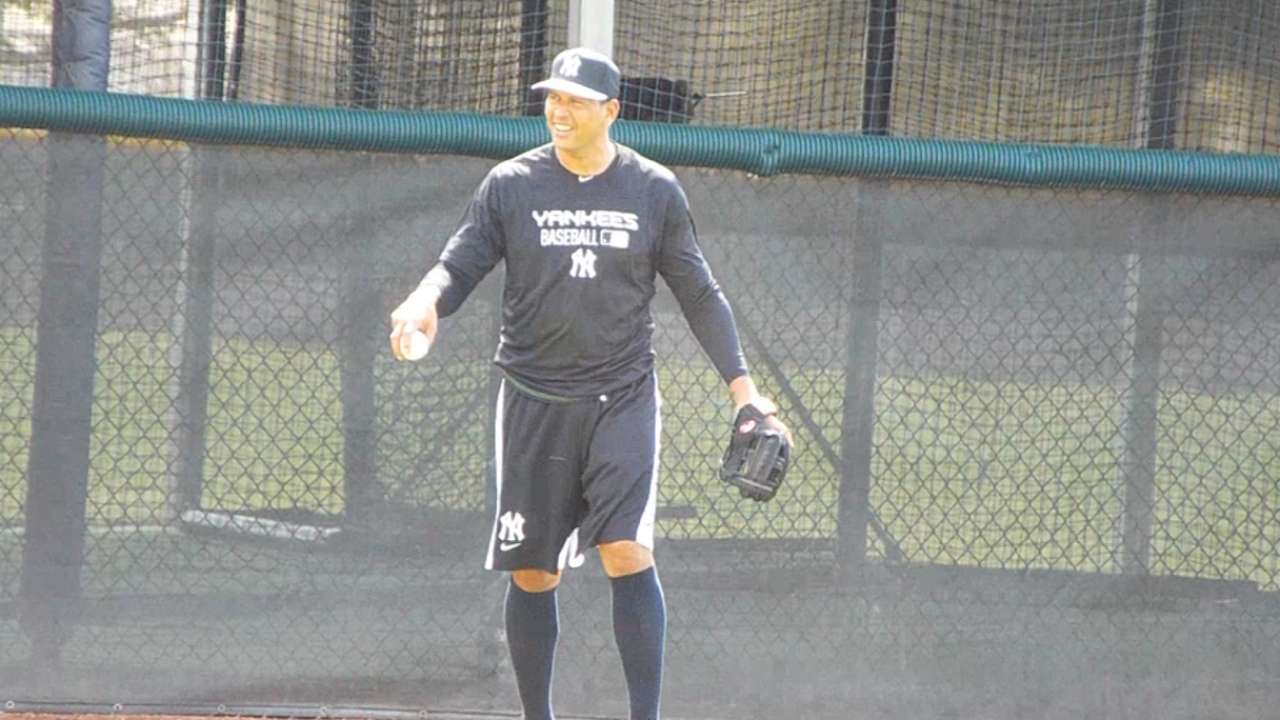 TAMPA, Fla. -- Alex Rodriguez gave first base a whirl for the first time on Friday, fielding grounders and receiving throws on a training field behind the third-base seats of George M. Steinbrenner Field.
Rodriguez said that he is "anxious to learn" more about the position, as the Yankees are evaluating to see if he can be a serviceable backup for Mark Teixeira. Rodriguez briefly took reps alongside Teixeira and Kyle Roller, then returned to third base.
"It was fun. Any time I'm on the field, I'm just happy," Rodriguez said. "But I've got a good tutor in Tex."
Rodriguez said that he grew up watching Keith Hernandez play All-Star defense for the Mets, and he noted that he has been fortunate to play alongside excellent first basemen like Teixeira and John Olerud. He isn't expecting to list himself among that company any time soon.
"I'm going to do the best I can, so I don't know," Rodriguez said. "Because I've never done it, we'll keep talking throughout."
Though Rodriguez was receptive to manager Joe Girardi's suggestion, saying that he is game for "whatever Joe needs," he acknowledged that there is a chance he will slip up from time to time.
"I think he's trying to learn," Girardi said. "I think he was paying attention and trying to learn. He's never taken balls over there, he's never seen what a bunt defense looks like from over there, and that's going to take some time."
Eric Chavez made a similar transition late in his career, playing 13 games at first base for the Yankees in 2011-12. Now a special assistant to general manager Brian Cashman, Chavez said that his biggest difficulty was in adjusting to the different leather.
"I never got comfortable with the first base glove," Chavez said. "For some reason, it kind of threw my timing off, but he's so athletic. If you can play shortstop, you can play any position on the field. As long as he's comfortable with that glove, I don't see it being any problem whatsoever."
Rodriguez's first baseman's glove is still being broken in -- it was briefly misplaced on Friday, only to be discovered atop another player's locker -- but scooping probably won't be his biggest challenge. Chavez said that there are mental demands that can be ironed out by repetition.
"There'd be some times where the ball would be hit and you'd be like, 'Oh, I've got to get to first,'" Chavez said. "You don't want to be showing up late. You've got to get there early and give them a good target.
"There were a few times where there was a runner on first and I forgot to go and cover. I forget who the opposing coach was, but he helped me out. He was like, 'Hey, psst, there's a runner on first.' It's just new. You need to get those reps."
Rodriguez's transition could be eased by the fact that he already made one major position change successfully in his career, leaving shortstop for third base when he was acquired by the Yankees in 2004.
"Everything was hard about that," Rodriguez said. "That was really difficult. I wasn't very good at the beginning, but Graig [Nettles] helped out a lot, I talked to [Robin] Ventura and just did tons of early work."
Bryan Hoch is a reporter for MLB.com. Follow him on Twitter @bryanhoch and read his MLBlog, Bombers Beat. This story was not subject to the approval of Major League Baseball or its clubs.