Plesac impressed with pitchers in Phils camp
MLB Network analyst serves as guest instructor, likes what he sees from Biddle
CLEARWATER, Fla. -- The last time Dan Plesac wore a baseball uniform he threw the final pitch for the Phillies at Veterans Stadium on Sept. 28, 2003.
He pulled on a uniform again this week at Bright House Field, where he worked with the Phillies as a guest instructor. Plesac, 53, still looks like he could strike out a hitter or two -- he posted a 2.70 ERA and averaged 10 strikeouts per nine innings in 58 appearances in his final season in 2003 -- but he came to camp to observe, coach and just get back on the field again.
"If they want me back, I'll crawl back," Plesac said of the experience, which ended Friday. "This has been a lot of fun."
Every team in the big leagues has a host of guest instructors in Spring Training. Some are more involved than others. Some show up, put on the uniform and hang in the outfield. Many more, like Plesac, come to work.
Plesac, an MLB Network analyst, sat in his hotel room Wednesday night searching on his iPad for video of Phillies left-hander Jesse Biddle, the club's No. 7 prospect who had a bullpen session scheduled Thursday. He found Biddle's appearance in the 2013 All-Star Futures Game at Citi Field in New York.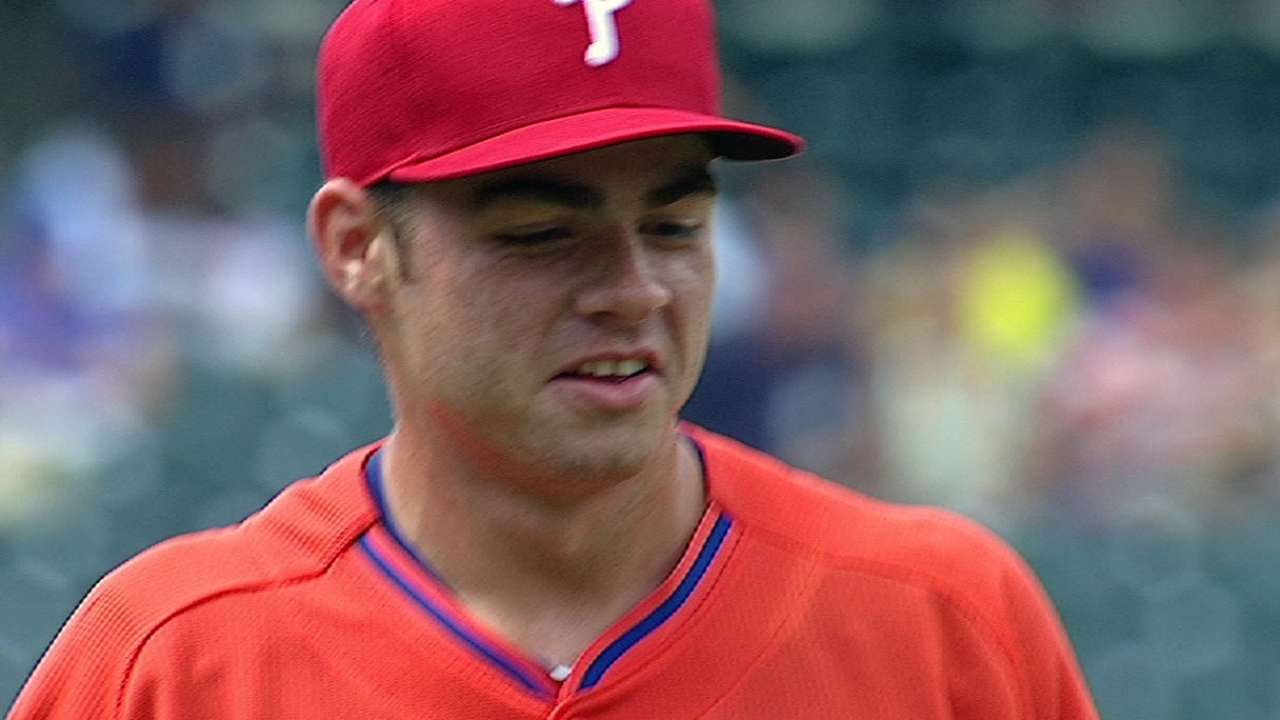 He wanted to get a feel for Biddle's mechanics and repertoire.
"Boy, was he impressive," Plesac said. "Really, really impressive. I've only seen him throw twice on the side. He could pitch for 15 more years and I don't think he's going to throw a better bullpen than the one he threw Thursday. I did this for a living, so I'm living and dying with every pitch he threw. I was like, 'Can he keep this up?' He had everything. Fastball command, great curveball, good slider, his changeup was good. He just really had a good side. Now what does that mean? I don't know, but I know he is a young pitcher the Phillies have a lot of hopes for and I can see why now."
Plesac left camp impressed with two of the Phillies' younger pitchers: Biddle and right-hander Nefi Ogando, who the Phillies acquired from the Red Sox in 2013 for John McDonald. Plesac also got to see up close why Cole Hamels and Cliff Lee are so good.
"I miss the field," said Plesac, whose 1,064 games rank seventh among pitchers in MLB history. "You get so far removed from it in the studio. It's so nice to stand and watch Cole and Cliff throw a bullpen. To actually see what makes these guys go -- I think the thing that I've been most impressed with is I had no idea the quality and quantity of arms in this camp. That's what shocked me.
"I thought about it this morning. It's made me realize how hard it is to do this. You forget when you get out [of the game], because when you get out, the fish get bigger, right? The bear gets bigger. It made me realize, just watching Biddle and Ogando and Lee and Hamels on the side, it took me back. You get excited. It was fun to get back into that -- going to the ballpark with a purpose."
Todd Zolecki is a reporter for MLB.com. This story was not subject to the approval of Major League Baseball or its clubs.