Orioles get loud during camp -- literally
Pumped-in crowd noise during fielding drill raises complaint from neighborhood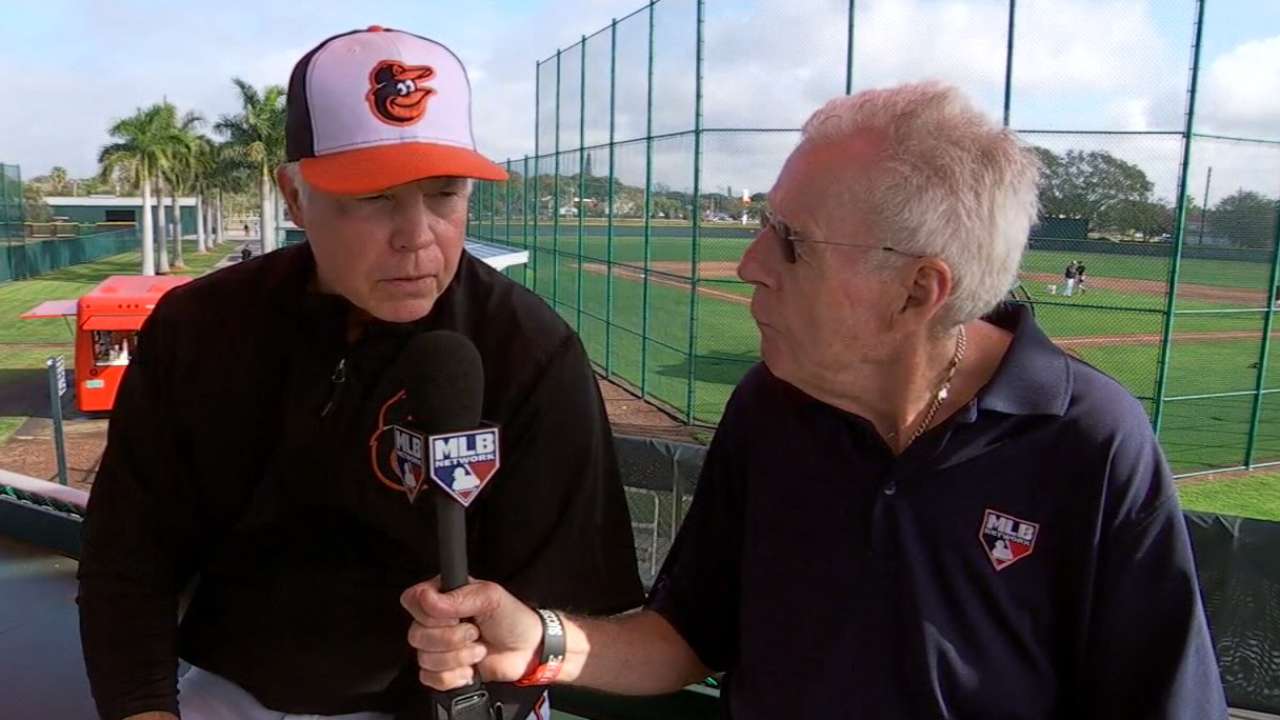 SARASOTA, Fla. -- Orioles manager Buck Showalter put a new wrinkle on an old drill on Friday, pumping in crowd noise from last year's postseason as infielders practiced catching pop flies on the main field of Ed Smith Stadium.
"No, I've never heard of a baseball manager doing that before," said Dan Duquette, the Orioles' president of baseball operations, about the NFL-style drill. "I like the idea. It creates the expectation that we'll be playing in October."
Actually, the crowd noise, played on a loop, was the response to Delmon Young's eighth-inning bases-loaded double in last October's Game 2 of the American League Division Series. The hit riled up the crowd at Camden Yards and gave the Orioles a late-game lead over the Tigers they didn't surrender. Baltimore went on to sweep the best-of-five series.
"I've never done it anywhere. It's a great drill," said Orioles shortstop J.J. Hardy, who took popups during the short session. "I think it was louder than any stadium I've been in. I think it was louder than the playoffs. I know it was from the playoffs. They can turn the speakers up louder than people."
What you're hearing is simulated crowd noise during fielding drills. #Loud #OrangeSpring https://t.co/cLQWOSrNTs

- Baltimore Orioles (@Orioles) February 27, 2015
The booming noise was so loud it brought in a complaint from a resident in the neighborhood, who called the switchboard at the Orioles' complex and threatened to dial up the police. Since the complex is manned by deputies of the Sarasota Sheriff's Office, the person was told that the complaint would be handled by the Orioles. A spokesperson for the Sheriff's Office confirmed that dispatch had not received a complaint about the noise.
"We got a complaint about a noise ordinance. I didn't know there was a noise ordinance," Showalter said. "Maybe it's somebody who works at night. We should do it at night, before a night game. I was hoping it would excite the neighborhood and we'd get a few more people at the games. Maybe we should use it for [Sunday's] intrasquad game."
About the drill itself, Showalter explained: "I always wanted to do that. When you work on pop flies, it's one of the down periods you go through. We try to simulate as many realistic things as we can. There are only so many things you can do on the backfields. The reality is, that's not the way it happens during the season. You can't hear. The crowd noise gets louder as two guys are converging on it."
Barry M. Bloom is a national reporter for MLB.com and writes an MLBlog, Boomskie on Baseball. Follow @boomskie on Twitter. This story was not subject to the approval of Major League Baseball or its clubs.