Manfred: Statcast greatly expanding in 2015
Groundbreaking technology will be available in all 30 parks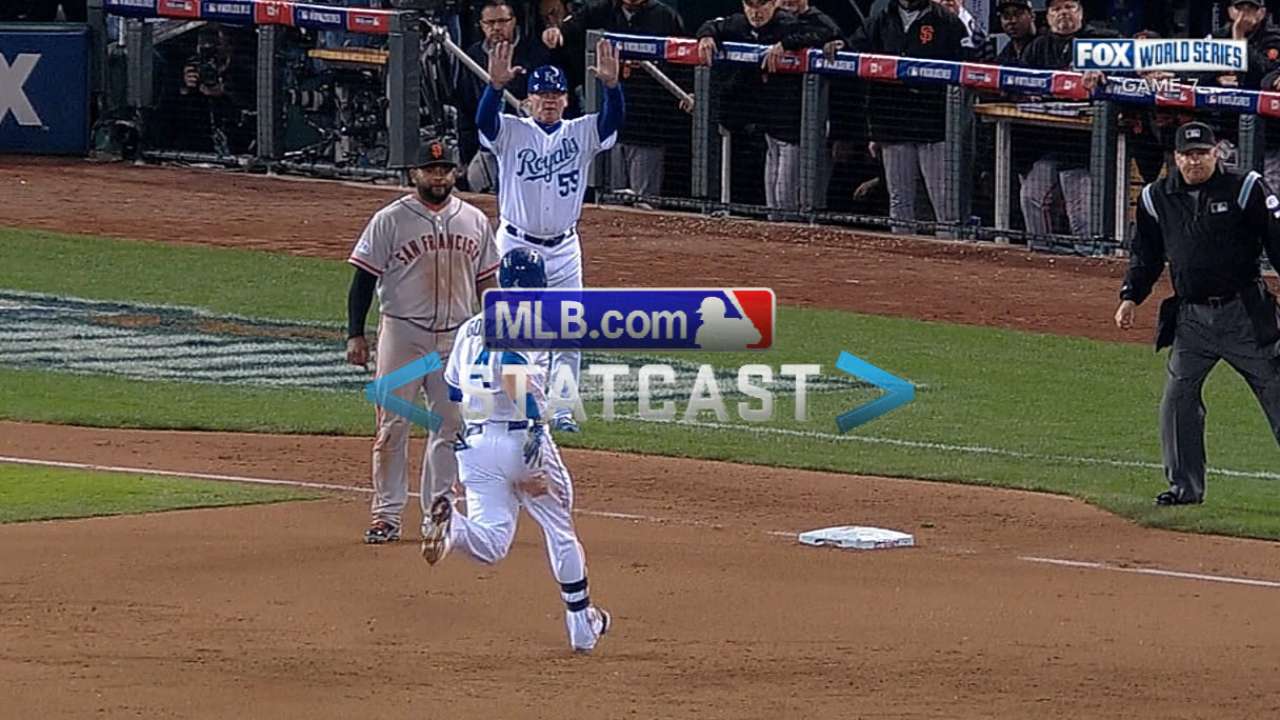 BOSTON -- Commissioner Rob Manfred said Friday that MLB.com's Statcast technology will be in place at all 30 Major League ballparks by Opening Day 2015, as he laid out some of the ways that the groundbreaking technology will make its way to fans and clubs in the new season.
Addressing the annual Sloan Sports Analytics Conference, Manfred discussed a wide range of topics facing the game in a one-on-one conversation with MLB Network's Brian Kenny.
Statcast, a form of player tracking that debuted on MLB.com during the 2014 season, is due to be greatly expanded in '15, both in terms of the number of ballparks but also the amount of information available to fans. Statcast data will not only appear on the MLB.com wired site, but also on MLB.com At Bat as well as in broadcasts of Major League games.
"We will be up and running in all 30 ballparks as of Opening Day," Manfred said.
"I think that there will be three principal initial deployments. It will be available in the premium service on At Bat, it will be available on the website, and our thinking is, and we're not finalized on these yet, a number of our RSNs (regional sports networks) will use Statcast in their broadcasts."
Perhaps the most intriguing revelation about Statcast, though, was the speed at which the data will become available.
"Real time," Manfred said. "It will be immediately available. The intention is that the timing of it will be such that people will engage with it as the game goes on."
Statcast data, captured at the Major League ballparks and processed at MLB Advanced Media, includes information such as acceleration and velocity of runners and defensive players and release time and velocity of throws. The data are presented in concert with video clips of the plays in question.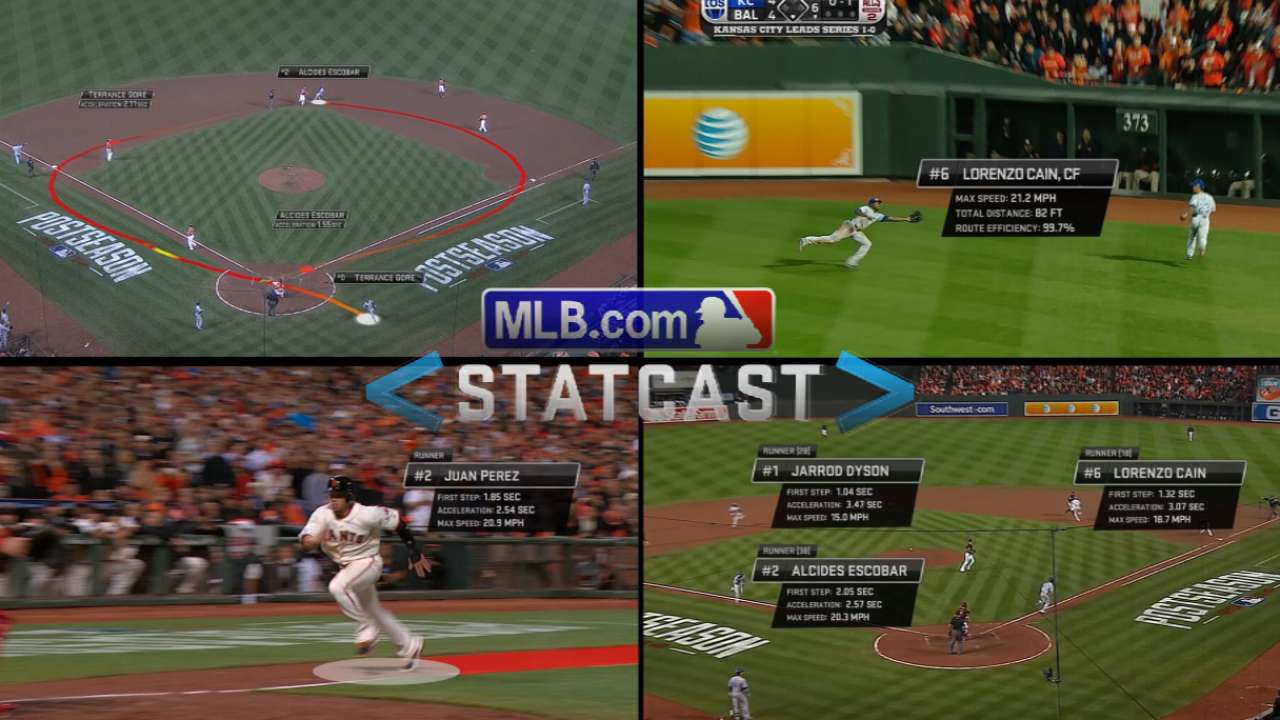 "The great thing about Statcast, people want video-based products," Manfred said. "And I think the genius behind it is, that's what it is at the end of the day. It's video-based. People can enjoy it as the game goes on in real time."
Other topics from Friday's session with the Commissioner:
• Manfred emphasized that recent rule changes to improve pace of play were intended to be evolutionary, rather than anything radical.
"We're not trying to change the game," he said. "It's not like we have a target in terms of timing. We'd just like to take a little of that dead time out of the game."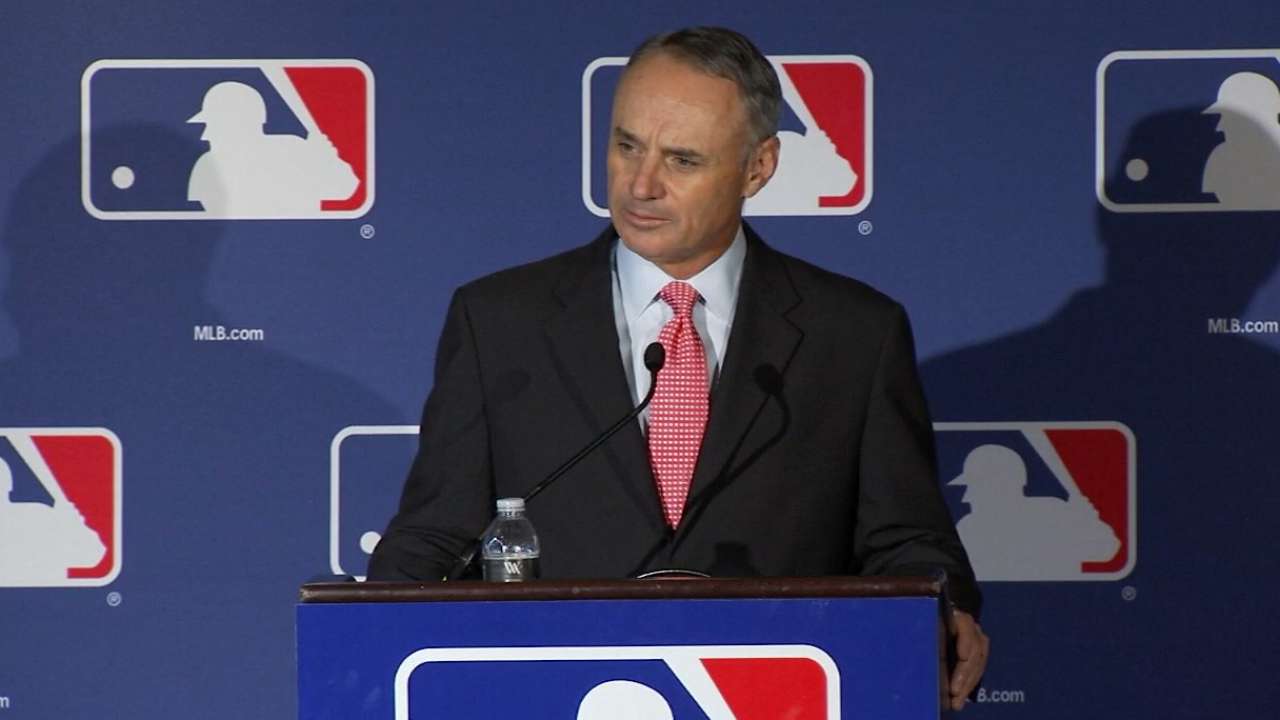 He also noted that while pace of play and time of game can be similar issues, it's the former, and not the latter, that is the target.
"I think if you improve pace of play, you will see a downward trend in the absolute length of the game as well," Manfred said. "We're not so focused on that, because it is possible that a high-action, lot-of-runs-scored, 3:02 game may be fine from a pace perspective. There's nothing wrong with that game. It's the 1-0 game that goes 3:02 that concerns us."
• Manfred believes that some further expansion of instant replay is likely, but any additional changes will probably be incremental.
"You will see a continuing gradual expansion of the plays [that are reviewable]," he said. "We added the tag plays this year, which will be something new. We think we have the vast majority of the plays that are really susceptible to replay review right now, but there are a few at the margin I think we will continue to add as time goes by and we get more comfortable with the system."
• According to the Commissioner, expansion is not currently on MLB's radar, but the addition of two clubs outside the continental United States is conceivable in the long term.
"There is not a lot of conversation right now about additional teams," Manfred said. "We're comfortable with the 30 that we have. We've got a couple of markets where we really do need to get new facilities built -- really more focused on that issue than we are on expansion.
"Having said that, over the long haul, because I am interested in the internationalization of the game, Canada is a big country and only has one Major League team. Mexico is certainly close enough that it would work in terms of having a team there. So I think over the longer horizon, the idea of having maybe two more teams maybe outside the United States is intriguing."
• After recent comments in which he did not completely rule out the return to a 154-game schedule, Manfred made it clear that he was simply saying that option was imaginable -- not that it was imminent.
"I was asked whether I could ever see going to 154, and I said I could see that being something that could happen down the road. The main reason that I see the appeal to 154 is it's a grueling season.
"If you had a little less product, there would be some advantages associated with it. Obviously huge economic ramifications, pretty much all adverse, but it might create flexibility in terms of playoffs and whatnot."
• Manfred had praise for MLB's Ambassador for Inclusion, Billy Bean, and the work Bean has done since taking the job.
"What I hope happens is it continues to promote the kind of environment where we have diversity, on the field, in the front office, and people feel comfortable -- whatever race, sex, sexual orientation -- feel comfortable being part of our game.
"His single biggest problem right now is he cannot meet the demand from clubs and groups in the industry to come and speak. The buzz internally about his message is just so positive that he literally can't keep up with his schedule.
"The attention that this step has gotten demonstrates that sports can be a real leader in terms of making a difference in the way our society operates."
Matthew Leach is an editor and reporter for MLB.com. Read his blog, Obviously, You're Not a Golfer and follow him on Twitter at @MatthewHLeach. This story was not subject to the approval of Major League Baseball or its clubs.