Pinto focusing on defense in battle for Twins' backup role
Power-hitting catcher worked on skills in winter ball as he looks to secure spot behind Suzuki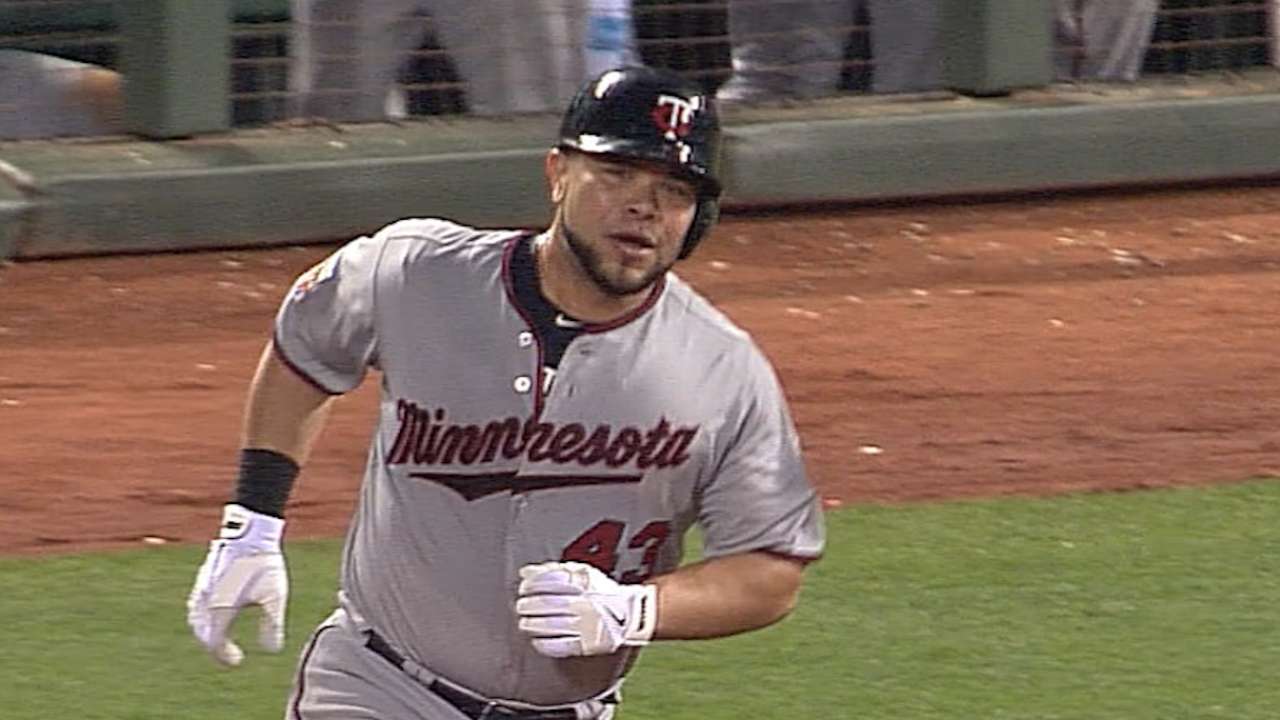 FORT MYERS, Fla. -- There's no question Josmil Pinto can hit, but the catcher is out to prove this spring that his defense has improved enough to be the Twins' backup to Kurt Suzuki.
Pinto excelled offensively at Triple-A Rochester the past two seasons, hitting a combined .288/.366/.464 with seven homers and 26 doubles in 79 games. He's also had success at the plate in the Majors over the last two years with a career .257/.339/.445 line with 11 homers and 13 doubles in 78 games.
But Pinto has struggled defensively, and he was unable to throw out a base stealer in 20 attempts with the Twins last season. Pinto, though, played winter ball in his native Venezuela this offseason to get more reps at catcher and believes his defense is coming along.
"That's the first reason I went to Venezuela," Pinto said. "I wanted to catch a couple games and improve my defense. It was the first year I played a complete season. So it was good."
Pinto shined offensively again this offseason, hitting .321/.412/.476 in 27 games with Tigres de Aragua. He feels like that part of his game is his strength, but has improved at the plate by being more patient and drawing plenty of walks to go along with his power.
"I'm getting better," Pinto said. "I feel like I've been making improvements in recent years."
Pinto, who turns 26 on March 31, is competing for the backup-catcher job with Chris Herrmann and Eric Fryer. Herrmann has versatility but has struggled offensively at the Majors, while Fryer is considered a defense-first catcher and isn't on the 40-man roster.
Pinto is still the favorite in that race given his offense, but he knows that getting better at working with pitchers will be key for him this spring.
"Improving my defense is the most important part to me making the team," Pinto said. "And I want to make the team."
Rhett Bollinger is a reporter for MLB.com. Read his blog, Bollinger Beat, and follow him on Twitter @RhettBollinger. This story was not subject to the approval of Major League Baseball or its clubs.