Anthopoulos sees upside in Johan signing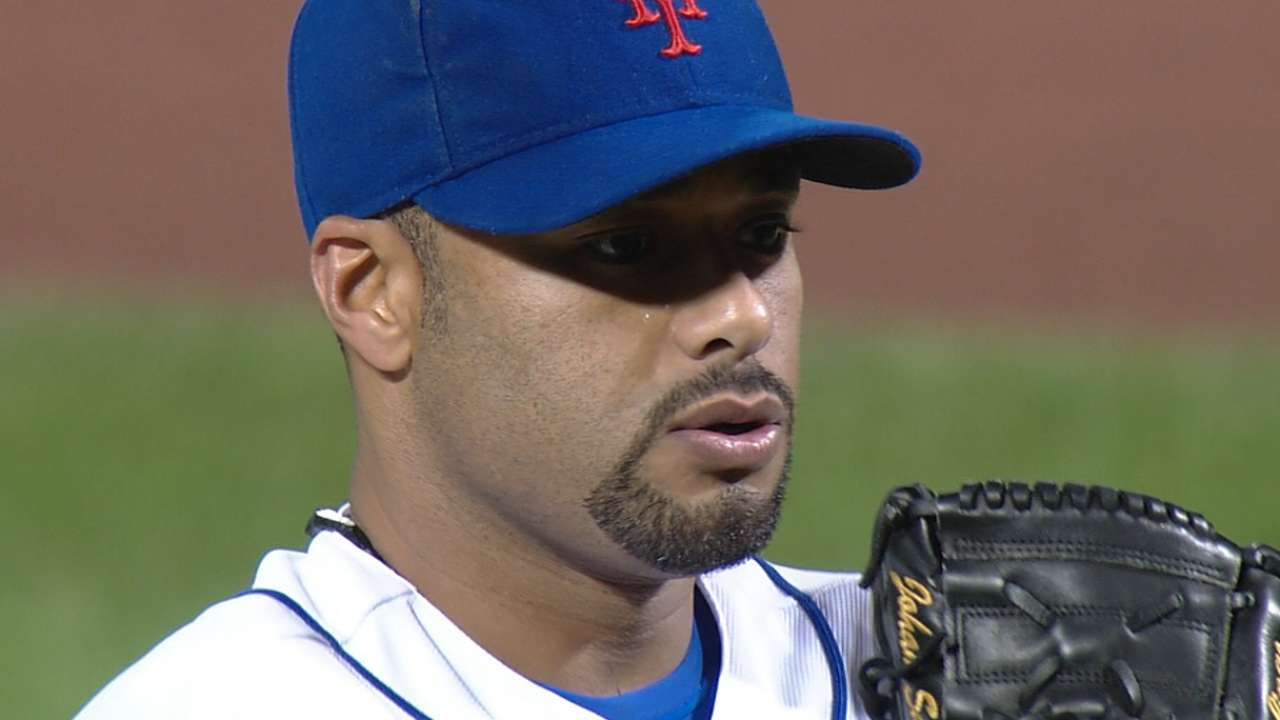 DUNEDIN, Fla. -- The Blue Jays don't expect two-time Cy Young Award winner Johan Santana to be ready for the start of the regular season. But he's going to have an opportunity to compete for a starting job in the not-so-distant future.
Toronto signed Santana to a Minor League contract with an invitation to Spring Training on Thursday night. He'll likely arrive in Dunedin late Friday, and will have to undergo a physical before officially joining camp at some point this weekend.
Santana last appeared in the big leagues three years ago with the New York Mets, and since that time has undergone a pair of operations on his left shoulder. He also tore his left Achilles' tendon last summer and had some similar issues this winter. But has since recovered and will begin preparations to get into game shape.
"For us, obviously anyone you bring in on a Minor League contract, there's no risk," Blue Jays general manager Alex Anthopoulos said. "We saw him during the winter. [He] looked good. He's just getting into his throwing program right now, so it's highly unlikely that he's ready for Opening Day.
"We're going to bring him in, he'll go at his own pace and we'll see what he has and how he looks. It really will be at his own pace as to when he'll be ready."
Santana will earn $2.5 million if he makes the big league roster, but in a unique twist, Anthopoulos also included a series of bonuses into the contract. The Blue Jays typically avoid incentive-laden deals, but an exception was made because Santana hasn't been healthy for such a long time.
Anthopoulos didn't specify the monetary value of those bonuses, but he did confirm the base salary could be increased based on the number of starts Santana makes and the amount of time he spends on the active roster. It's believed to be the first time Anthopoulos included bonuses in any deal.
Several Blue Jays scouts watched Santana make a pair of starts in the Venezuelan Winter League during the offseason. He had to be shut down because of the Achilles' issue, but Anthopoulos remained in touch with his agent and said the Blue Jays would be willing to engage on a Minor League deal whenever Santana was ready.
"We view him as a starter," Anthopoulos said. "If we can get him on the mound and [to] be healthy, we don't have any doubts he can be a very good starter. His stuff was still good in the winter. The changeup is still there, he's a great competitor, great athlete and it's a Minor League deal, so we really don't have anything to lose. Complete upside."
Santana is expected to compete with Daniel Norris, Marco Estrada and possibly Aaron Sanchez for the final spot in the rotation. The deal also includes an opt-out clause for Santana that can be used if he's not on the big league roster by April 28.
The 35-year-old was one of the game's best pitchers from 2000-10 but hasn't been able to stay healthy in recent years. He signed a Minor League deal with the Orioles last season but didn't appear in any games because of injury.
Gregor Chisholm is a reporter for MLB.com. Read his blog, North of the Border, and follow him on Twitter @gregorMLB. This story was not subject to the approval of Major League Baseball or its clubs.