Crisp announces new iPhone game
Outfielder enters new venture as he looks to stay healthy in '15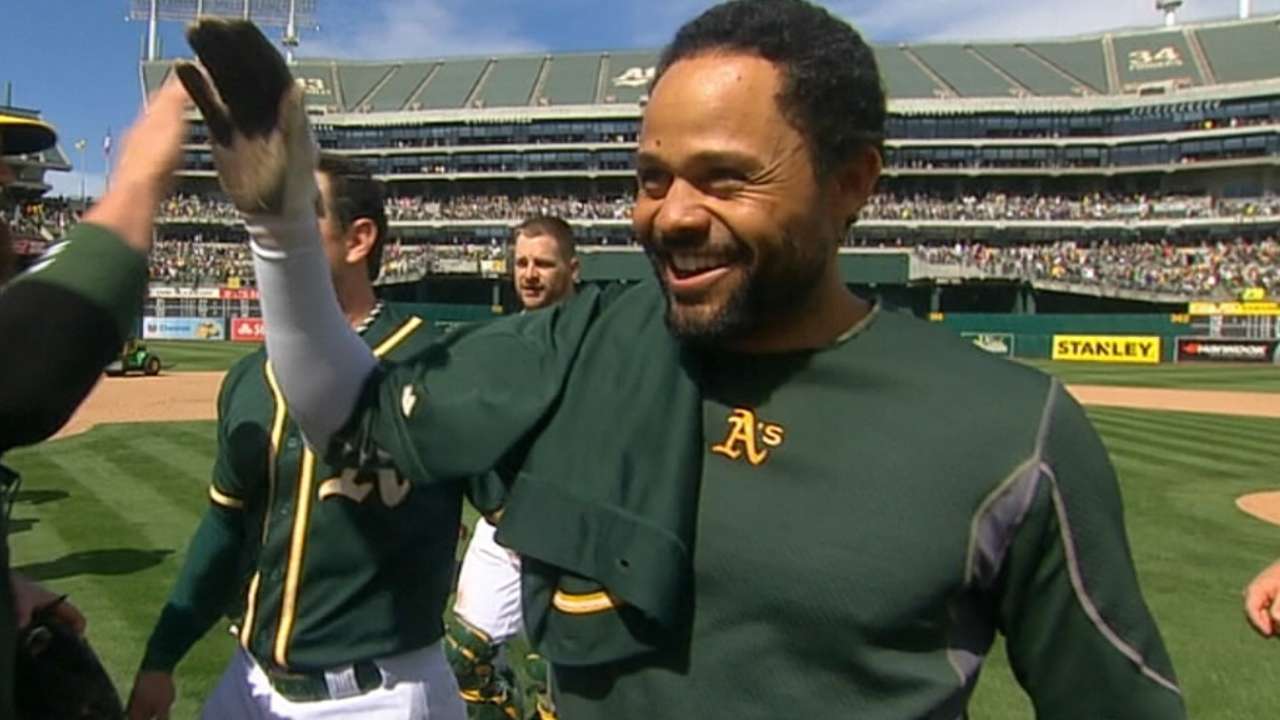 MESA, Ariz. -- Center fielder, fan favorite and now video game designer?
When someone thinks of Oakland's Coco Crisp, it is doubtful video games are the first thing they think about. That may be changing, however, as Crisp has launched an iPhone game, "Coco's Fro Patrol."
The game, which Crisp announced himself via Twitter, requires users to use "his king-sized Afro to catch baseballs, curve balls, grand slam balls, and gift wrapped power-ups."
All this is to be done while dodging garbage, bubblegum and hair clippers. The game is free and available for iPhone.
Started launch on iPhone and if it does well then look at doing it for android pic.twitter.com/oJwniZn96A

- Covelli Crisp (@Coco_Crisp) February 27, 2015
As for the on-field activities, Crisp's health is vital to the A's, and manager Bob Melvin wants to make sure his center fielder is ready to go when Opening Day comes around.
"I'll ease Coco in and probably back off on his workload as far as at-bats," Melvin said. "Obviously keeping him healthy is the most important thing."
Crisp has battled a number of injuries of the past couple of seasons, but has rarely been subject to long rehab assignments. He is often able to bounce back quickly and Melvin plans to take advantage of that as he limits Crisp this spring.
"We've seen with Coco, [he's] not a guy that needs a lot of at-bats as long as you get him some consistent at-bats," Melvin said. "It's more about him being in the outfield for nine innings a couple times, more about the body being ready than seeing the ball and the at-bats."
William Boor is a reporter for MLB.com. Follow him on Twitter at @wboor. This story was not subject to the approval of Major League Baseball or its clubs.