A's top prospect Olson feels '100 percent' at camp
First baseman said he's at full strength after right shoulder injury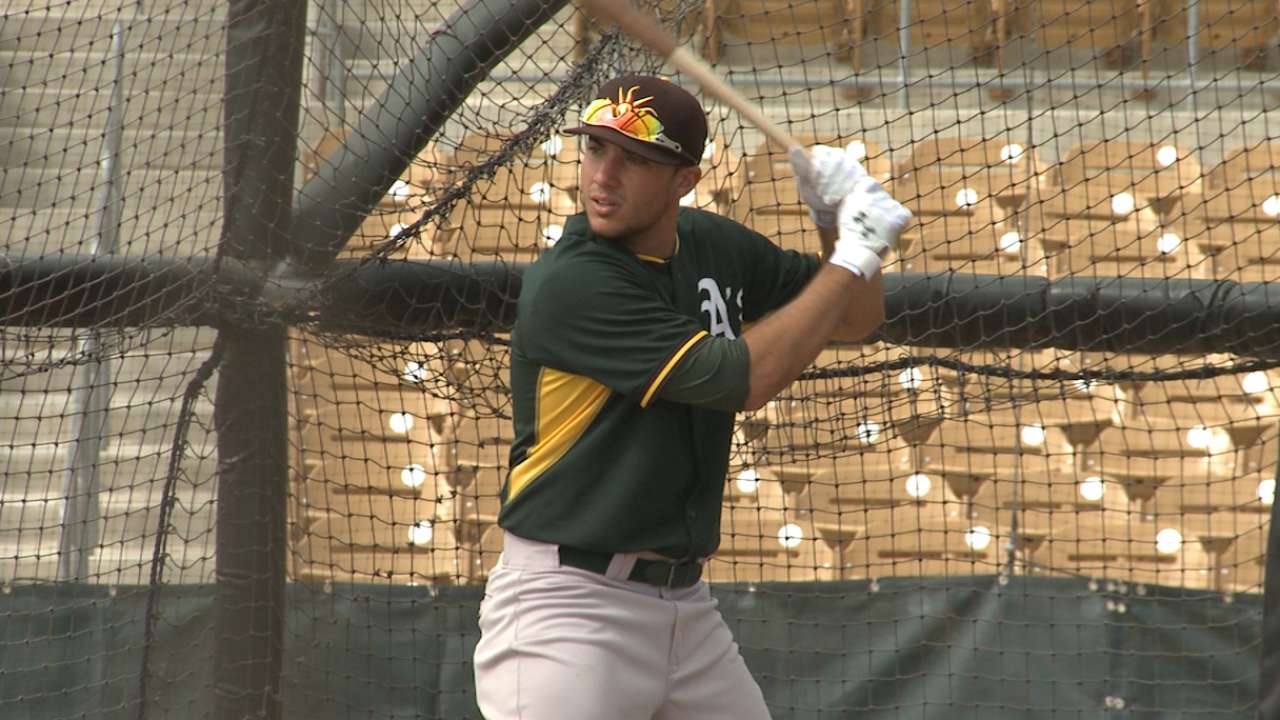 MESA, Ariz. -- The past few months have been a bit of a whirlwind for Matt Olson, as the first baseman was named Oakland's top prospect and is also participating in his first big league camp.
However, the offseason wasn't entirely good news as Olson also had to overcome the first injury of his career in order to get to camp on time.
While participating in the Arizona Fall League, Olson was involved in a collision at first base and suffered a grade three tear of the AC joint in his right shoulder.
Immediately following the injury, Olson was unable to swing a bat. Although the A's told him of their plan to invite him to Spring Training, there was a bit of uncertainty as to how much he'd be able to participate right away.
As it turned out, Olson's rehab went well and the top prospect is fully participating.
"It's good, 100-percent strength," Olson said. "Occasional soreness, maybe once every two weeks, but it feels good. No setback at all."
Now that the shoulder is healthy and Olson is in camp, the real work begins.
"It's great," Olson said. "It's just nice to be here, just trying to pick up whatever I can from the guys that are in here, that have been in this type of situation before. I'm just excited."
Olson, who hit .262 with 37 home runs and 97 RBIs in 138 games with Class A Advanced Stockton last year, knows how to swing the bat, but is working on his defense and mixing in a new position.
Olson has played 274 of his 284 career Minor League games at first base, but is also working in the outfield.
"I had done it a little bit in high school, never got too serious about it, but once I got some reps in it wasn't too hard of a transition," Olson said.
The 20-year old played nine games in the outfield last season and as he continues to learn the position, the hope is the versatility will quicken his path to the Majors.
"Whatever they want me to do," Olson said. "I feel pretty comfortable out there. Whatever gets me in the lineup."
William Boor is a reporter for MLB.com. Follow him on Twitter at @wboor. This story was not subject to the approval of Major League Baseball or its clubs.