Sources: Hamilton experienced relapse this year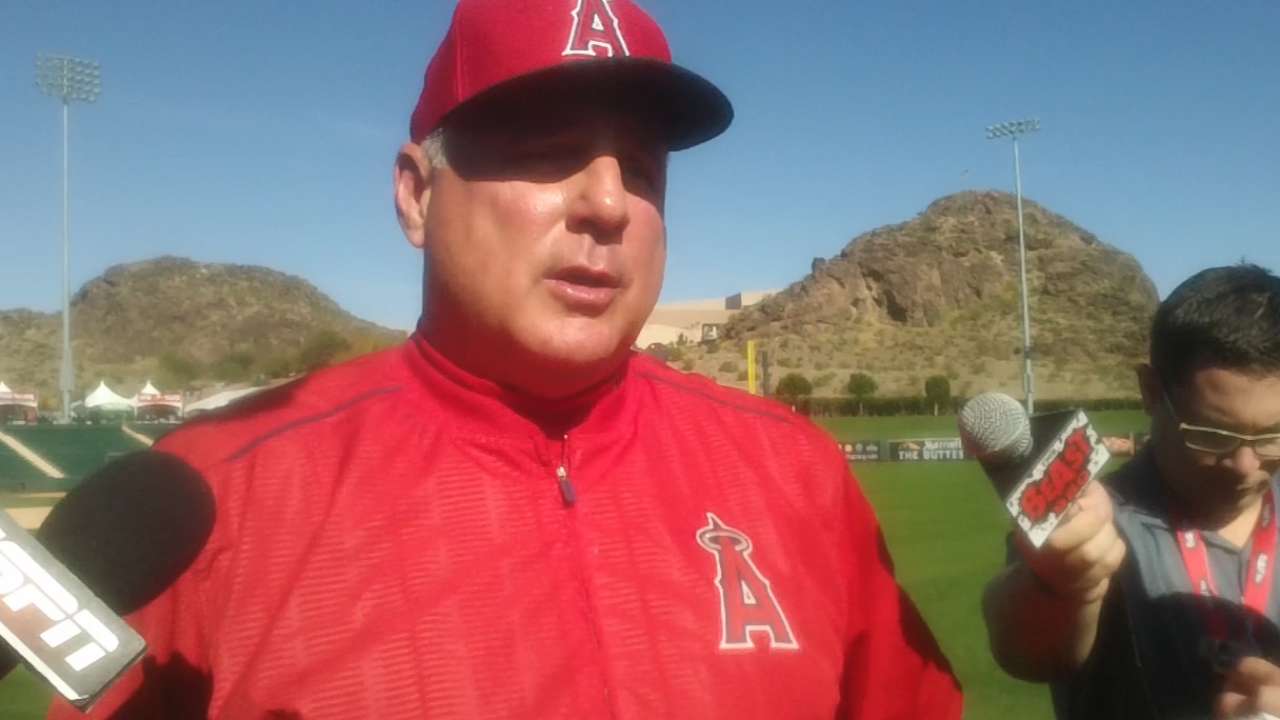 TEMPE, Ariz. -- Josh Hamilton's recent meeting with Major League Baseball stemmed from a relapse that occurred this year, sources with knowledge of the situation confirmed to MLB.com on Friday. The Angels, who have only confirmed that Hamilton met with league officials at the Commissioner's Office in New York on Wednesday, don't expect to hear from MLB anytime soon.
There are a number of factors to consider when looking at Hamilton's situation.
Commissioner Rob Manfred would be the one to decide the length of what appears to be an expected suspension, which would be his first such decision since he took office last month. There is a potential appeal by the MLB Players Association, and there is the lack of precedent for a situation like this, with Hamilton's past transgressions occurring under a prior Collective Bargaining Agreement.
CBSSports.com reported Wednesday that Hamilton's relapse involved cocaine, which would make this his first publicly known drug use since October 2005. Hamilton, who was out of baseball from 2003-05 because of drug and alcohol addictions, is currently in a good frame of mind, a source said.
The 33-year-old outfielder likely wouldn't be treated as a first-time violator of the Joint Drug Agreement because he was on the Rays' 40-man roster when he failed his first drug test in 2003, a precursor to Hamilton being suspended until June 2006.
A four-member treatment board, comprised of a physician and lawyer for both MLB and the MLBPA, determines whether a player failed to comply with his treatment program. The first failure to comply with the program results in a suspension of 15-25 games, with a second being 25-50 games, a third being 50-75 games and a fourth being at least a full season. As stated in Section 7D of the current JDA, "Any subsequent failure to comply by a player shall result in the Commissioner imposing further discipline."
Hamilton went from a can't-miss, blue-chip prospect in 1999 to being out of baseball for nearly four seasons to a superstar who started five straight All-Star Games from 2008-12.
Hamilton has been rehabbing from Feb. 5 surgery on his right AC joint in Houston and wasn't assigned a locker in Spring Training, mainly because the Angels were bracing for a potential fallout with MLB. Hamilton's injury was expected to put him on the disabled list at the start of the season and his rehab could spill into May. The Angels owe Hamilton $90.2 million over the last three years of his contract, but wouldn't have to pay him while he's serving a suspension.
"Right now, there's no more information than we had yesterday," Angels manager Mike Scioscia said during his Friday morning scrum with reporters. "I don't know where the process is. … We've got a lot of things on our plate that we have to take care of. That's going to happen on its own time. We can't let it affect us."
Alden Gonzalez is a reporter for MLB.com. Read his blog, Gonzo and "The Show", and follow him on Twitter @Alden_Gonzalez. This story was not subject to the approval of Major League Baseball or its clubs.