MLB.com Columnist
Bill Ladson
Strasburg talks winning formula, 2015 goals in Q&A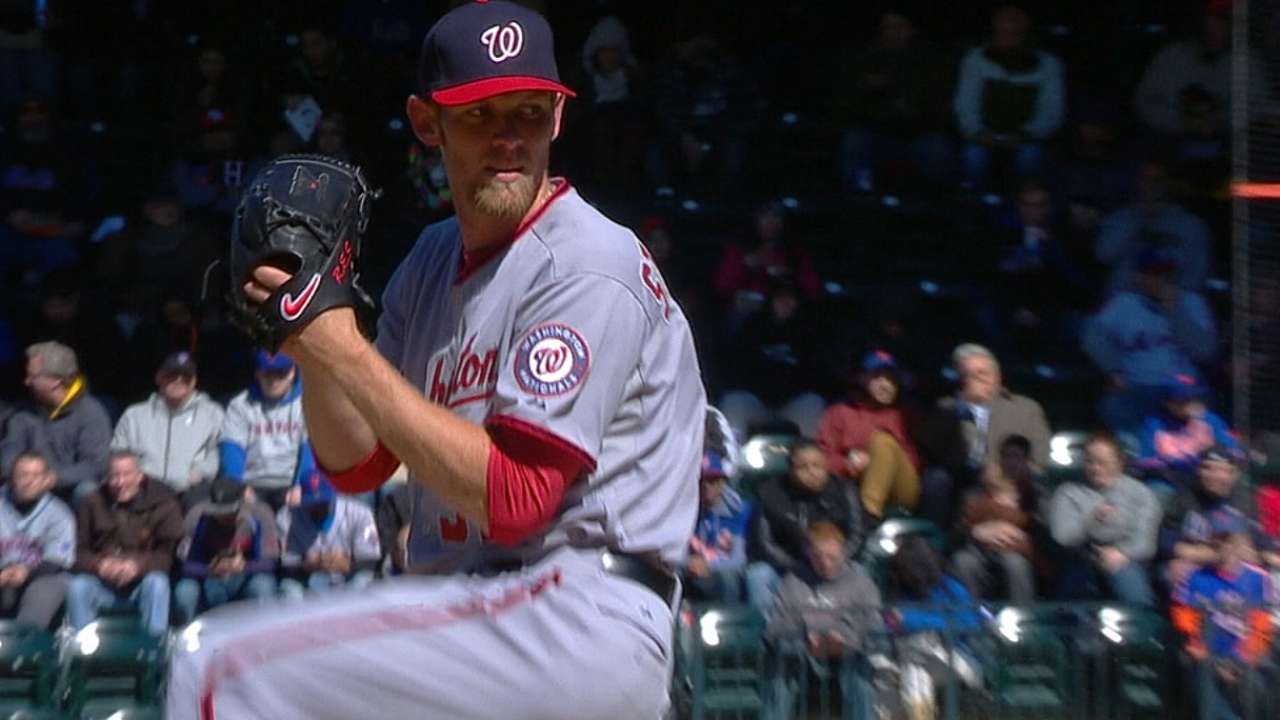 VIERA, Fla. -- Last year was the first time Stephen Strasburg didn't have to worry about injuries or an innings limit. He took advantage of the situation, winning 14 games and tying for the National League lead with 242 strikeouts in 215 innings.
MLB.com caught up with Strasburg to talk about his career with the Nationals and the team's chances in the postseason.
MLB.com: Knowing how good the Nationals are, how far can this team go this year?
Strasburg: Obviously, we have been in a situation in years past where we have looked good on paper and haven't able to get things done. I don't think we should take anything lightly. Everybody goes into the season with the same record to start. It's all about grinding it out, winning as many games as you can to be in good position to win in the playoffs.
With that said, we obviously know the talent in here and, hopefully, we can come together and find the winning formula that we haven't had in years past.
MLB.com: How come the formula hasn't worked in the postseason?
Strasburg: My understanding of it is, it's important to peak at the right time. You look at what the Giants did last year, they were hot. They had to win some big games down the stretch to get in. You just have to tip your cap. They just flat-out beat us. I think we learned a lot about ourselves through that process. We know the big thing is to get there and hopefully get there healthy and running on all cylinders.
MLB.com: What was your reaction when the team acquired Max Scherzer?
Strasburg: The kind of track record he has coming into it -- it just bolsters the already solid rotation. I'm excited to learn from him. When I was trying to figure how to attack certain hitters, I always looked at his video, among others. He has great stuff. It should be a good experience.
MLB.com: When I spoke to you a year ago, you said you wanted to stay healthy and pitch 200 innings. You reached those goals. You also reached 200 strikeouts. What's the goal this year?
Strasburg: Just stay the course. I think I was able to set kind of a benchmark last year. I know what kind of toll the season takes on my body and what's expected of me. I expect that out of myself again this year. I want to do everything I can to stay healthy and to provide quality innings for this team. I want to give the guys opportunities to go out there and win it on the days I pitch.
MLB.com: How good was it not to be on an innings limit for the first time last year?
Strasburg: Its huge to finally get to that point. It took maybe a little bit longer than I was hoping in the grand scheme of things. Everything happens for a reason. It has me hungry. It's put me in a good position to understand how hard I need to work to be ready for the grind of a season.
MLB.com: A couple of things happened this offseason. Along with Tony Gwynn, you had your number retired at San Diego State. How did you feel about that?
Strasburg: Just to be in his company ... I think everybody knows around the world what kind of player he was. I was able to have a great relationship with him. You see what type of person he was off the field. A lot of people don't realize how important he was to the community. I hope during the season and back home in the offseason, I want to do everything I can to try and carry on that legacy in any way possible. I have such great memories [regarding Gwynn].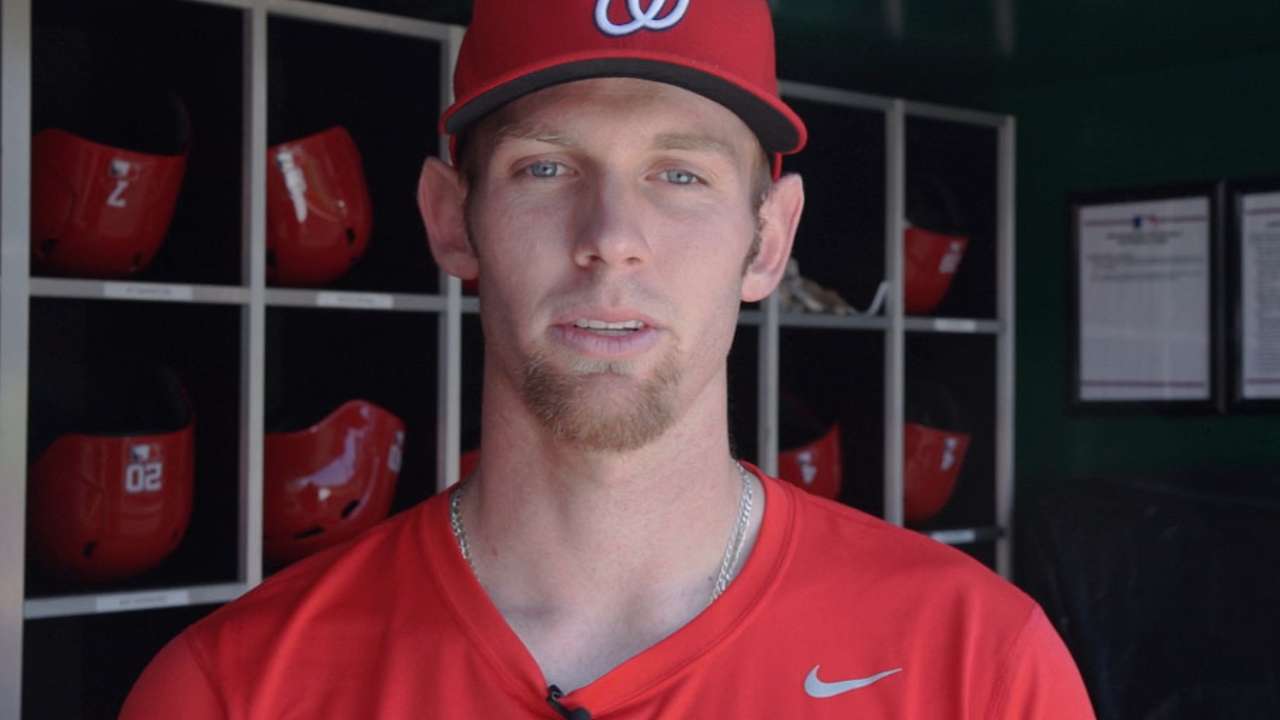 MLB.com: Is it hard to believe that he is gone?
Strasburg: Yes, it still is. But, like I said, it's always great to go home and just talk to guys I played with and share the stories. His legacy is going to live on for a very long time.
MLB.com: There was also a report that you were willing to be traded this offseason. Your agent, Scott Boras, quashed that report. What was your reaction when you heard about the report?
Strasburg: It's tough. ... I haven't said anything like that. I don't feel like that. You have to accept it because that's how the system works. It's like they pick up on any little thing and they twist it. Some people want to turn it to see how many clicks they can get on the webpage. If I let it bother me, then it would be a long day. I don't want stuff like that to stress me out. People are going to write what they are going to write regardless if it's true or not.
MLB.com: For the record, you are happy with the Nationals?
Strasburg: Yeah, absolutely. Why wouldn't I be? It's the team that drafted me. I love the players here, I love D.C. Winning cures everything, that's for sure. I'm excited to be part of the resurgence so far. It's great to see the type of players we bring in here every year. The expectations keep going up and up. Hopefully, we can do big things this year.
MLB.com: You have two more years left on your contract. How much would you like to stay with the Nationals long term?
Strasburg: I've always been the type of person who likes to finish what he started. I think that in my DNA, it's in my personality. I think we all have really worked the last couple of years here. We know what the ultimate goal is. I'm not going to sit here and jinx anything. But I feel like there would be a lot of unfinished business if we didn't get that stuff done while I'm here.
Bill Ladson is a reporter for MLB.com and writes an MLBlog, All Nats All the Time. He also can be found on Twitter @WashingNats. This story was not subject to the approval of Major League Baseball or its clubs.