MLB.com Columnist
Lyle Spencer
Scioscia holds 'kindred spirit' Maddon in high esteem
Halos skipper, Cubs manager instantly clicked working together on Angels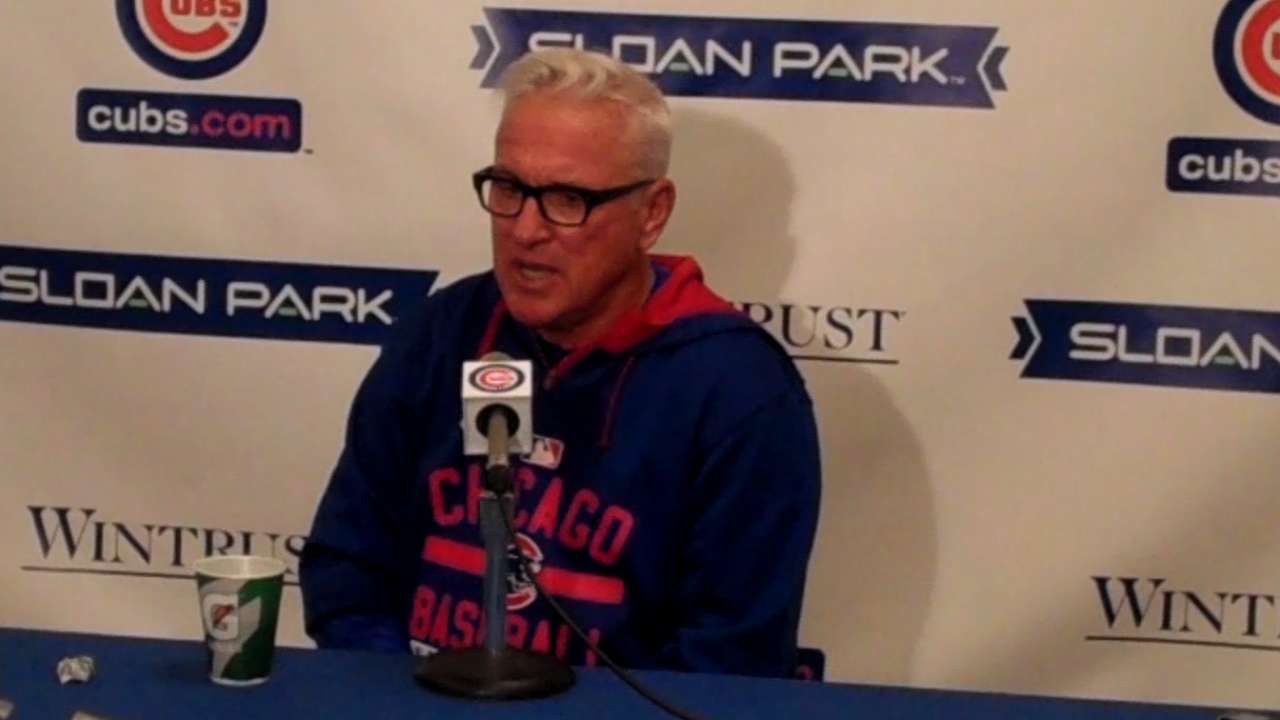 MESA, Ariz. -- With the retirement of singer-songwriter Tim Flannery, the soul of the three-time World Series champion Giants as their third-base coach and so much more, there no longer can be any serious debate. Joe Maddon is "The Most Interesting Man in Baseball." The dude in the popular television commercial can't compare to the real deal.
When the Cubs' brain trust made Maddon an offer he couldn't refuse to manage their youthful team in 2015 and beyond, it was the kind of enlightened thinking he does every day of his life. Angels manager Mike Scioscia, who had Maddon as his bench coach with the 2002 World Series champions before the Rays hired him in '06 to manage their floundering outfit out of darkness, calls his buddy "a Renaissance Man," adding, "I can talk about Joe all day.
"I don't know if 'eccentric' is the right word for Joe," Scioscia said. "He's an extremely intelligent person, just really bright. He has a fine spirit that is really beautiful to be around. It's beautiful to talk baseball with him, life with him. He's got a really unique perspective on things.
"He has an incredible classic foundation for baseball fundamentals, combined with the idea that maybe there's a better mousetrap out there -- whether it's developing a player or instilling in a player coming up in the Minor Leagues qualities that are going to help you win in the big leagues. His mind just keeps going.
"Joe's a terrific evaluator. He can see what a player's talent is and understands how it fits into a team and makes it better. He'll take a guy with one tool and figure out how to make it work for his team. He's extremely creative in the way he uses his players and keeps them in tune with the game.
"We're all independent thinkers. He has that classic fundamental background, but he mixes it with some thinking out of the box that makes sense with a lot of his decisions. He's like a classically trained pianist who finds himself as a rock star."
Maddon, who has his hitters take batting practice to Bruce Springsteen's "Born to Run" and other upbeat tunes, never is far from sounds or words that move him. He is the great character actor who becomes an overnight sensation as a leading man late in life.
Moving from the relative quiet of Florida's west coast to the "City of the Big Shoulders" has put Maddon on one of America's biggest stages. Baseball people have known all about his extraordinary talent for winning with low budgets for years; his third Rays team went from 66 to 97 wins and a World Series date, and he won at least 90 games in five of his last seven seasons.
Now embracing the challenge of leading the lovable Cubbies out of the wilderness and into a World Series for the first time since 1945, he's a national figure.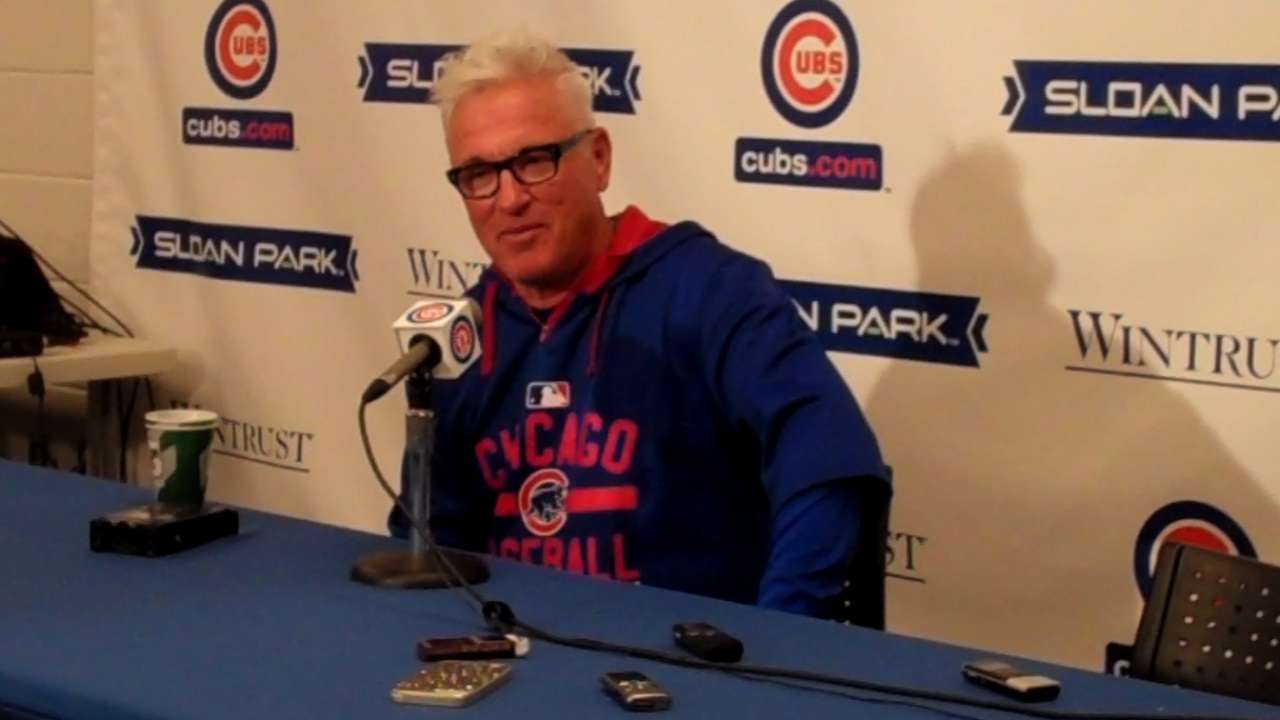 From the moment he arrived in Chicago, Maddon has entertained and illuminated anyone within reach. Thursday was typical. After overseeing a spirited workout and introducing the players to his baseball philosophies, such as going aggressively first-to-third and playing without fear, he opened his media session talking about how he's been binge-watching "The Office" and loves "Curb Your Enthusiasm," the Larry David cable hit.
Nothing curbs Maddon's enthusiasm.
He talked about what a productive day it had been, his coaches teaching with high energy, "a very professional job. The work ethic is ridiculously good. A big part of it is the coaching staff."
A modestly talented Minor League catcher in the Angels' system, Maddon was encouraged early on to take advantage of his leadership skills. Maddon, who would spend 31 years with the organization in a range of roles, was impacted by a long list of coaches as he embarked on a new career in player development after four years as a player. He finally made it to the Majors in 1993 as a coach.
When Scioscia, a former Dodgers star and Minor League manager, was handed the Angels' reins in 2000, he called Maddon, another candidate for the job.
"I didn't know him," Scioscia said, "but after one conversation, I knew he was a kindred spirit. He blew me away. I wanted him on my staff and offered him the job."
Maddon became part of perhaps the greatest coaching staff the game has seen. Pitching coach Bud Black is now managing the Padres; third-base coach Ron Roenicke is the Brewers' manager. Alfredo Griffin is the holdover on Scioscia's staff.
"It was such a wonderful group," Maddon said. "We all had strong opinions and ideas and had spirited discussions on a regular basis. It was the first time I saw the impact a coaching staff could have on a team in a positive way.
"Sosh has been a beautiful pal. I've been competing with him since I left the Angels, and now I'll be going against Rags [Roenicke] and Buddy. Three guys from the same coaching staff managing in the same league, that's kind of crazy. If you live long enough. ... But it's really neat, because we're all very close."
Scioscia, as in the old days in Anaheim, gets the last word: "The Cubs couldn't have made a better choice. Joe's as good as it gets."
Lyle Spencer is a reporter for MLB.com. This story was not subject to the approval of Major League Baseball or its clubs.