Turner looks to keep turning heads with Dodgers
Versatile infielder went from non-roster invitee to clutch performer in 2014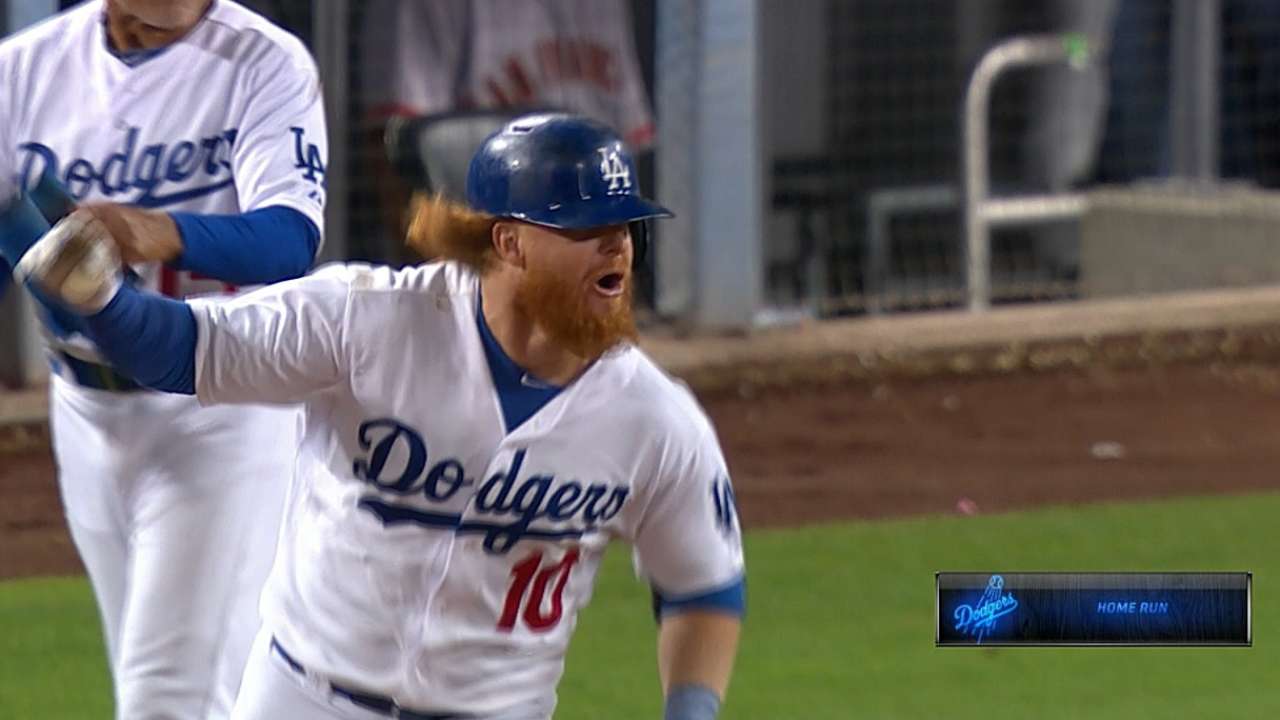 GLENDALE, Ariz. -- Being a non-roster position player in a Dodgers Spring Training camp is likely to lead to a year as Triple-A insurance, or worse.
Numerous non-roster pitchers -- Wilson Alvarez, Takashi Saito, Jose Lima, Jeff Weaver, etc. -- have carved out Major League roles of impact going that route, but position players? Not so much.
So what Justin Turner did last year, mostly under the radar, deserves respect. He was non-tendered by the Mets after the 2013 season, was out of work until signed by the Dodgers on the eve of Spring Training and had to fight his way past Chone Figgins, Justin Sellers and Alex Guerrero to win and keep a job.
Nobody expected Turner to lead the team in batting average or play more games than Juan Uribe or have a higher OPS than Matt Kemp. Go back 35 years and there hasn't been a non-roster position player for the Dodgers to stick the entire season, bat at least .340 and play more than 100 games. Ten of his 43 RBIs came as a pinch-hitter.
"We always thought he could hit," said manager Don Mattingly, "but that was over-the-top good."
Turner did all of that and, admittedly, wasn't nearly in the shape he's in now after working on his body like a fiend over the winter at Dodger Stadium to minimize chances of his balky knee getting in the way.
"Going into last year, we felt if he played every day, he'd get in trouble, and we found that out, but this year maybe he can handle more," Mattingly said. "He's really been diligent about his work, been at Dodger Stadium almost daily. He's put a lot of time in and it shows."
.@AdrianTitan23 & @redturn2 flashing the leather...and having a little fun. #DodgersST pic.twitter.com/pOsXVWmY4z

- Los Angeles Dodgers (@Dodgers) February 27, 2015
Turner, 30, credits strength-and-conditioning coach Brandon McDaniel, who spent the offseason in Los Angeles to be available to players like Turner.
"Brandon did everything. He's been a one-man wrecking crew," said Turner. "He and his family deserve the credit. I've been able to establish a routine and train consistently. Before I signed a year ago, I was on my own, going to 24 Hour Fitness, had to coordinate everything myself."
Turner said he's lost 18 pounds through a healthier diet, counseled by McDaniel's wife, Andrea, a nutritionist.
"I had to do something," said Turner. "I want to be able to sustain it for 162 games. I couldn't do that last year."
Despite that, Turner said he was able to produce in 2014 because he rebuilt his swing the previous winter working out with Marlon Byrd and his hitting guru, Doug Latta, in Los Angeles. While that was happening, he ran into Dodgers bench coach Tim Wallach at a Cal State Fullerton alumni game, mentioned that he was still a free agent, and within a week he had an offer from the Dodgers.
The infield quartet of Adrian Gonzalez (32), Howie Kendrick (31), Jimmy Rollins (36) and Uribe (35) average nearly 34 years of age. Mattingly said all four will get the rest they need to stay fresh, and he intends to use Turner on the corners and possibly up the middle.
Darwin Barney, Guerrero and Enrique Hernandez will compete for bench jobs as well.
Ken Gurnick is the Los Angeles Dodgers beat reporter for MLB.com. This story was not subject to the approval of Major League Baseball or its clubs.