Young Mondesi shows promise at camp
Still in his teens, MLB's No. 40 prospect comes from talented family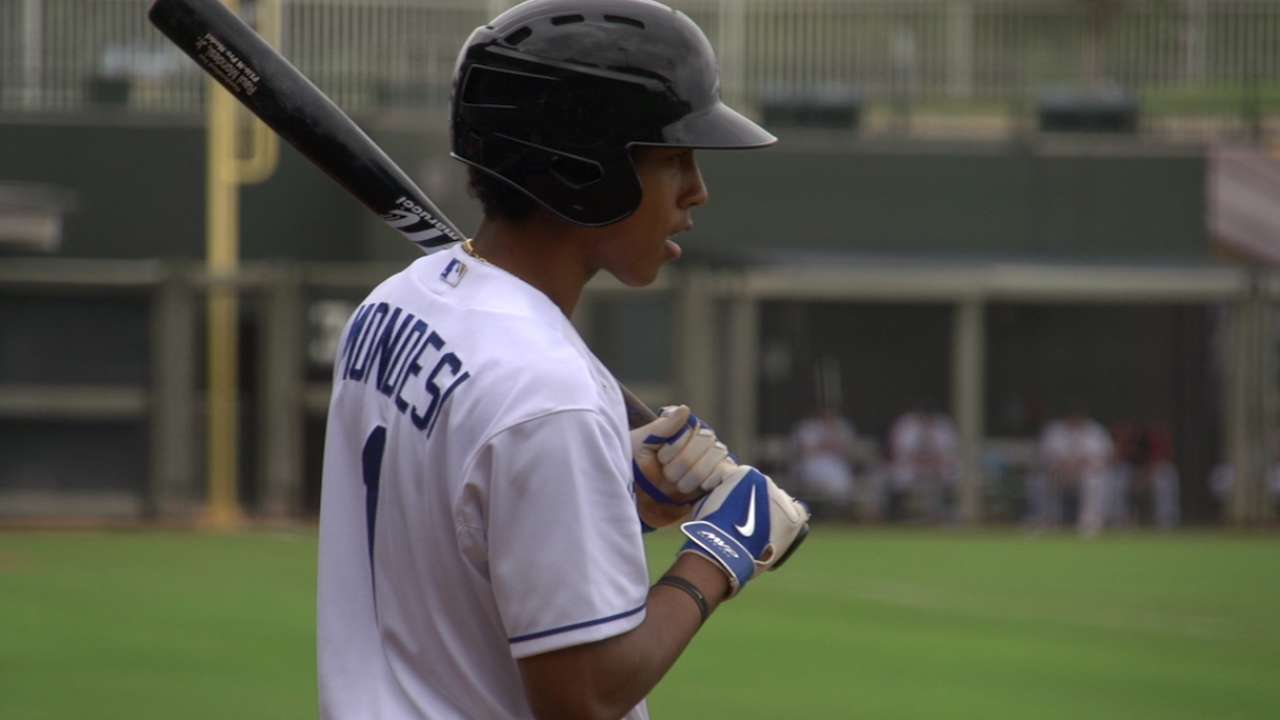 SURPRISE, Ariz -- It was Photo Day at Royals camp Friday morning, the time of spring when players suit up in their game uniforms, hold up a sheet of white paper with their name written in black permanent marker across the front and smile for the camera.
They pose with bats and gloves. They autograph dozens of baseballs.
The youngest player in camp was there, too, signing balls and wearing a pearly white uniform that might have been a size too big. The teenager was one of the few players without his name stitched across the back of his shoulders, but he was far from anonymous.
Everybody in camp knows who 19-year-old Raul Adalberto Mondesi is. The young shortstop has been working out at the Royals' Arizona facility on and off since he signed with the club for $2 million as an international free agent in 2011. He made his professional debut the next year while he was still 16.
"This has been a great experience being around all of these veteran players who can help me on and off the field," Mondesi said in Spanish. "This is my first time here in big league camp, and I'm really grateful for the coaches and players who have guided me, making sure I do the right thing."
Mondesi is Kansas City's top prospect and is ranked No. 40 overall by MLB.com. He was the Class A Advanced Carolina League's only 18-year-old regular in '14, when he played in 110 games at Wilmington. He could be on track for a promotion to at least Double-A.
"We are just here to give him a good look, let him play and get some experience and let him enjoy big league Spring Training," Royals manager Ned Yost said. "Everything jumps out. He's that kind of guy. He just stands out a little bit. He's going to be a special player."
Mondesi's father, Raul Mondesi Sr., won the National League Rookie of the Year Award in 1994 and was an All-Star the next season for the Dodgers. He played in the Majors for 13 years and is now a politician in the family's hometown of San Cristobal in the Dominican Republic. Adalberto's older brother, Raul Mondesi Jr., was once a prospect with the Brewers, but is no longer in baseball.
"All of these guys here tell me to keep working hard," Raul Adalberto said. "They keep saying I have a great future and a lot of talent and that I just have to show it, keep working hard."
And for the record, the young Mondesi is not worried about not having his name on the back of his Royals jersey. He knows it's just a matter of time before he earns one of his own.
"He's a rare talent. He's not your run-of-the-mill prospect," Yost said. "He'll be pretty good."
Jesse Sanchez is a national reporter for MLB.com. Follow him on Twitter @JesseSanchezMLB. This story was not subject to the approval of Major League Baseball or its clubs.