MLB.com Columnist
Mike Bauman
Molitor makes right first impression with Twins
Facing uphill challenge in AL Central, new skipper sets tone as full squad reports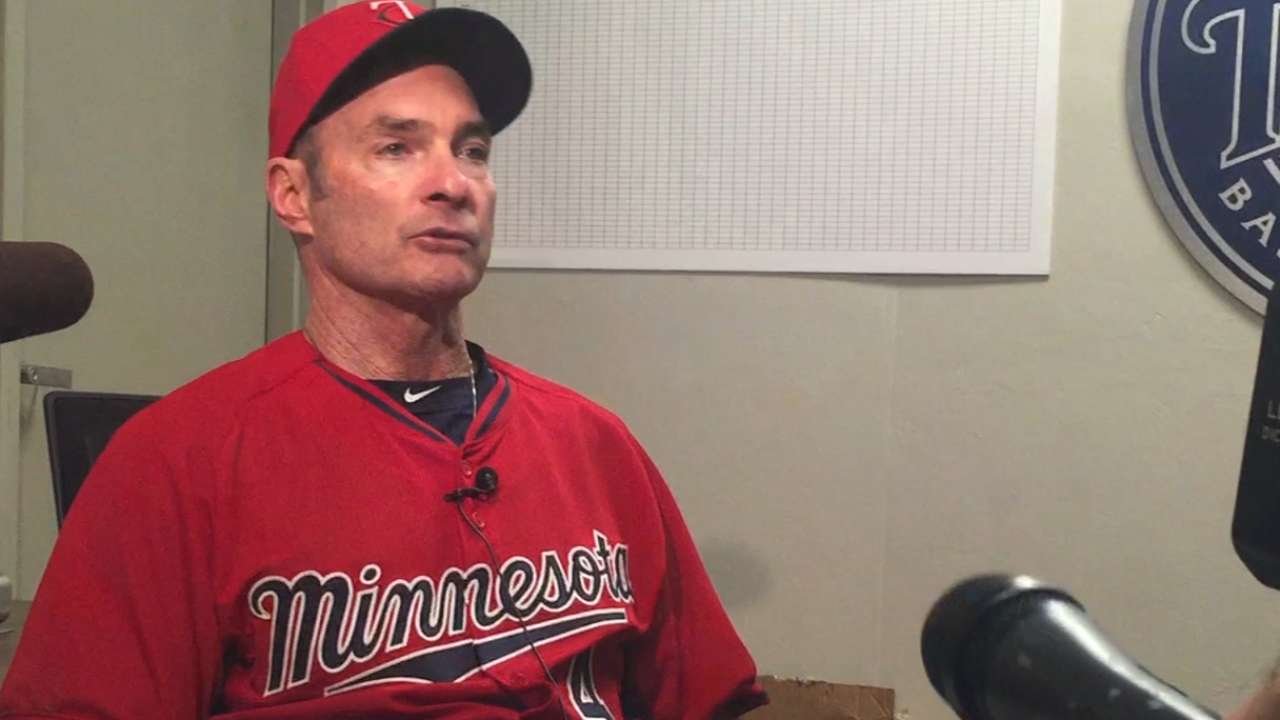 FORT MYERS, Fla. -- The Hall of Famer is taking on a new challenge. And as challenges go, this one may have been supersized.
Paul Molitor was known as a player for his intelligence, his diligence, his consistent level of effort. His outcomes weren't bad either. This is a man with 3,319 hits, 605 doubles and 504 stolen bases among his many credits.
Now, Molitor is the new manager of the Minnesota Twins. Look at the neighborhood into which he has moved:
The Tigers have won the American League Central four straight years, and even without Max Scherzer, they are still talent-laden. The Royals went to the World Series last year. The White Sox made vast improvements in the offseason. The Indians have the pitching of a solid contender.
The Twins, meanwhile, have lost more than 90 games for four straight seasons, finishing last in the AL Central in three of those four years.
On the other side of the argument, the Twins made some nice offseason acquisitions, including starting pitcher Ervin Santana and a franchise favorite, outfielder Torii Hunter. Some of the best young talents in the game are advancing through the Minnesota organization. And now, there is Molitor.
There was nothing wrong with the previous manager, Ron Gardenhire, who won six division titles with the Twins. But after the way the last four seasons had gone, changes had to be made. The managerial choice of Twins general manager Terry Ryan was Molitor. He is a rookie manager, but he has considerable experience as an instructor and a coach in the Twins organization. He was a Hall of Fame player. He has the brains and the instincts for the job. And as a bonus, he is, after all, a local guy, a St. Paul native.
So on Friday at Hammond Stadium -- the nicely renovated Hammond Stadium -- the Twins had their first full-squad workout of Spring Training. And Molitor gave his first address to the team.
Later, he was, of course, questioned about the content and tone of the speech. The response was typical Molitor. He refused to overstate the case but admitted its significance. Some managers aren't big on the nuances of the job. Molitor had a firm grasp on this sort of thing some time ago.
"Don't want to make it bigger than it is," Molitor said, "but you really only have one first day. Just tried to set a tone a little bit. Talked about the type of energy we expect, coming in here and keeping our priorities straight."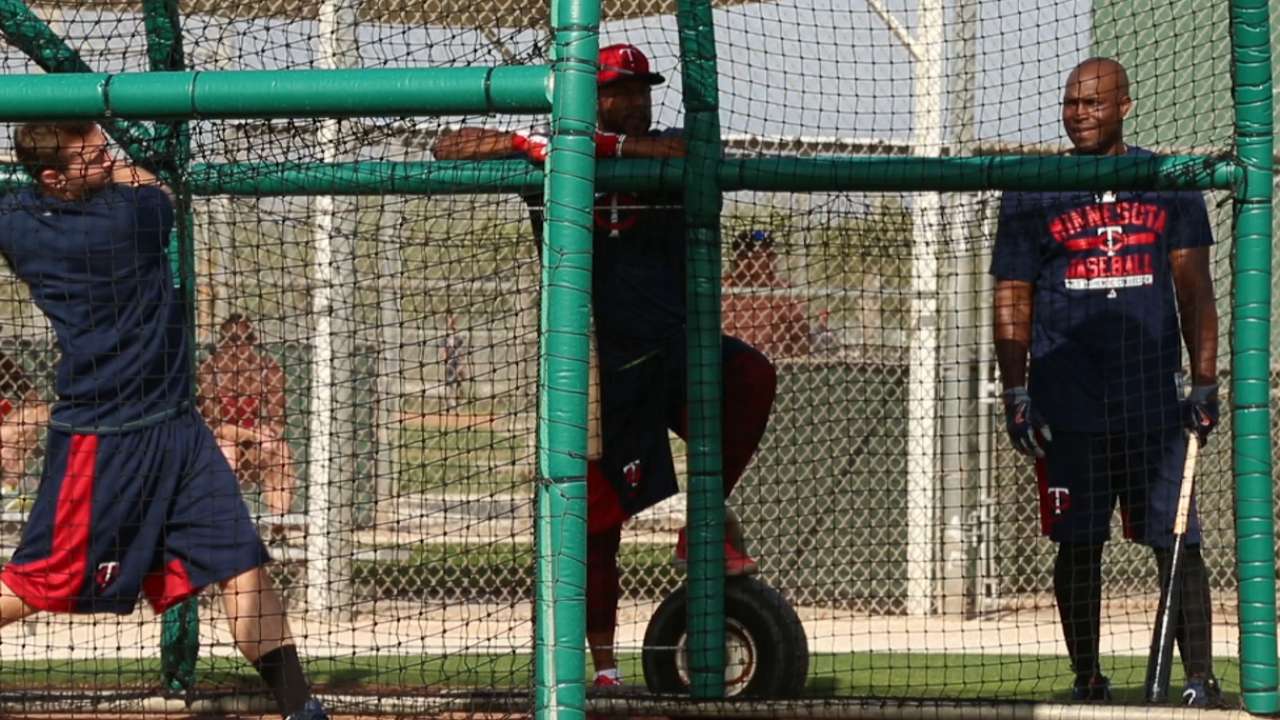 Molitor as manager will be more about thought than theater. He was asked if he needed to show emotion.
"You want to have energy, but at the same time be yourself," he said. "So I don't think I'm going to need to change inflection or anything like that just to emphasize. There might be a time where emotion plays a part of that a little bit, but today was pretty much straightforward, transparent. 'This is what we want to see happen.'"
The Twins, it was suggested to Molitor, would be open to the notion of playing as hard as possible because they were tired of losing. Again, the manager saw the validity in that approach but suggested it wasn't the entire answer.
"You would hope so," Molitor said of the idea that the team will be intent on producing winning efforts. "You can't bank on just that. Obviously, you've got to do the things you need to, to try to take those steps forward. But it starts with desire and your willingness to do the work. We know there are no shortcuts out there. These guys -- especially the ones who have been around here the last three or four years -- they watch other teams win and celebrate and they're ready, I think, to move in that direction."
What about rules? Every club has rules. Every manager has rules. Molitor will have specific rules, too, but he said something on this topic that demonstrated not only a basic understanding of baseball but also of human nature.
"Today we talked about, if you have the ability or the desire to do the right thing, it takes care of a lot of rules," Molitor said. "And I think we're going to try to cultivate that."
Molitor will make changes, but he will not try to remake this club in his own image. Will he, for instance, change the fundamental nature of Twins Spring Training? No. Molitor has seen the program put in place by Tom Kelly, when he managed the Twins, and carried through by Gardenhire. It works for Molitor.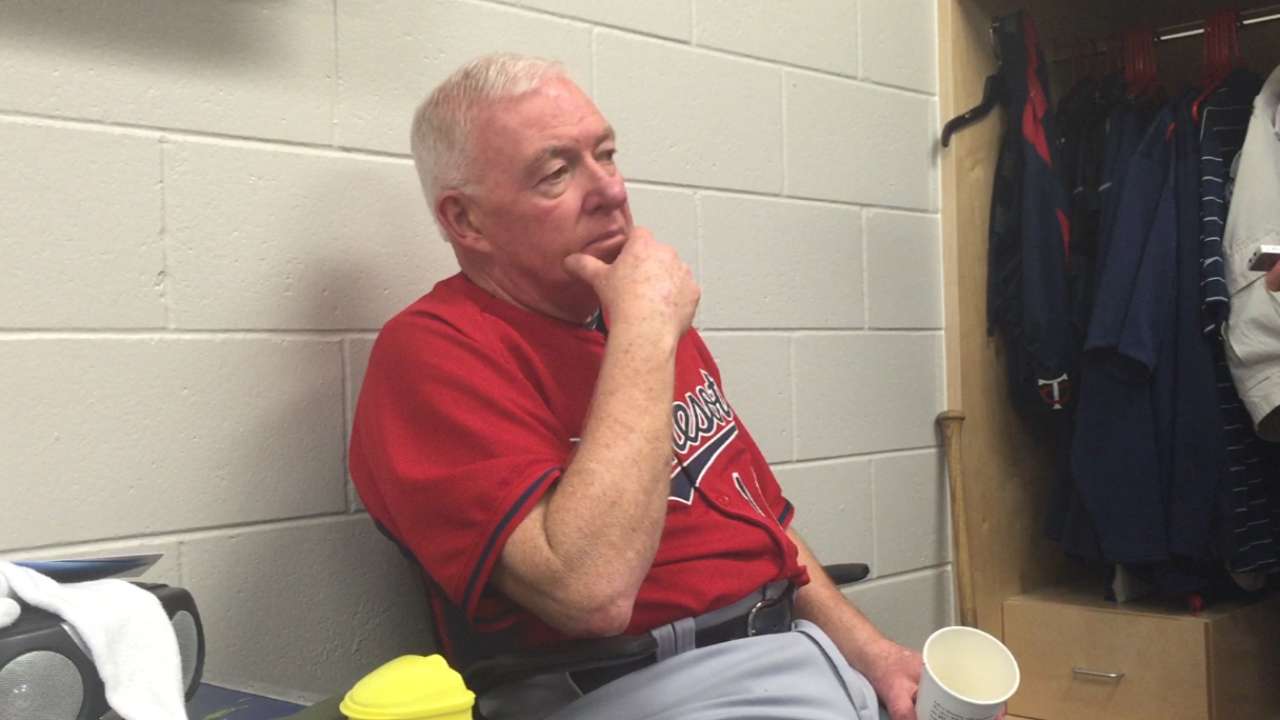 "The format, the foundation that we have here was established by T.K., and I'm sure he made his adjustments as he got more experience and found out what worked and what didn't," Molitor said. "And Gardy continued it with his own little twists. I'm doing the same. I'm not overhauling anything. It works. It's fluent. It's concise. It's specific to what we want to do.
"If you have your opinions on little things, that's fine. But I've seen it for years. I don't have any overall questions about how it works. I'm confident of that."
With all the pluses and minuses of this team at this time, you look at the Twins in the context of their division, and you think: "Uphill, all the way." But you look at the new manager, Paul Molitor, and you think: "If anybody can find a way, he can."
Mike Bauman is a national columnist for MLB.com. This story was not subject to the approval of Major League Baseball or its clubs.