Webb overcame grief during rookie season
Reliever reflects on mother's passing last spring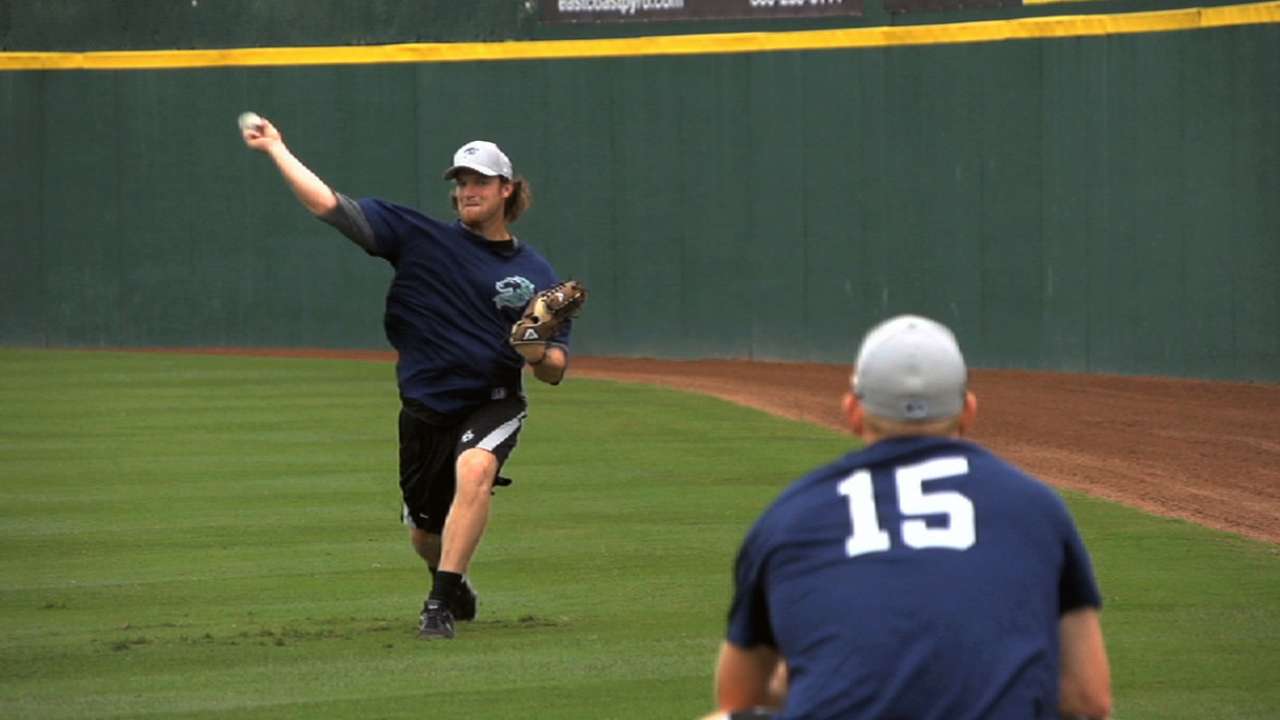 GLENDALE, Ariz. -- Bad days exist for relievers such as Daniel Webb. It's an inherent part of the job when making 57 appearances in a season as the 25-year-old right-hander did during his 2014 rookie campaign.
But walking a couple of hitters in an inning or allowing an occasional inherited runner to score isn't in the same ballpark as the pain Webb felt one year ago on Feb. 27, when his mother, Sandra, passed away suddenly at the age of 54. Webb was notified in Glendale as he was competing for a spot on the White Sox roster.
"I thought about her every day. Some days were worse than others," Webb said. "Some days it hit me and I would be like … it took a while for it to set in really.
"Then, once it set in, I had tougher days. Some days, you can't call them good days, but it was like a peaceful day with it, understanding it. And then, like I said, the tough days that I didn't know how to feel: mad, upset or whatever."
Webb had an up-and-down but primarily successful rookie performance for the White Sox. He finished with a 3.99 ERA and 58 strikeouts over 67 2/3 innings. He also walked 42, which Webb understands to be too many for a reliever who has such little margin for error.
The bullpen alignment has changed for the White Sox in '15, with closer David Robertson, Zach Duke and Dan Jennings joining the relief crew. When adding in Jake Petricka, Zach Putnam and Javy Guerra, those six most likely leave one spot for Webb and others.
Even without those new additions and his one year of solid experience, Webb wouldn't view this Spring Training any differently from the past. He's trying to make the team, focused on repeating his delivery and "staying within myself" to help rectify the control issues.
Excuse-making is not part of Webb's game, but losing his mother, losing one of his biggest fans whom he could always turn to when talking about things outside of baseball, certainly had to affect his focus. Webb admitted the first holidays without his mom were tough for him, his dad, Champ, and sisters Reagan, Caroline and Brook, but they are excited to have him back pitching. Webb's mother won't ever be far from his thoughts, with one of his custom gloves from Rawlings featuring her name.
"I'm competing for a job here, and I'm trying not to get sidetracked with other thoughts," Webb said. "But she's with me and I just go day by day. It has been a year. It flew by, but it has dragged on, too."
Scott Merkin is a reporter for MLB.com. Read his blog, Merk's Works, and follow him on Twitter @scottmerkin. This story was not subject to the approval of Major League Baseball or its clubs.