Richard working with Pirates to correct delivery
Lefty was in 'protection mode' while throwing due to past shoulder injuries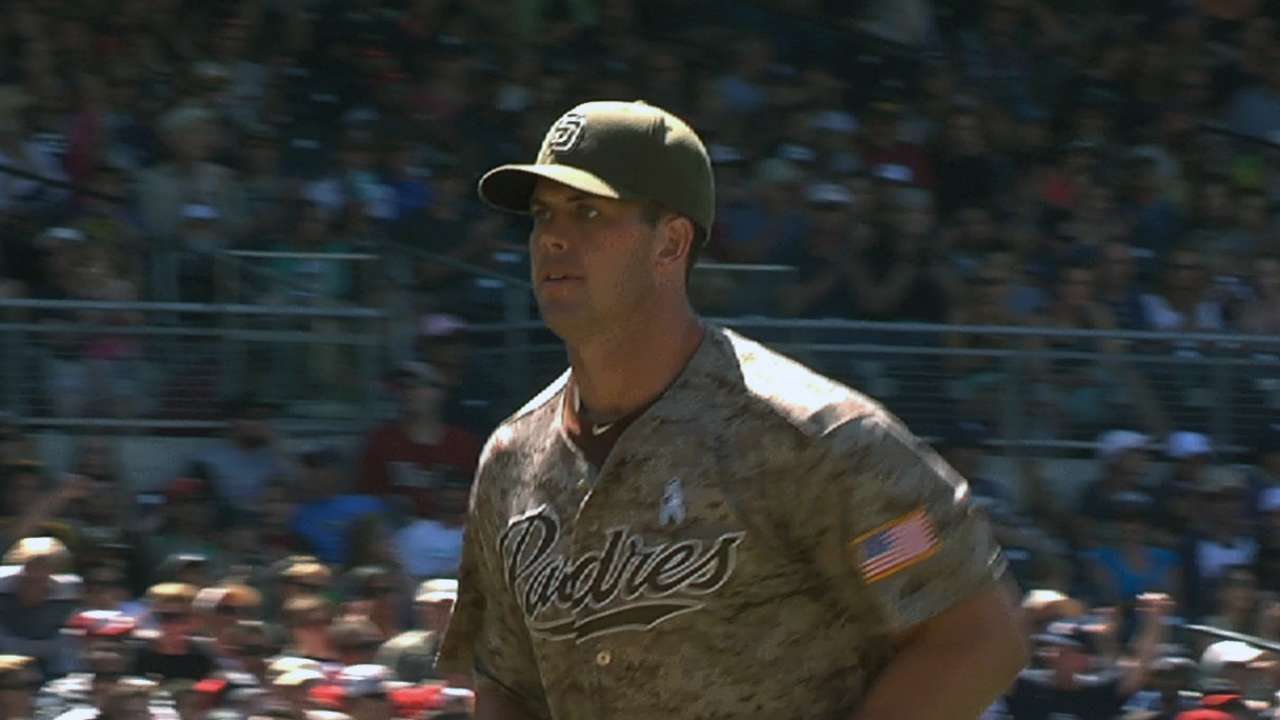 BRADENTON, Fla. -- Clayton Richard did his research when the Pirates invited him to Spring Training. He liked the direction the team was headed. He talked to former Pirates pitcher Edinson Volquez, his teammate in San Diego, and heard nothing but good things about the coaching staff and the clubhouse atmosphere.
More than anything, Richard was intrigued by the Pirates' recent success with pitchers who had been injured or ineffective. So far, his experience working with pitching coach Ray Searage and special assistant Jim Benedict has validated the high praise.
"It's terrific. Those guys know what they're talking about, and they really care about the players," Richard said. "It's a tremendous experience for me and an opportunity that I'm trying to take advantage of."
After a solid 2010 season, a left shoulder injury shortened Richard's '11 campaign. He bounced back to throw 218 2/3 innings for the Padres in '12, but another shoulder issue -- this time with his AC joint -- limited Richard to 11 starts in '13.
Last February, Richard was diagnosed with thoracic outlet syndrome, seemingly the source of all his shoulder problems. The operation to take care of it involves removing at least part of a rib. Richard keeps his at home on his desk.
"I guess I didn't want to throw it away," he said, smiling.
Signed to a Minor League deal with a spot in the Pirate City clubhouse, the 31-year-old left-hander is looking to recapture the form that helped him go 14-9 with a 3.75 ERA in 201 2/3 innings in 2010. Richard started feeling healthy again last year, but all the shoulder injuries led him to develop bad habits in his delivery.
"He's strong as an ox. Just got to work on a couple things," Searage said. "He's in protection mode. He knows that old feeling of when he felt the pain, the body goes into 9-1-1."
Richard is working with Searage and Benedict to undo those habits, trying to smooth out and consistently repeat his delivery. They talk in the video room, while playing catch and while working in the bullpen. Richard figured they make at least one minor adjustment every day.
"It kind of comes piece by piece, because it's a lot easier said than done," Richard said. "You think, 'Just let it go.' But there's habits that I've created for so many years trying to protect the pain that it just takes repetitions and adjustments to get back to normal."
It's hard to say where Richard fits into the Pirates' plans. They already have six qualified starters and only five rotation spots.
But Richard isn't concerned about that right now. He's still got some work to do and some old habits to kick.
"I'm going to have to take care of what I can take care of and make my adjustments and be a better pitcher every day," he said. "Where that takes us, I don't know -- and I'm not going to worry about where that takes us."
Adam Berry is a reporter for MLB.com. Follow him on Twitter at @adamdberry. This story was not subject to the approval of Major League Baseball or its clubs.