Karns set to make pitch for spot in big league rotation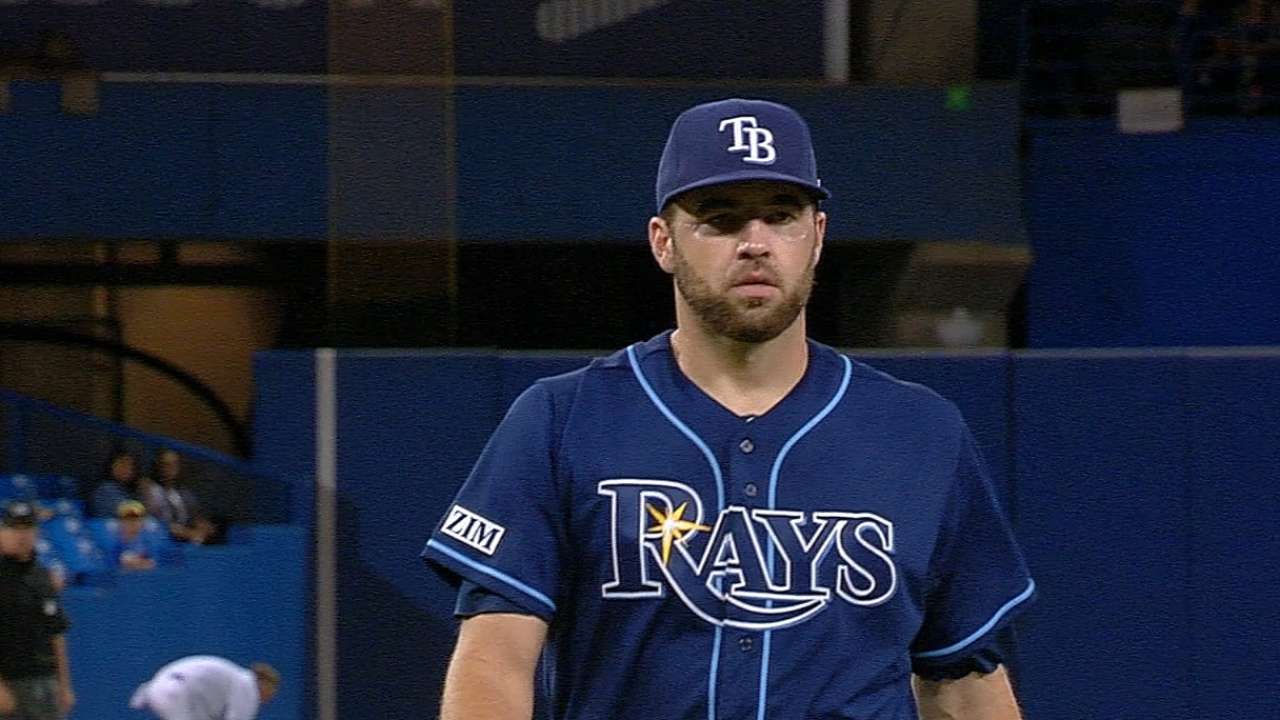 PORT CHARLOTTE, Fla. -- Nathan Karns finds himself again competing for the No. 5 spot in the Rays' rotation. While the odds might not be in his favor to land the spot, he has a better chance than he did in 2014.
Karns came to the Rays in a trade with the Nationals on Feb. 13, 2014. He competed to earn the No. 5 spot in his first camp with Tampa Bay before spending the season at Triple-A Durham.
But at the end of his first season in the organization, the hard-throwing right-hander got to make his Rays debut on Sept. 12 in Toronto.
Karns looked overpowering that night, allowing no runs on two hits and two walks while striking out eight in seven innings to notch his first Major League win.
"I enjoy it when I have success at the highest level," Karns said. "Now I just want more of the same thing.'
The 27-year-old's goal is to be able to find success on a more consistent basis.
"My approach is to just try to improve each year, instead of taking a step back," Karns said. "Last year was a little bit of an up-and-down season at Triple-A, but it was nice to finish the year up with the team in Tampa. And get that first win under the belt, obviously."
More telling might have been what happened in Karns' next start on Sept. 21, when the White Sox scored six runs on five hits in five innings at Tropicana Field. Included in the onslaught were three home runs -- two in the second inning -- but he managed to stay in the game.
"I think Chicago kind of showed I was able to work through [a bad start]," Karns said. "They jumped on me in that second inning and I pitched through the sixth -- whereas my first time out through the big leagues [with the Nationals], I don't think I got through the fifth in any of the games.
"I was pleased [that] in both starts I was able to at least get into the sixth inning. Just try to buy my time out there. Pitch as many pitches as I can to give the bullpen a break."
The reality is Karns must beat out Alex Colome to win the fifth spot. Tilting the decision in Colome's favor is the fact that Colome, who also is a talented pitcher, is out of options. Karns is not.
Whether he begins the season with the big league club or not, the Rays are expecting big things from Karns in the future.
"Karns has big stuff," Rays farm director Mitch Lukevics said. "I watched him a lot last season in Durham. Big stuff, big tools. He's improving his command. And when he gets that command and learns how to pitch a little more, the sky's the limit for him."
Bill Chastain is a reporter for MLB.com. This story was not subject to the approval of Major League Baseball or its clubs.