Rain may delay Fernandez's debut off mound
Marlins tap Hand to start Monday vs. Florida International; eight others slated to pitch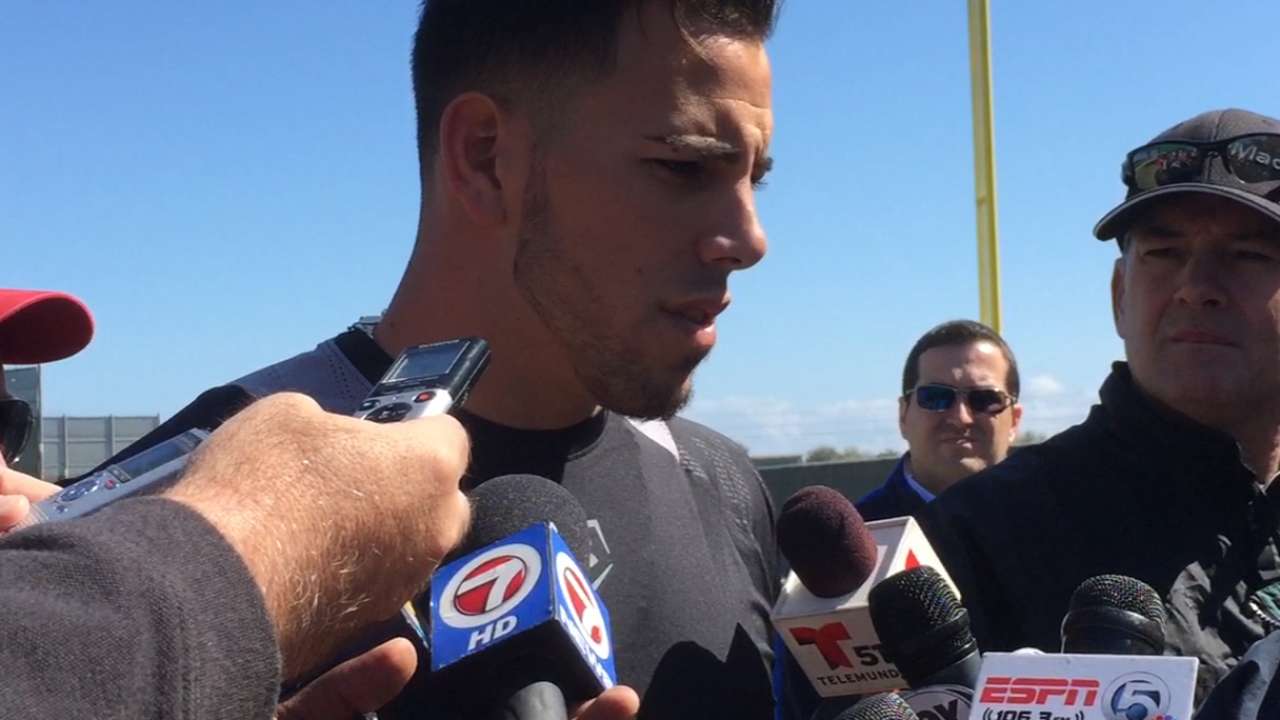 JUPITER, Fla. -- Marlins right-hander Jose Fernandez could be throwing off the mound as early as Sunday, but the team hasn't publicly finalized an exact date.
The plan has been to get the 22-year-old throwing off the mound around March 1. Other factors could come into play, perhaps even the weather.
There are covered mounds at the Roger Dean Stadium complex, but it remains to be determined if the club would opt to have Fernandez use one of them during inclement conditions. Rain on Friday, for instance, reduced Miami's workouts to hitting and pitching in the cages.
Fernandez, recovering from Tommy John surgery, has been throwing off flat ground since Spring Training began. The real test on how his elbow is responding will come when he starts letting loose on the mound.
"I think the plan is sometime in the next few days," manager Mike Redmond said. "I don't know if we've set an exact date. But it will be somewhere in the next few days, around the first of March."
• The Marlins have named lefty Brad Hand as the starter on Monday against Florida International University at Roger Dean Stadium. Miami has lined up nine pitchers to each throw one inning -- Hand, Vin Mazzaro, Justin Nicolino, Pat Misch, Kendry Flores, Brian Ellington, Ryan Chaffee, Pat Urckfitz and Ryan Reid. None of the Marlins' regulars are expected to start.
• The pitching rotation has not been set for Tuesday's game against the University of Miami. But the Marlins' regulars will play an inning or two and get one at-bat. Giancarlo Stanton is slated to be the designated hitter against UM, with Ichiro Suzuki starting in right field.
• Former Marlins All-Star catcher Charles Johnson was a guest instructor of the team on Friday. Johnson was in uniform, although most of the day was rained out. Redmond likes to invite former players to join the team and interact with the players, which Mike Lowell did last Spring Training.
"I've talked to C.J. over the last couple of years, trying to get him in uniform and hanging out with the guys," Redmond said. "Today, he made it up. He will be in and out probably throughout the spring. We played together through the Minor Leagues, so it's good to have him back in a Marlins uniform."
Joe Frisaro is a reporter for MLB.com. He writes a blog, called The Fish Pond. Follow him on Twitter @JoeFrisaro. This story was not subject to the approval of Major League Baseball or its clubs.