Waino returns to camp; hopes to throw off mound Monday
Despite abdominal strain, ace could make first spring start in 2-3 weeks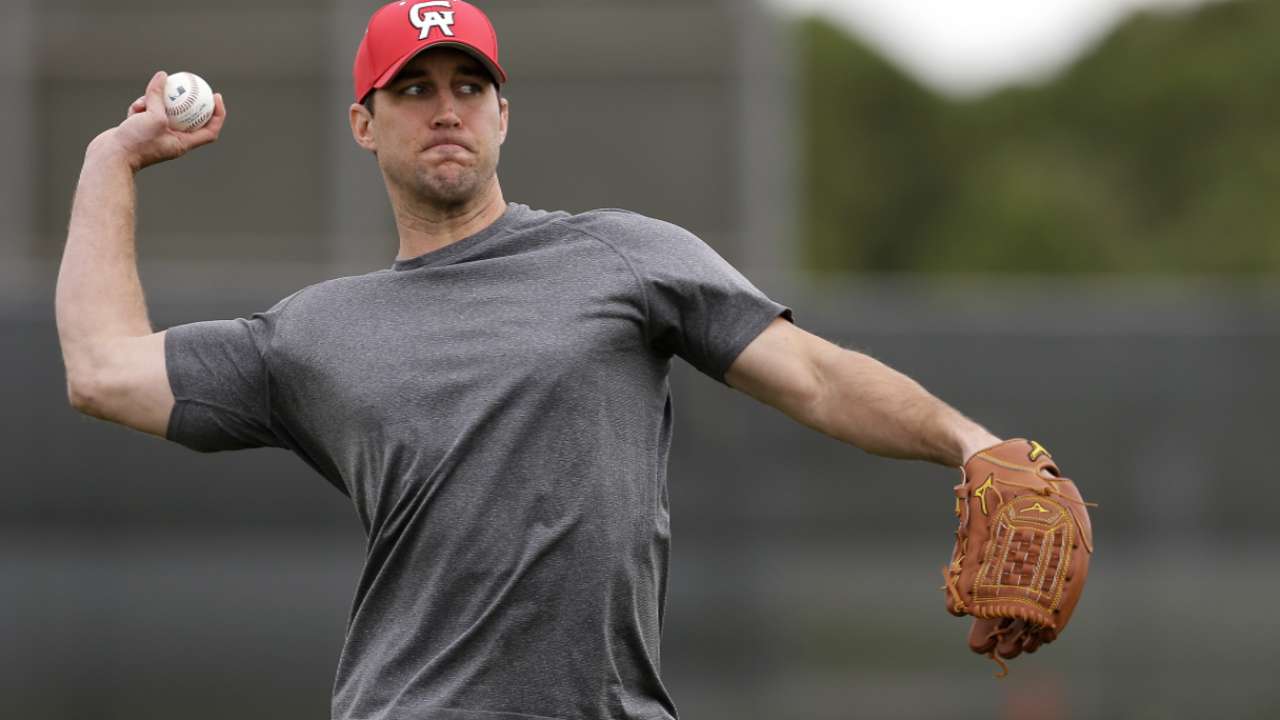 JUPITER, Fla. -- Adam Wainwright returned to Cardinals camp on Friday, one day after a St. Louis-area specialist diagnosed him with an abdominal strain that should not keep him from continuing through a spring throwing program.
Wainwright, who described the diagnosis as "the news I expected to hear," resumed long toss on Friday and said he will play flat-ground catch over the weekend. He is then to be re-evaluated on Monday, when he will seek clearance to resume throwing off the mound. Wainwright's fielding, running and work in the weight room will be limited for a while, but his throwing does not have to be.
"From what I've been told, in four or five days, I can start mixing and matching things that I would normally do slowly until I'm back to 100 percent in a matter of just two weeks," Wainwright said. "I can continue to build arm strength off the mound and face hitters and all that stuff. And when I'm ready to move laterally and get stuff going, that should be a quick, easy thing. Right now, I can go out there and throw live BP, just don't field my position. I'm fine with that."
"When they get in there and they see it is what we thought, it is reassuring," added manager Mike Matheny. "I know it was more for Adam's sake than anything else, that now we can get on a plan knowing he can get back here pretty quick."
Wainwright hopes to be ready to make his first Grapefruit League start in two to three weeks. That would still give him time to make three or four spring starts, which Wainwright said should be a sufficient enough tuneup for the season. The Cardinals had already scripted out a slowed spring program for Wainwright as part of their initiative to watch his overall workload.
"Everybody was saying that you need to scale back your innings in Spring Training," Wainwright said. "God just naturally found a way to make that happen without ticking me off. 'OK, Adam. You don't want to have time off? I'll make you take time off.'"
Wainwright suffered the abdominal strain while replacing a 45-pound weight during a voluntary workout at the Cardinals' complex a few days before the pitchers' report date. He acknowledged on Friday that he was briefly concerned about the possibility of a sports hernia when he continued to feel discomfort the next day.
"You just hear and then you get on WebMD and you do all this stuff online and you're your own best doctor, and then all of a sudden you're your own worst doctor and you make prognosis that aren't there," Wainwright said. "But two days after the fact, I saw how much better I was and then I wasn't scared anymore. It's also relieving to hear it knowing that there isn't something else going on in there that should cause concern."
Jenifer Langosch is a reporter for MLB.com. Read her blog, By Gosh, It's Langosch, follow her on Twitter @LangoschMLB and like her Facebook page Jenifer Langosch for Cardinals.com. This story was not subject to the approval of Major League Baseball or its clubs.