Fireballer Capps searching for consistency, 'pen spot
Marlins right-hander must overcome elbow sprain that cut 2014 season short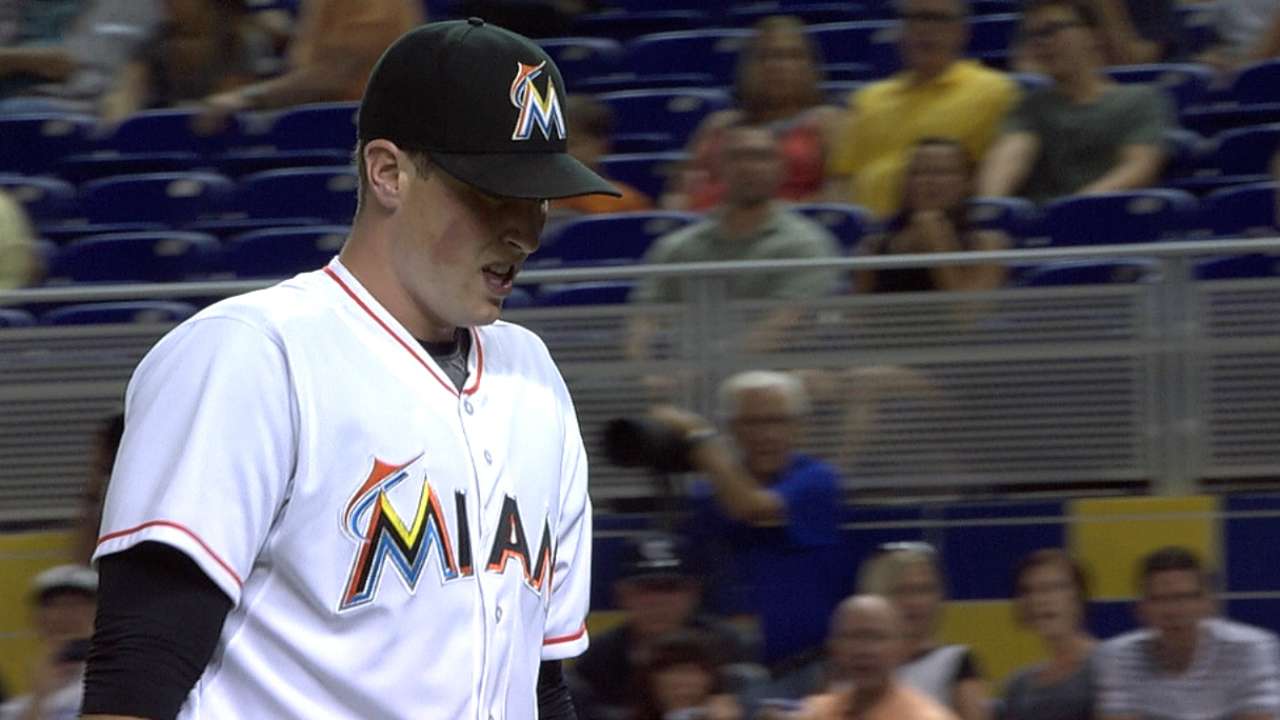 JUPITER, Fla. -- If the pure velocity doesn't get your attention, the quirky delivery will. Carter Capps certainly brings a level of intrigue every time he gets on the mound.
The hardest thrower in the Marlins' camp, Capps is competing for a bullpen spot. There still is a matter of consistency, but if he gains it, he could become a force in the late innings.
The 24-year-old also has to stay healthy, as a right elbow sprain sidelined Capps for most of 2014. So far in camp, he's showing a power fastball.
"I'm feeling great," Capps said. "I'm definitely more than 100 percent healed."
Capps' velocity is not in question. If he keeps building up, he projects to be one of the hardest-throwing relievers in the game.
According to FanGraphs.com, Capps' average fastball velocity was 97.4 mph last year. For relievers with at least 20 innings, that was the third fastest behind only Cincinnati's Aroldis Chapman (100.3 mph) and Kansas City's Kelvin Herrera (98.1 mph).
According to research compiled by the Marlins, Capps reached the 100-mph mark six times last year, which was tied for the seventh most in the Majors. The only other pitcher from Miami's squad last year to touch 100 mph was Nathan Eovaldi, who did it once.
"It's definitely a benefit," Capps said. "I can get away with some misses that maybe somebody else couldn't. Other than that, I've got to throw the ball on the corners. I can't leave it over the middle of the plate."
The Marlins acquired Capps from the Mariners for Logan Morrison at the 2013 Winter Meetings.
Capps has an unconventional windup where he takes a small hop as he pushes off the rubber.
"I didn't even notice it until people started talking about it," Capps said. "It just feels natural. To me, it feels like all one motion, but I'm sure it looks pretty bad to some people."
Jordan Walden, who pitched for the Braves last year and is now with the Cardinals, has a similar hop.
"He kind of does the same thing," Capps said. "Guys would give me a hard time when we played [Atlanta]. They'd go, 'Oh, Capps is on the mound.'"
The elbow injury limited Capps to 20 1/3 innings in 17 appearances. He struck out 25 and walked five.
One thing Capps has to guard against is taking too long of a stride.
"The other day, I was throwing a bullpen, and I was literally striding off the mound," Capps said. "I was hitting some of the grass. I didn't realize it. We went back and counted it. It was like eight feet, which is ridiculous. It's something I don't see, because I'm out there doing what I'm doing."
Joe Frisaro is a reporter for MLB.com. He writes a blog, called The Fish Pond. Follow him on Twitter @JoeFrisaro. This story was not subject to the approval of Major League Baseball or its clubs.