Rockies' Foster takes personal approach
New pitching coach made offseason visits to players to get to know Colorado's staff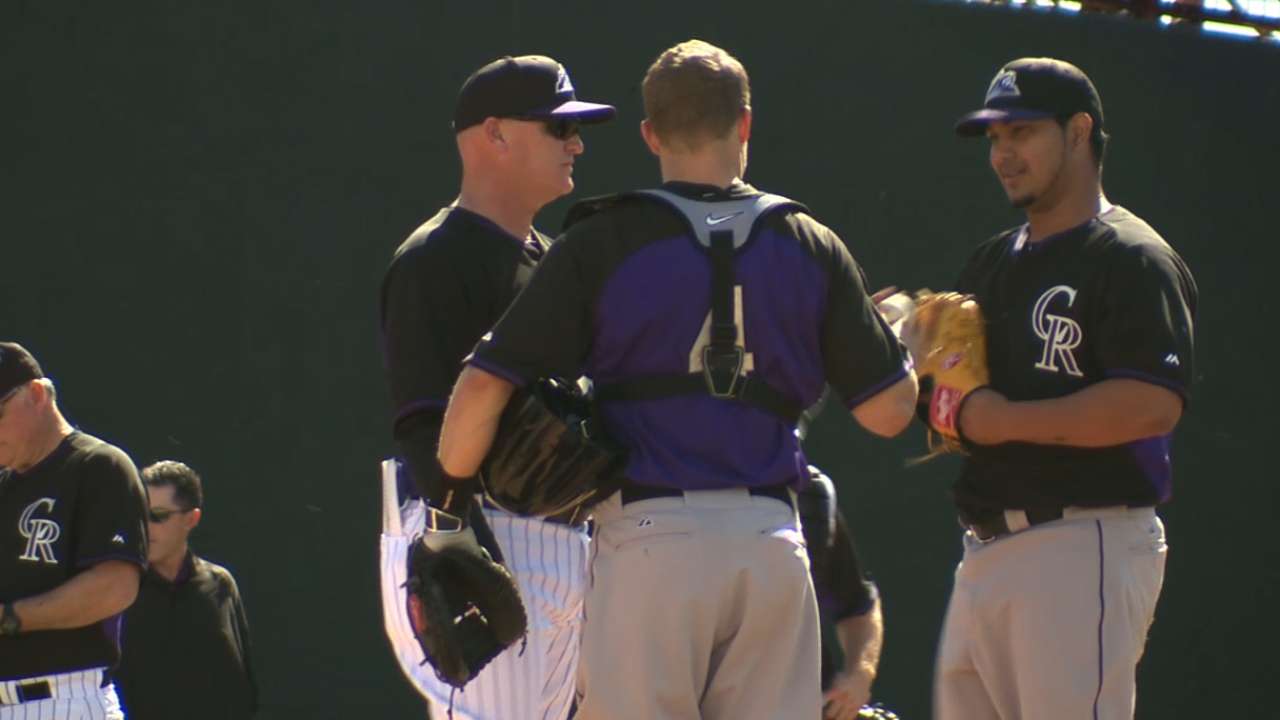 SCOTTSDALE, Ariz. -- Rockies lefty relief pitcher Rex Brothers had quite a bit to fix this offseason, after an ineffective 2014. So he was happy that new pitching coach Steve Foster wanted to start the process this winter by visiting him for dinner at his Tennessee home.
The day after dining with Foster and Rockies peak performance coordinator Andy McKay, Brothers and his younger sibling, Colorado righty prospect Hunter Brothers, pitched in front of the new coach. Would there be a magic tip to make his 5.59 ERA form of 2014 go away and his 1.74 ERA dominance in 2013 return?
"It was kind of funny," Brothers said. "He might've said a couple of words while we were out there throwing. Other than that, it was, 'OK, guys. You looked good. I'm out of here.'"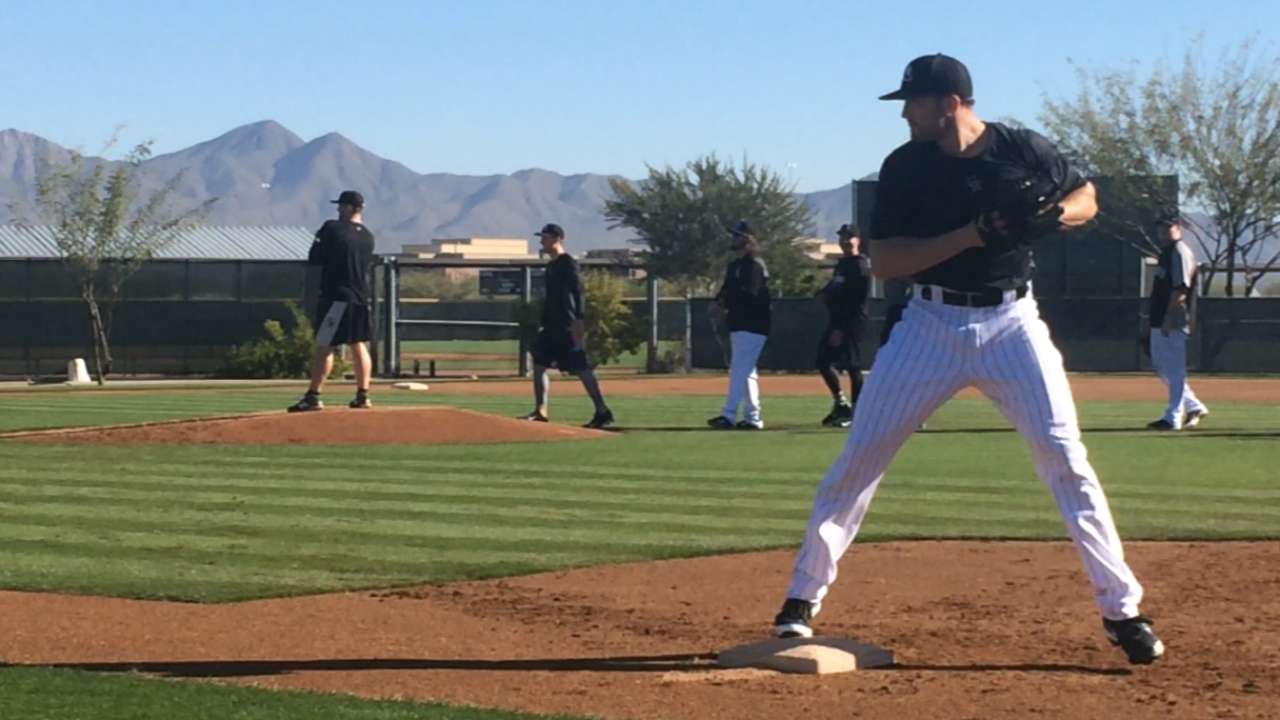 It may seem odd from outside of a pro athlete's perspective, but Foster made his point by not offering pointers. There's time for that.
After parting ways with pitching coach Jim Wright and assistant pitching coach Bo McLaughlin at the end of last season, the Rockies hired Foster, 48, away from the Royals, where he was special assistant to the general manager/pitching coordinator. Colorado also hired Darren Holmes, one of their former relievers, as bullpen coach. Foster, a former bullpen coach with the Marlins and the Royals, helped build a Kansas City pitching staff that was a key to an unexpected World Series appearance, a series which the Giants needed seven games to win.
A pitcher in the Majors with the Reds from 1991-93, with coaching experience at the college and pro levels and time spent scouting, Foster is expected to find the tips and tricks to help the Rockies' pitchers improve after being near the bottom in many significant categories in 2014. But since his hiring on Nov. 4, Foster has been displaying the characteristics that have nothing and everything to do with pitching knowledge. More importantly, his traits have everything to do with reaching his pupils.
Part of Foster's magic could be seen in his method with Brothers. The tweaks and improvements will come; after all, Foster is there to coach, not simply to befriend. But coaching tips were not why Royals bullpen stalwarts Kelvin Herrera and Greg Holland conversed with Foster via text throughout the postseason. Foster won them long before the first pitching tip.
"He has the ability to connect with people, the ability to teach, encourage and hold people accountable," said Colorado manager Walt Weiss, who collaborated with senior vice president and general manager Jeff Bridich to make the hiring. "First and foremost, we were looking for a leader."
If there is a specific point to help Brothers and the other pitchers, Foster will get to it. But his experience has shown that tips aren't at the top of his to-do list.
With Kansas City, Foster made time for face time with prospects and Major Leaguers, often in a coffee shop or somewhere away from the park. He knew what to coach, but he wanted to take his time to learn how to coach each pitcher.
"Everybody needs inspiration," Royals general manager Dayton Moore said. "It doesn't matter where you are or at what phase of your life. Foster understands that. It's something he does naturally. He shows up every day with care and belief. He has a plan. Players trust him."
So when the Rockies tabbed him, Foster was excited to learn he would travel the country in an outreach program. The visit with Brothers was part of several thousand miles Foster logged seeing as many pitchers as possible. Foster even made an ill-fated trip to South Carolina to see righty Jordan Lyles, but he was so sick from the flu that he had to recuperate in a hotel room while Holmes met with Lyles.
"It was finding out in the offseason where guys were at mentally with the past season and where they were at in the stages of moving on and putting it behind them. [And I wanted to find] out about their families, their wives, their children, things that let them know I care more about them than their arm and what comes out of their hand and on the mound," Foster said.
Foster learned the technical side from coaches he's pitched for and coached with -- a key one being Colorado director of pitching operations Mark Wiley. But other parts of his journey taught him about people. Foster coached collegiately at the University of Michigan. He also scouted for the Rays, and used some of that time to talk to legendary University of Arizona baseball coach Jerry Kindall and study basketball coaching legend John Wooden for their methods of gaining trust.
Foster also took time off from coaching in 2003 to become a youth pastor of a Wisconsin church that sent students to flood-ravaged Haiti on a humanitarian mission. The ministerial work added a dimension to his coaching.
"I had to prepare Bible studies, talks, funerals and all kinds of things that took an enormous amount of time and preparation in making sure people's lives mattered," Foster said. "I certainly didn't do it with that in mind. But most of the things in our lives we are doing daily, we don't understand the ramifications down the road and the skill that we gain."
But in one of his first meetings with the Rockies' pitchers, Foster used a parable of sorts.
"He told a story about some horses," smiling right-hander Jhoulys Chacin said. "It was a kind of long story. I don't remember everything. But the point of the story is whatever you want to do, you have to work hard, train to be great. He gives you energy like that."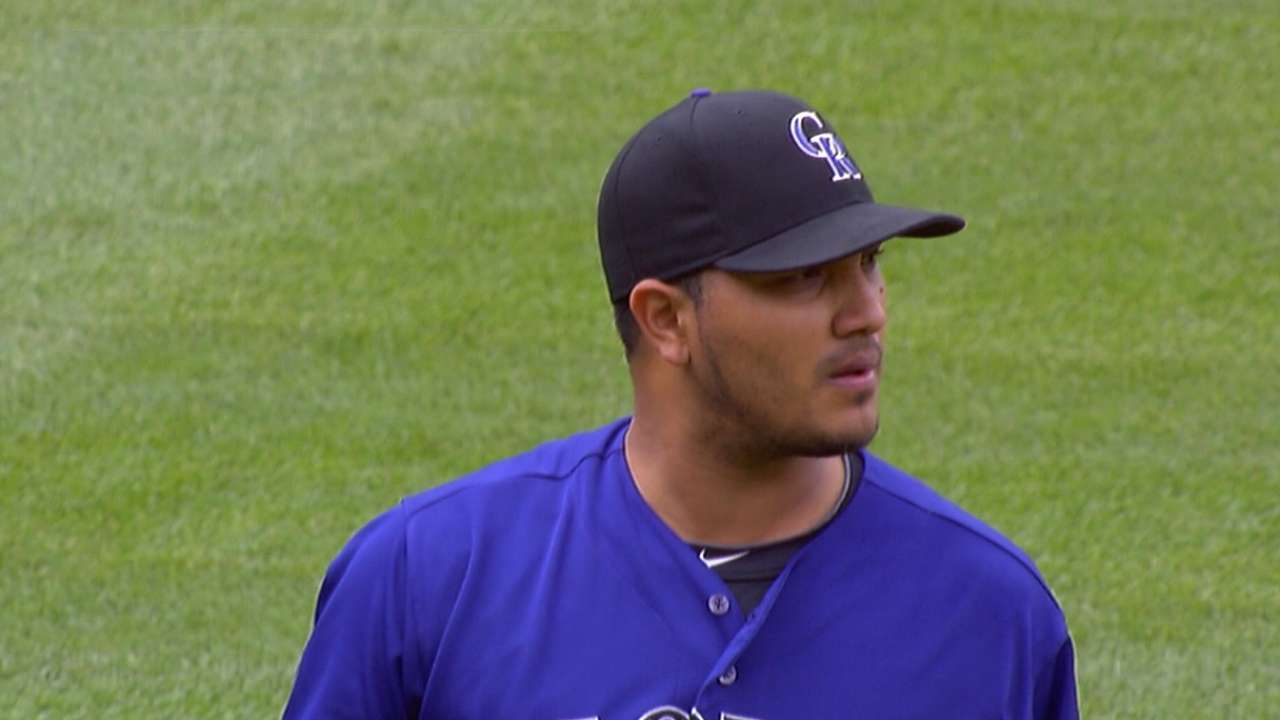 When Foster explained how the story related to baseball, teacher/coach/minister blended in a pattern that emphasized key words and repeated his themes.
"The story about the horse was about discipline -- focused intent on doing the right thing, even when it's uncomfortable," Foster said.
"It takes discipline. And I want all our pitchers to understand my definition of discipline and memorize it to their hearts and minds, so that they can handle change."
Through the early part of camp, Foster has been demanding game intensity during drills, at times reminding pitchers proper fundamentals on pickoffs and on fielding could win a game. But his exacting standards came after building a rapport and promoting confidence.
Foster is still learning about Chacin, but Chacin keeps asking for pointers. Brothers, after being surprised not to hear tips during that offseason session, is ready also.
"He allows you to be who you are and what you are and move forward from there," Brothers said. "It's more of, 'This is who you are, now let's make you better.'"
Thomas Harding is a reporter for MLB.com. Read his blog, Hardball in the Rockies, follow him on Twitter @harding_at_mlb, and like his Facebook page, Thomas Harding and Friends at www.Rockies.com. This story was not subject to the approval of Major League Baseball or its clubs.