Sterling hosts fundraiser for families displaced by NJ fire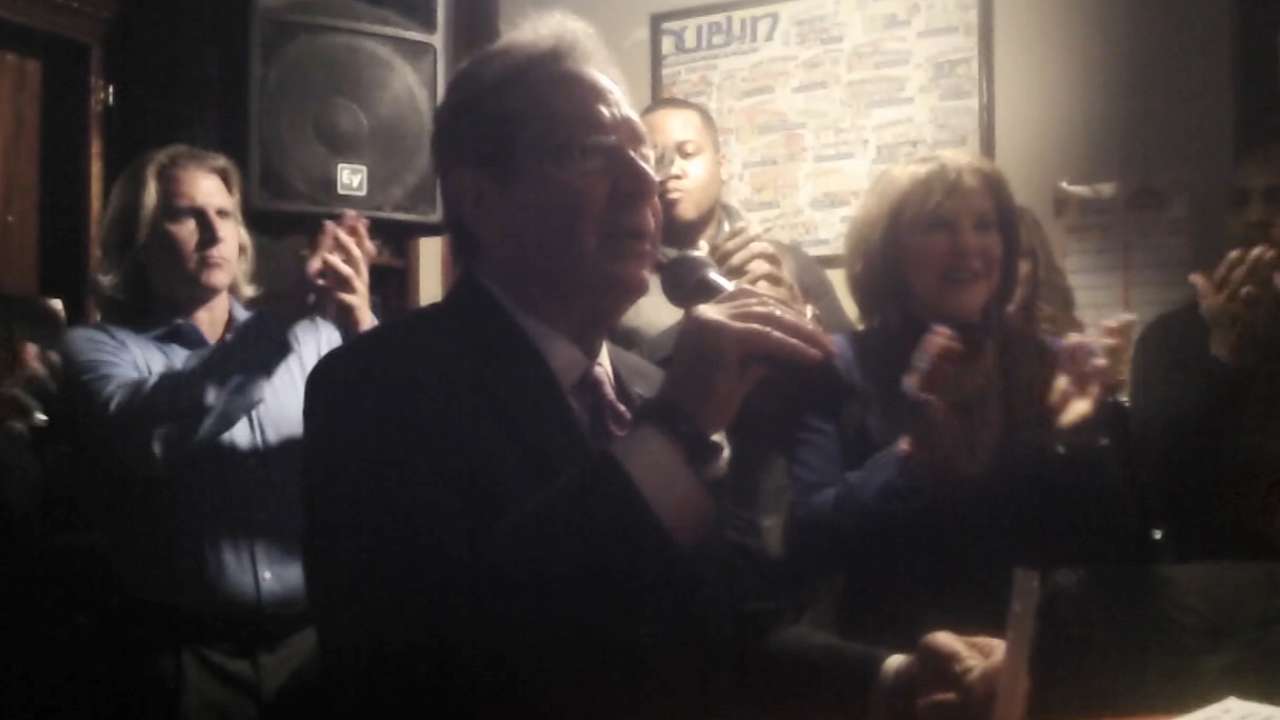 NEW CITY, N.Y. -- If anything was made clear by the goings-on Thursday night at D&D's Restaurant & Pub, it's this: Yankees fans love them some John Sterling.
While hosting a meet-and-greet fundraiser in support of the families displaced last month by a fire at the AvalonBay luxury apartment complex in Edgewater, N.J., Sterling, the Yankees' longtime radio play-by-play man, barely had a moment to himself.
There was one woman proud to show him the bottle opener that also played recordings of his famous calls, another smiling giddily while explaining that she grew up in Edgewater listening to his broadcasts. From the selfies to the autographs to the old-fashioned handshakes, constant requests from the several hundred in attendance made it difficult for Sterling to maneuver through the restaurant in anything resembling an efficient manner.
"It says not only that he has a good heart, but he's really popular. People love John Sterling. He's a legend," said David Cone, the YES Network analyst who was one of the handful of former Yankees present. "When he gets behind an event like this, I said yes right away because of him."
Joining Cone was a trio of New York All-Stars from yesteryear -- Bucky Dent, Willie Randolph and Roy White -- as well as former New York (Football) Giants Joe Morris and Jay Alford and Sterling's radio partner, Suzyn Waldman.
Together they raised upward of $10,000, according to Elaine Apfelbaum, a family friend of the Sterlings who organized the event. Aside from the tickets to get through the door, the money came from the silent and live auctions, plus a $5,000 donation from the Yankees.
"It's really an overwhelming turnout," Apfelbaum said.
The proceeds will go to Edgewater Strong, a disaster relief fund created in the aftermath of the January fire that displaced approximately 1,000 people, including Sterling. He lost everything except the 2009 World Series ring he happened to be wearing that day.
Most of the families seem to be doing OK, according to Edgewater Mayor Michael McPartland, all things considered.
"I haven't had any major complaints other than I know the families want to get in there and try to salvage what they can," McPartland said. "We've had the place quarantined basically, because it's dangerous for anyone to go in there and try to walk on any of that rubble.
"When they finally do demolish the rest of the place, they're going to somehow let people try to get some of their stuff back."
Cone -- who pretty steadily had the longest autograph line of the night -- met some of the affected families, which made Thursday night's cause all too real.
"The stories are all very similar. It's about thankfulness that nobody got hurt, first and foremost," Cone said. "But your whole life is lost, all your memorabilia, your pictures, your family photos -- little things you don't think a lot about but really mean a lot."
Sterling was able to replace most of his material belongings, but he knows some of his neighbors aren't as lucky. So he sprung into action.
"Once the fire hits and you're out on the street with the clothes on your back, it's a very scary feeling. That's why we're having this," Sterling said. "This [fundraiser] is as gratifying as anything I've been involved in. Maybe it'll help in some small way. I hope so."
Tim Healey is a contributor to MLB.com. This story was not subject to the approval of Major League Baseball or its clubs.