Ivy Leaguers Lucas, Ohlendorf reunited with Rangers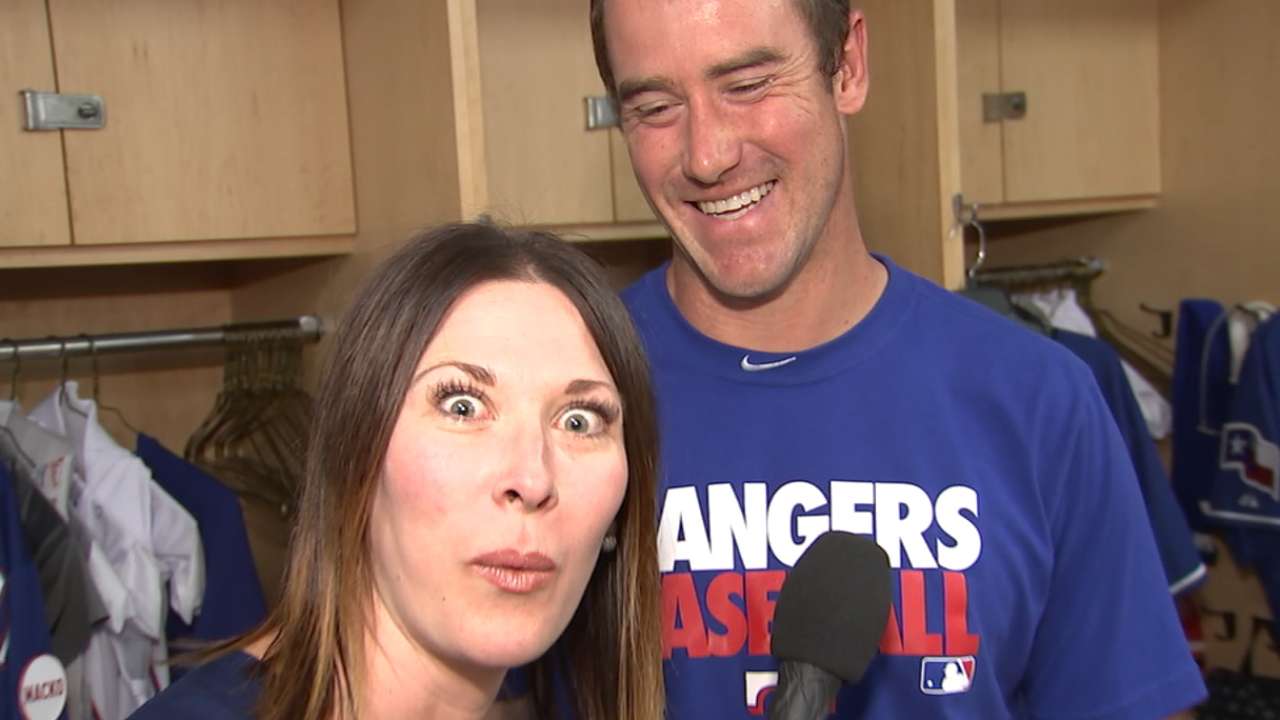 SURPRISE, Ariz. -- Dartmouth shortstop Ed Lucas was the 2004 Ivy League batting champion and Player of the Year, but he couldn't handle Princeton right-hander Ross Ohlendorf.
"He owned me," Lucas said. "The one that really sticks out in my mind is my senior year when we played Princeton for the Ivy League championship. He started Game 1 of a three-game series and he punched me out the first three at-bats. I don't think I've ever been so mad in my life. I got a single my fourth at-bat. By then, they were up by six runs, so it didn't really matter."
Princeton ended up winning that game, 14-3, and swept a doubleheader to win a second straight Ivy League title. The Tigers went to the NCAA regionals, and Ohlendorf beat Virginia in Game 1 before Princeton was eliminated with two straight losses.
"Not bad for a fourth seed," Ohlendorf said. "We were good. We had a really good coach in [former Major League catcher] Scott Bradley. My junior year, we had five guys drafted in the top 20 rounds."
Both players were drafted after the 2004 season. Lucas said Ohlendorf continued to dominate him through the Minor Leagues, but he doesn't have to worry about that now. The Dartmouth shortstop and the Princeton pitcher are together in the Rangers' clubhouse as Minor League invitees to Spring Training. Lucas is a candidate to be the club's utility infielder, while Ohlendorf is trying to make the team as either a starter or long reliever.
Having two Ivy League players in the Rangers' clubhouse is rare. They previously had just four players from the Ivy League: Mark DeRosa and Doug Glanville (Penn), Chris Young (Princeton) and Pete Broberg (Dartmouth). They traded away pitchers Ron Darling (Yale) and Kyle Hendricks (Dartmouth) when they were in the Minor Leagues.
The Ivy League is more known for producing doctors, lawyers, bankers, captains of industry and Presidents of the United States than athletes. But it is still a competitive baseball league.
"There is a little more talent there than it gets credit for, it's just not as deep," Lucas said. "We have pretty decent representation around the Major Leagues. We care just as much, but they are really stringent with not only their academic requirements but the time we have to put in."
Both Lucas and Ohlendorf appeared to have made the right decision in going to an Ivy League school. Both could have gone elsewhere. Lucas went to high school in Port Orange, Fla., and was also recruited for football. But playing professional baseball wasn't his top priority when choosing a school.
"If I had [thought I was headed for pro ball], I probably would have gone somewhere else," Lucas said. "Not to say you can't play professional baseball at Dartmouth, because a few have shown that we can. I just wanted to go to the best school possible. I wanted to play professional baseball, but I was trying to set myself for a different avenue if baseball didn't work out."
Lucas earned his degree in sociology and economics, and he considered law school. He was drafted by the Royals in the eighth round in 2004 and had a hard climb through the Minor Leagues. Lucas didn't reach the Major Leagues until 2013 with the Marlins, his fourth organization. The Rangers acquired him on waivers this winter. Because Lucas was drafted as a senior, he didn't have negotiating leverage and received a minimum signing bonus. In the Minor Leagues, he worked in the offseason in construction, as a waiter, bartender, substitute teacher and temp at Charles Schwab. But Lucas, 32, still loves the game, and law school doesn't appear in his future.
"Baseball has a pretty big grip on me, so I want to stay in as long as I can," Lucas said. "When I'm done I want to stay in it."
Ohlendorf is from Austin and played at St. Stephens Episcopal School. He was recruited by baseball powers Baylor and Texas, but he chose Princeton. Ohlendorf still had the ambition of playing Major League Baseball and knew Young had been drafted a couple of years earlier.
"Seeing his success made it easier to think that if I went to Princeton I would still get drafted," Ohlendorf said. "I really liked Princeton as school. The competition was fine. I felt it was a good place for me, and the coaching was great. Scott Bradley helped me a lot."
Ohlendorf was drafted as a junior in the fourth round by the D-backs but still earned his degree in operations research and financial engineering. His senior thesis analyzed the cost effectiveness of the Major League Baseball First-Year Player Draft.
But the Princeton graduate may still be a real cowboy at heart. Ohlendorf's family owns and operates Rocking O Ranch in Lockhart, where they specialize in the raising of the famous longhorn cattle. In 2009, he completed an eight-week internship at the United States Department of Agriculture tracking disease in livestock and still helps run the family ranch.
"My dad [Curtis] takes care of the ranch," Ohlendorf said. "He is 70 years old and still does it full time. When I am home, I help out when I can. I do our marketing, too, which I can do from anywhere. I enjoy being outside, I enjoy taking care of the animals, trying to improve our herd and making decisions about certain bulls to buy."
They probably don't teach that at Princeton. But they do play good baseball among America's academic elite, and Ohlendorf and Lucas are proof of that.
T.R. Sullivan is a reporter for MLB.com. Read his blog, Postcards from Elysian Fields, and follow him on Twitter @Sullivan_Ranger. This story was not subject to the approval of Major League Baseball or its clubs.