Scherzer reportedly adding cutter to arsenal
MLB Network crew breaks down new pitch for Nationals right-hander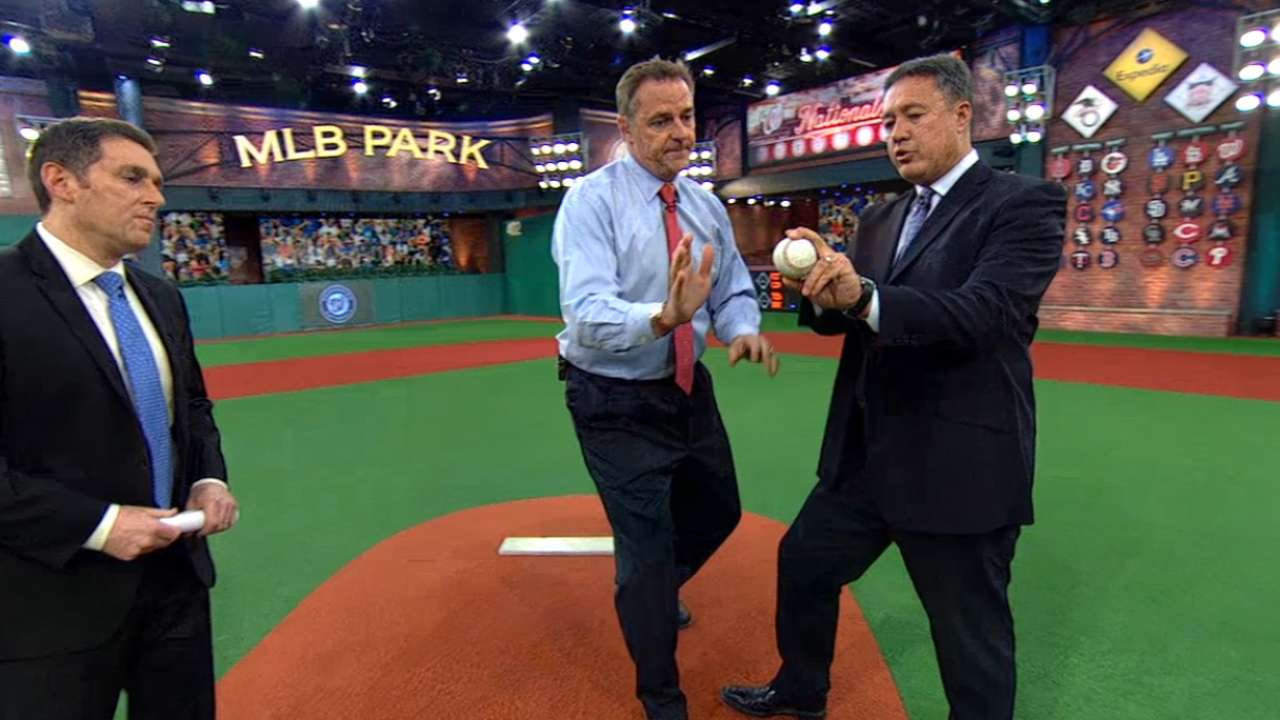 The newest member of the Nationals' star-studded rotation doesn't seem to be resting on his past success, not even after signing a $210 million contract this offseason.
Right-hander Max Scherzer is adding a cutter to his existing four-pitch repertoire, The New York Times reported on Thursday, and former Major League pitchers Al Leiter and Ron Darling discussed the news during a Diamond Demo segment on MLB Network.
"The cool thing is, you've got a guy who won a Cy Young, just signed for a boatload of cash," Leiter said, "and he's saying, 'How do I get better? How do I improve? How do I make some changes?'"
Scherzer already throws a four-seam fastball, a changeup, a slider and a curveball, which he implemented before winning the American League Cy Young Award for the Tigers in 2013. However, Leiter pointed out on video at least one instance of the 30-year-old throwing what looked like a cutter during the '14 season.
Making the pitch a significant part of his game could give Scherzer even more of an advantage over hitters. While they managed only a .238/.294/.368 line against him last season, they did bat .314/.486/.559 when ahead in the count.
"The great thing about a cutter is that when you get in bad counts -- 2-1, 3-1 -- you can go to that pitch because you get just enough movement to run up the bat," Darling said.
The only potential problem, according to Leiter, is that pitchers who develop cutters sometimes can become "cutter-happy," and lose the right feel for their regular fastball.
But a good cutter also can be a tremendous weapon, with Leiter pointing to the example of longtime Yankees closer Mariano Rivera, who became a 13-time All-Star thanks in large part to that pitch. Leiter himself used one during his 19-year career in the big leagues, and he and Darling demonstrated different ways to grip and deliver the pitch.
"The difference is, in the cutter and the slider, is that the cutter looks just like a fastball," Leiter said. "Mariano Rivera made a career out of it, where they see fastball, fastball, fastball, and it cuts."
Andrew Simon is a reporter for MLB.com. Follow him on Twitter @AndrewSimonMLB. This story was not subject to the approval of Major League Baseball or its clubs.