Dickerson striving for more plate discipline
Rockies outfielder must find way to maintain aggressiveness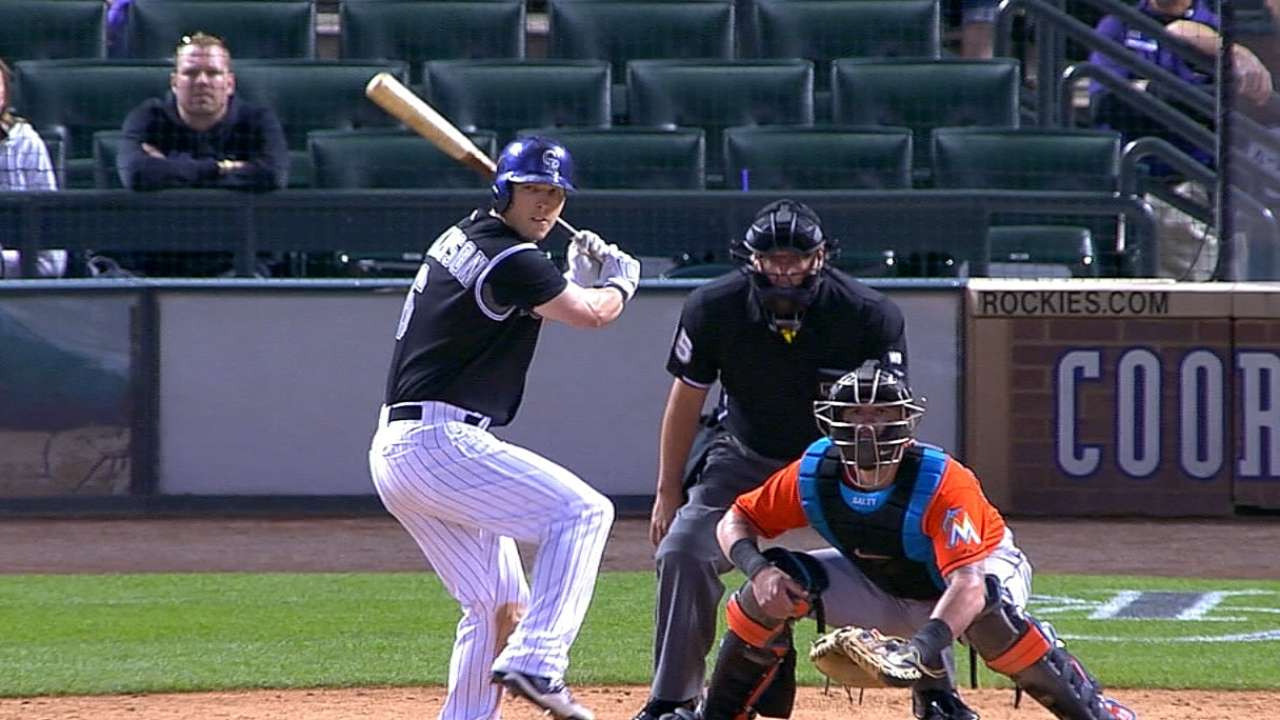 SCOTTSDALE, Ariz. -- Rockies outfielder Corey Dickerson is confident he can hit pitches that aren't even strikes. But can he improve his discipline without losing his natural aggressiveness?
Dickerson hit .312 with a .364 on-base percentage, a team-high 24 home runs and 76 RBIs in 131 games last season. Part of his appeal is the ability to do damage to pitches outside the strike zone. For example, according to Pitch f/X data, on pitches between the belt and knees inside but not in the strike zone, Dickerson was 7-for-31 (.225). However, the hits included two home runs and three doubles. Another homer came on a pitch high and inside.
Like most Rockies, not only in 2014, but throughout the team's history, there was a dramatic split between home (.363 BA/.415 OBP/.684 SLG) and road (.252/.305/.431). But more successful Rockies teams have overcome a low road batting average with situational hitting, which leads to runs.
Since Dickerson had nine homers and a respectable .315 batting average on balls he put in play on the road in 2014, the Rockies have to balance preaching patience against the aggressiveness that often works for Dickerson.
"I talked to Corey about adding this much discipline to his game," manager Walt Weiss said. "We don't want that much, because then he wouldn't be Corey Dickerson. That's why I'm careful in the way I deliver that message to Corey. Part of what makes him who he is, is he plays with reckless abandon. That's what makes him effective."
Weiss said the discipline could be used in situational hitting, which is a team-wide focus. Dickerson said as the year progressed, he gained information by studying the zone charts -- not only his, which shows what he does in each pitch location, but where the pitcher wants to work against him.
"I'm going to be the same hitter, but pitchers are not going to change, either," Dickerson said. "They feel good with a certain pitch or a location; they're confident, too. So I want to look at what they're doing, look at mine and have a plan, then adjust throughout the game. That's why you have more than one at-bat."
Thomas Harding is a reporter for MLB.com. Read his blog, Hardball in the Rockies, follow him on Twitter @harding_at_mlb, and like his Facebook page, Thomas Harding and Friends at www.Rockies.com. This story was not subject to the approval of Major League Baseball or its clubs.