Werth confident he will be ready for Opening Day
Outfielder had surgery on his right shoulder on Jan. 9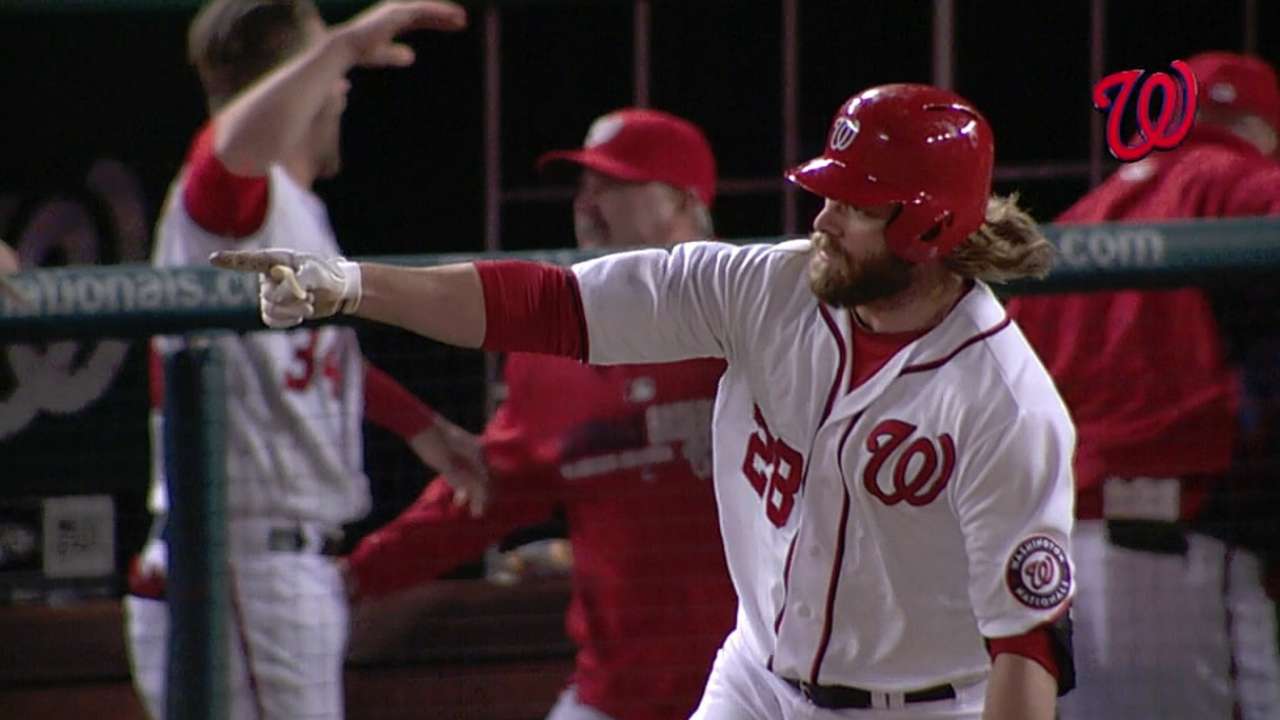 VIERA, Fla. -- Jayson Werth served as a spectator for most of the Nationals' first full-squad workout of the season Thursday. His participation was limited as he continues to rehab his surgically repaired right shoulder.
Werth participated in a few outfield activities although was not able to join his teammates for fielding drills or batting practice. But he remained optimistic about his chances to be in the Nationals' lineup for Opening Day on April 6 against the Mets..
"That's kind of my goal," he said. "Again though you got to err or the side of caution. You come back too early and then you got a setback or something like that. It's a fine line, but our trainers and doctors are on top of it. I feel like I got a good sense of where I'm at and where I want to be. It's just a time thing. It's good to get down here and have our guys looking at it and caring for it. And it's just good to be back around everybody."
Werth is still recovering from arthroscopic surgery on his right shoulder on Jan. 9. He said it will take at least eight weeks before he is able to ramp up any activity, which would fall around March 6.
The fact that Werth even joined his teammates on the field Thursday, without being required to by the Nationals, was impressive to manager Matt Williams.
"Oftentimes it's really easy for the guy that's on the DL or that's really not participating right now, to just work with the trainers and stay away from all that," Williams said. "The fact that he was out there was really important for all of us. We didn't force him to be out there, so that's a great sign for our team."
It will be up to Werth to tell the Nationals when he is ready to go. He is expected to start swinging a bat before he starts throwing. Williams pointed out Werth usually likes to take a lot of time to get ready for the season, so even though he will have to play catch-up for much of Spring Training, the team sees no sense of rushing him.
When he does return he is expected to do so as a left fielder, making the switch from right to allow Bryce Harper to take over.
"Usually, you put the guy in left that you're trying to hide," Werth joked. "I get to go hide in left."
Jamal Collier is a reporter for MLB.com. Follow him on Twitter at @jamalcollier. This story was not subject to the approval of Major League Baseball or its clubs.