Teenager Arroyo learning at Giants camp
Infielder adjusted last season after slump, injury at Class A Augusta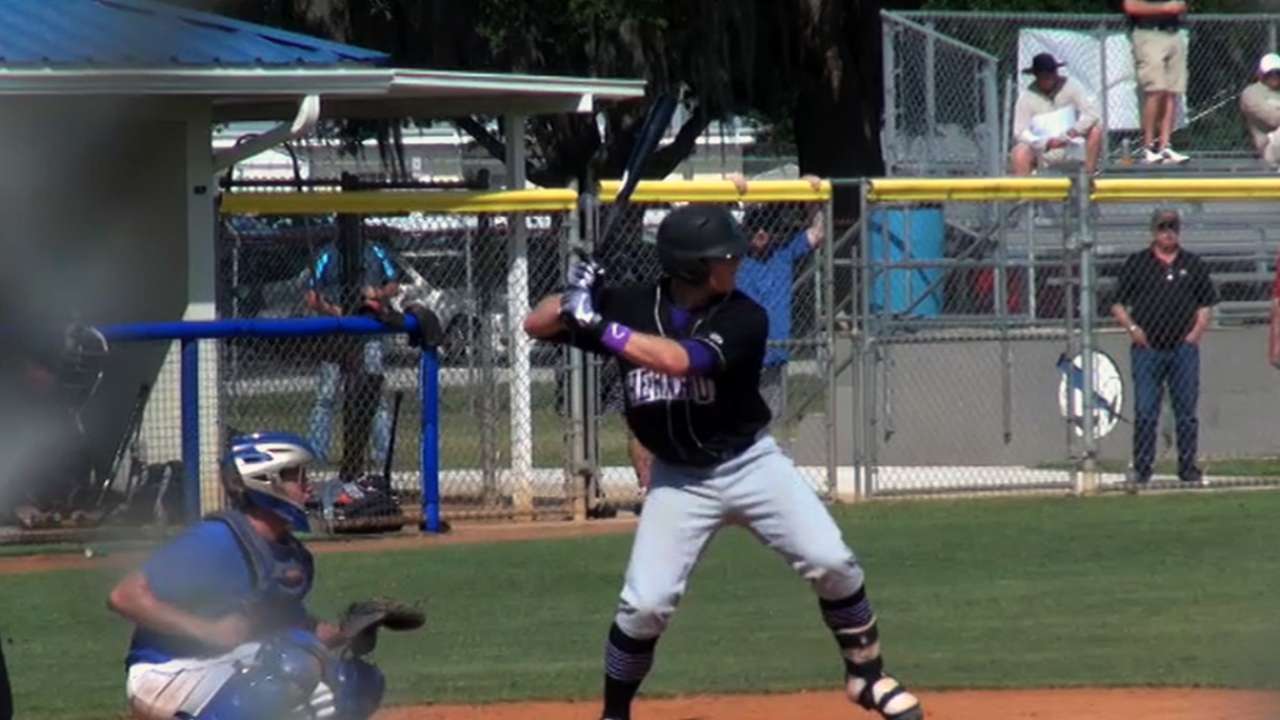 SCOTTSDALE, Ariz. -- Like most ambitious young men his age, Christian Arroyo is preparing for his career. Except Arroyo's counterparts are in college surrounded by peers. Arroyo is an apprentice engulfed by titans of his industry.
Arroyo is the youngest player at the Giants' Spring Training camp. In fact, he's believed to be the youngest Giant in camp for a while. Arroyo is 19, one year older than outfielder Ken Henderson was when he arrived at Spring Training in 1965 as one of Willie Mays' understudies.
Looking outward from his dressing stall in the Giants' clubhouse, Arroyo can look to his left and see the locker spaces inhabited by Tim Lincecum, Madison Bumgarner and the rest of San Francisco's starting rotation, as well as top relievers Jeremy Affeldt and Javier Lopez. For now, Arroyo's content to admire the view.
"They're the big guys up here, so I just kind of stay to myself, sit in my chair, look at my phone and kind of mind my own business," Arroyo said respectfully Thursday.
Arroyo, ranked as the Giants' No. 12 prospect in 2014, has strived not to be too self-conscious about his youth.
"I don't really think too much about that kind of stuff," he said. "Just go out, have fun, play my game and see where it takes me."
The Giants demonstrated their belief that Arroyo's bound for great heights by selecting him in the first round (25th overall) in the 2013 First-Year Player Draft. The infielder from Brooksville, Fla., who graduated from Hernando High School, was offered a baseball scholarship to the University of Florida. But he opted for an immediate entry into the professional ranks, sweetened by the $1,866,500 bonus he received from San Francisco.
Though Arroyo almost surely will relocate to Minor League camp by mid-March and likely will begin the season with Class A Augusta, the Giants think that embedding him with many of the principals of their World Series-winning squad will help mold him in their image.
"Even at a young age, we think there's value in getting him exposed," assistant general manager Bobby Evans said. "We can't bring every top prospect. But it's an opportunity for him to see what it's going to take [to succeed in the Majors]. We have some good guys over here who are good models he needs to look at, in terms of a [Joe] Panik and a [Brandon] Crawford in the middle infield."
A non-roster invitee to camp, Arroyo acknowledged that big league perks alone, from the sumptuous meals prepared in the dining room to the nicely stitched uniforms, increase his motivation to establish himself in the Majors.
"It's completely different from Minor League camp," he said.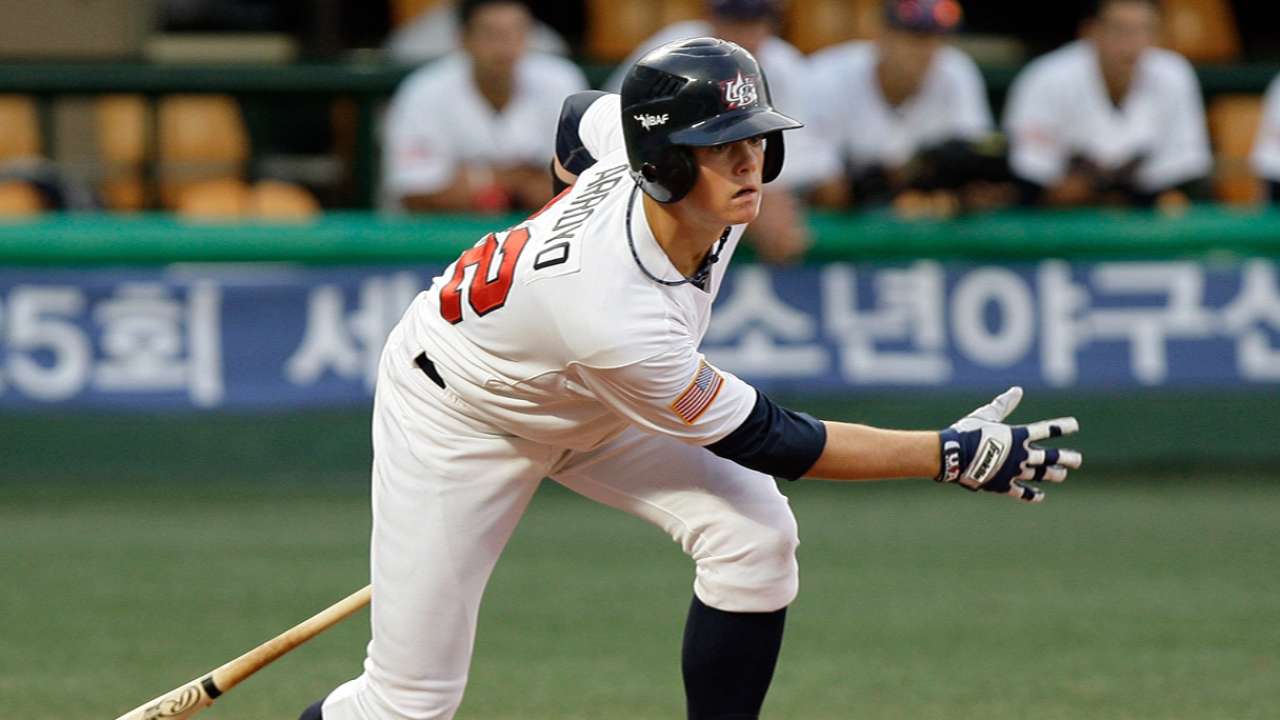 Arroyo has asserted himself offensively, recording a .303 batting average in 134 pro games. He hit .326 for the Giants' Rookie-level Arizona League affiliate in 2013 and won the league's Most Valuable Player honors. He began last season at Augusta and hit .203 in 31 games before a sprained left thumb sidelined him. He resurfaced with Class A Short-Season Salem-Keizer and regained his stroke, batting .333 with an .847 OPS in 58 games.
Arroyo's slump at Augusta forced him to confront adversity, which ultimately should help him.
"You don't want to go to the big leagues and struggle for the first time and not know how to handle it," said Steve Decker, the Giants' coordinator of Minor League instruction and hitting.
Arroyo attributed his struggles at Augusta to his misguided efforts to hit for power.
"It was definitely a great year for learning," he said. "I learned a lot about myself and the kind of player that I am and to stay true to myself and not try to be someone that I'm not."
Arroyo's defensive identity has yet to be defined. He has played both second base and shortstop in the Minors, and some observers project him as a third baseman.
"The whole position thing doesn't bother me much," said Arroyo, who's convinced the Giants will make the decision that enables him to "make an impact" in the Majors.
He and the Giants have plenty of time. He's just 19.
Chris Haft is a reporter for MLB.com. Read his blog, Haft-Baked Ideas, and follow him on Twitter at @sfgiantsbeat. This story was not subject to the approval of Major League Baseball or its clubs.