MLB.com Columnist
Tracy Ringolsby
Rockies embracing Coors Field advantage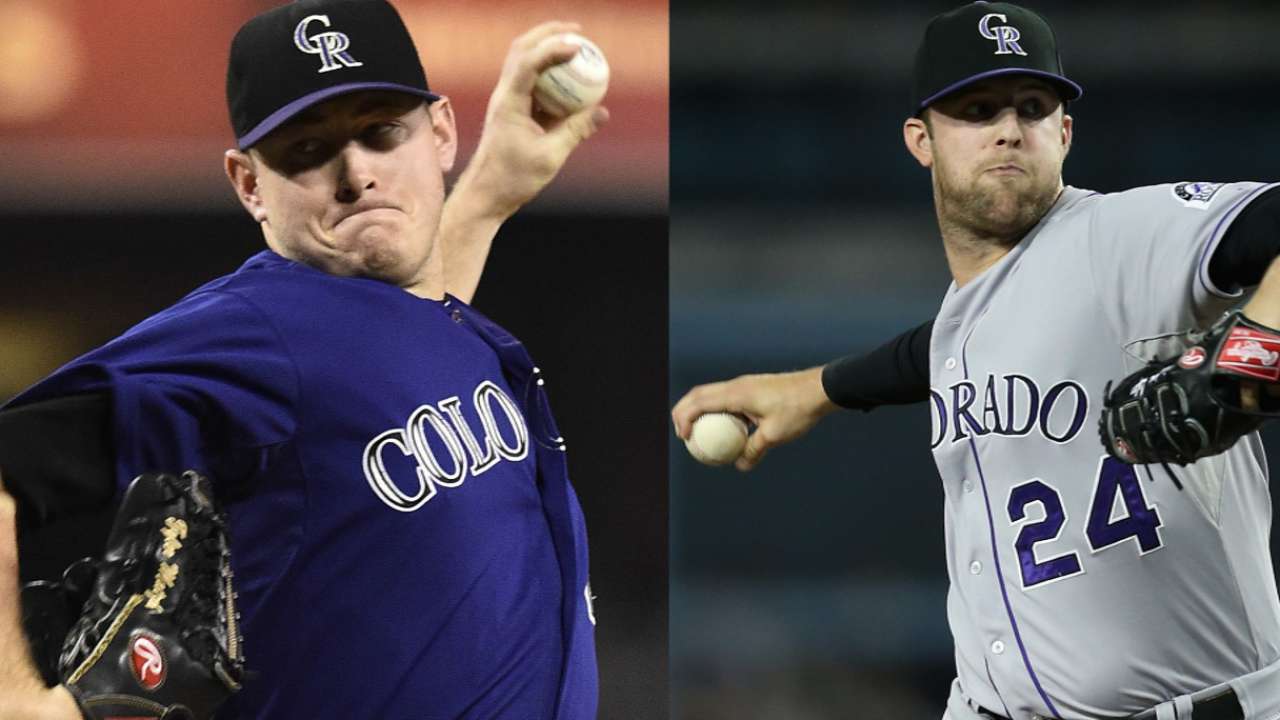 SCOTTSDALE -- The Rockies are embracing Coors Field.
"I've talked to our guys," said manager Walt Weiss. "We've got the best home-field advantage in baseball. I don't know if there is a close second. Teams feel vulnerable when they come to our place. We need to take advantage of that."
Yes, the game is different at altitude.
No, it's nothing to be ashamed about.
Forget about media suggestions of moving back the fences or raising the fences.
"Let's embrace it," said Weiss, "and use it to our advantage."
The success the Rockies have enjoyed in the two decades of Coors Field has started with capitalizing on home-field advantage.
The Rockies' nine best home-field records have encompassed the team's eight winning seasons. The exception was in 2003, when they were 49-32 at Coors Field, a .605 home winning percentage that ranks as the seventh best in franchise history, but their 25-56 road record kept them below the break-even mark.
"We have to win 50-plus games at home," said Weiss. "We have to be more successful on the road, too, but it starts with what we do at home."
The Rockies have won 50-plus home games four times, including 51 games in 2007, when they made the only World Series appearance in franchise history, and 2009, when they advanced to the postseason for the third time.
They were 44-28 at Coors Field in 1995, the year the Rockies opened the stadium and made their first postseason appearance, but that campaign was reduced to 144 games because a players strike delayed the start of the season.
The last four seasons overall, the Rockies are a combined 277-371, a .427 winning percentage that is the fourth-worst in baseball, ahead of only the Astros (232-416), Twins (265-383) and Cubs (271-377).
They are a combined 163-161 at Coors Field the last four seasons and have suffered an overall losing record in each season. It's their least successful four-year stretch at Coors Field, well below 2007-10, when they were 197-128 at Coors Field and enjoyed three winning seasons overall, twice claiming a Wild Card berth.
Now the Rockies are looking to regain that feeling of dominance. And to do that they have to get the pitchers to buy into the concept.
It's an easy sell for hitters, whose production is enhanced. Pitchers, however, are a different story. If they spend too much time studying their stat sheet it can be intimidating. That, however, isn't what the game is all about.
"That's why I am here," said first-year bullpen coach Darren Holmes, the Rockies' original closer. "I love Coors Field. I loved pitching there. As a staff, we just have to figure out how to pitch there. It's about adjustments, not with mechanics but in the way you look at things."
A member of the expansion Rockies in 1993, Holmes pitched two seasons at Mile High Stadium before the team moved to Coors Field. In his first two appearances at Mile High Stadium, he retired one of 18 batters, gave up nine runs and had a 243.24 ERA.
"They put it on the front page of USA Today," he said. "But you know what? I finished the season with 24 saves and a [4.05] ERA."
Holmes spent five seasons with the Rockies and had a composite 4.42 ERA, highlighted by a 3.24 mark in the first year of Coors Field.
"What we realized was you throw ERA out the window. The focus is about quality outings. You might give up five runs in a game at Coors Field and might not even get an out, but it's not five runs you gave up. It is one non-quality outing that you have.
"You have to have the mindset that what counts is if you have 75 appearances you want to have at least 64, 65 quality outings. If you get caught up in ERA, you are trapped."
When the Rockies claimed the NL Wild Card in 1995 -- advancing to the postseason in their third year of existence, which at the time was the quickest for an expansion team -- they had a 6.17 ERA at Coors Field but had a best-in-baseball 44-28 home record, tied with NL West champion Cincinnati and NL East champion Atlanta.
The Rockies had a 4.34 home-field ERA in 2007, but their 51 wins matched the Brewers for the most in the NL, and in 2009, with a 4.41 ERA at Coors Field, they won 51 home games, one fewer than the Giants, who led the NL with 52 home victories.
Holmes said with teammates like Steve Reed, Bruce Ruffin, Kevin Ritz and Pedro Astacio in the early years of the Rockies, pitching at Coors Field was a badge of courage.
"What Coors Field does is it weeds out the weak," he said. "There's only one stat that you focus on if you play at Coors Field -- it's wins, not wins you as an individual may have, but the wins that the team has.
"If you play the game for the right reasons, if the focus is on what you can do to help the team then you can pitch at Coors Field."
Holmes knows. He did it.
"Nobody said it was going to be easy," he said. "That's why being a part of a team that has success at Coors Field is so rewarding."
It is a challenge the Rockies are embracing.
Tracy Ringolsby is a national columnist for MLB.com. This story was not subject to the approval of Major League Baseball or its clubs.