Wilson shares strong bond with Hamilton
Veteran pitcher wishing best for Angels teammate and his family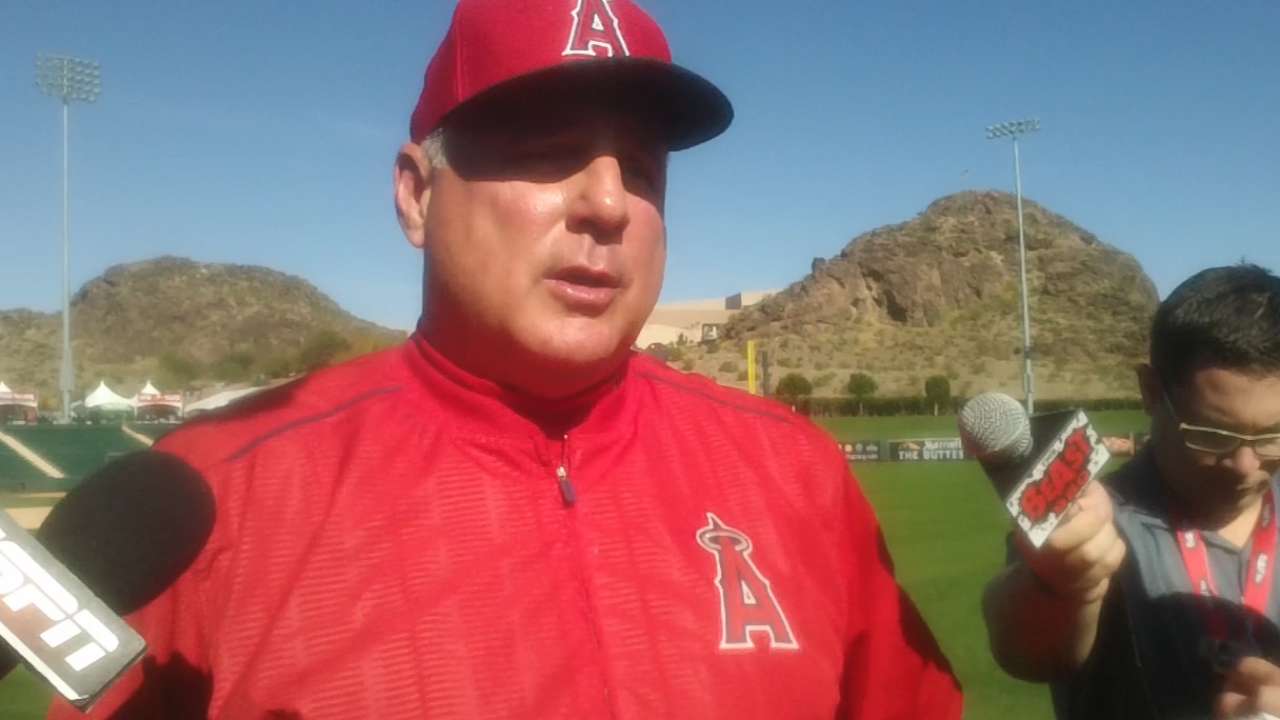 TEMPE, Ariz. -- When Josh Hamilton arrived in Texas for the 2008 season, he and C.J. Wilson shared an instant bond that had little to do with baseball and everything to do with staying clean.
Wilson was never pulled into drug-and-alcohol addictions, but he always admired the way Hamilton overcame them.
"Oh, it's a big deal," Wilson said. "I had some family members who went through some of this stuff growing up. That's one of the reasons why I'm straight edged. I've never drank or done drugs in my life because I know exactly how scary this stuff is. I know how the pull of addiction is a lifelong struggle for people. It's not like a haircut. It's like a tattoo. It's there forever."
Hamilton met with Major League Baseball officials at the Commissioner's Office on Wednesday regarding a disciplinary issue, the Angels confirmed, while CBSSports.com reported that the meeting stemmed from a drug-related relapse Hamilton had earlier in the offseason.
The Angels couldn't comment to the media on the reason for Hamilton's meeting with MLB officials, and couldn't tell the team much in a pre-workout meeting on Thursday morning, either. David Freese spoke passionately about the difficulties of battling addiction during that meeting, and players in general were mostly concerned about Hamilton's life off the field.
Wilson sent Hamilton a text message after he left the Angels' facility on Wednesday, "just wishing him well."
"Josh has four kids and a wife, a lot of responsibilities off the field," Wilson said. "So it's not like he just sits in a cave. He's got a lot of stuff going on. His family's always there. There's five other people and Josh. They're a part of my concern, as well, because I like them a lot."
Wilson -- Hamilton's teammate from 2008-11 on the Rangers, then since 2013 with the Angels -- recalled how many other addicts Hamilton inspired and marveled at how he fought those demons while under the microscope.
"It's not like he can hide," Wilson said.
Hamilton met with some Angels reporters at a charitable bowling tournament in Anaheim on Jan. 25, and he sounded upbeat, even talking about how his goal was to hit for a .300 batting average, 30 homers and 100 RBIs in 2015. Wilson saw him shortly thereafter, heard Hamilton complain about lingering shoulder pain and Wilson advised Hamilton that he should get some tests done.
At that point, Wilson said he was "bracing for the fact that he was going to have a setback."
But nothing like this.
• Veteran closer Huston Street and the Angels have not talked about a potential contract extension during Spring Training. Street told the club that he wanted a week or so to settle in before starting negotiations. Over the offseason, the two sides had "good dialogue," Street said earlier in camp.
• Garrett Richards took part in his fourth and most encouraging bullpen session on Thursday, throwing 50 pitches from the stretch and the windup. Richards, who had only been throwing from the stretch, mixed in his offspeed pitches for the first time and Angels pitching coach Mike Butcher said he "looked good."
"Real good. Stable; repeated well."
• The Angels took part in live batting practice for the first time on Thursday, with 13 of their pitchers throwing to hitters. Jered Weaver, Joe Smith, Andrew Heaney, Hector Santiago, Cory Rasmus, Cam Bedrosian and Sean Newcomb threw to the everyday players.
• FOX Sports West announced it will televise 29 Angels Spring Training games, broadcasting all except the March 26 contest against the Cubs. Terry Smith and Jose Mota will be in the booth for Cactus League action.
Alden Gonzalez is a reporter for MLB.com. Read his blog, Gonzo and "The Show", and follow him on Twitter @Alden_Gonzalez. This story was not subject to the approval of Major League Baseball or its clubs.