Escobar making quick transition to second base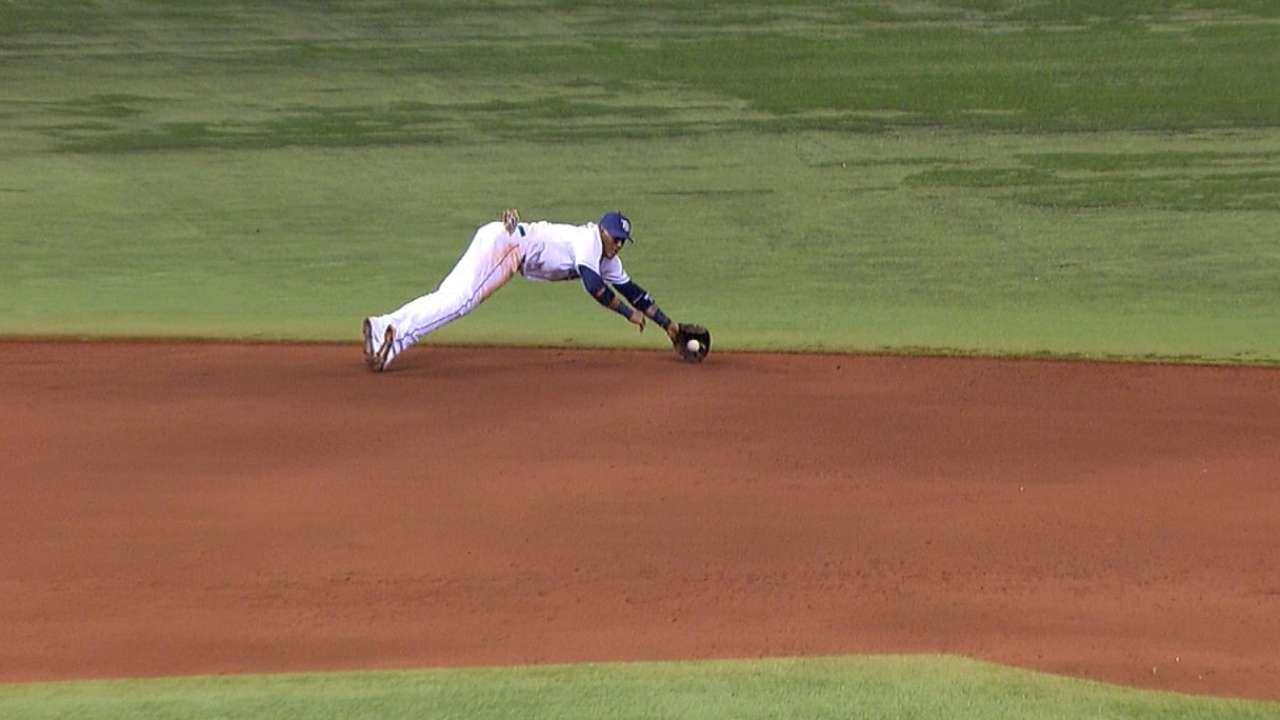 VIERA, Fla. -- Yunel Escobar admitted that he initially had some reservations about switching positions from shortstop to second base.
But by the time he took the field on Thursday, for the Nationals' first full-squad workout, Escobar's concerns appeared to be gone.
He played catch with Ian Desmond, his new double-play partner, whom he called outstanding. He smiled and laughed as he jogged off the field.
Mark Weidemaier, the Nationals' defensive coordinator and advance coach, recalled Escobar telling him he was "hungry to get some grounders" before they took the field. Escobar requested to spend 10 extra minutes each day working with his coaches at second base.
"[My] mind's clear," Escobar said through an interpreter. "[I] understand and [I] am 100 percent committed to playing second base. [I'm] willing to put all the effort and all the workload that is needed to play that position."
The Nationals acquired Escobar from the Rays in January with plans to move him to second base, a change Escobar said caught him by surprise. Nationals manager Matt Williams called Escobar once the trade was official, and Escobar initially expressed his concerns about the position change. He sat down with Williams and general manager Mike Rizzo in person on Wednesday upon arriving to camp.
"That's a natural response," Williams said. "That 'what do you mean I'm not playing the position I've played generally my whole life.'"
Still, Escobar spent the past month in Miami working out at second base in advance of camp. He has asked the Nationals to remain patient with him as he learns a new position, but on Thursday he appeared, at times, like a natural.
"His athleticism, his agility … his footwork is excellent," Weidemaier said. "Got very soft hands, he moves well naturally. The more he plays it, the more we work with him, he'll understand the placement a little bit better, especially turning the double play around the bag.
"I don't think it's going to be a big transition for him."
Escobar does have experience playing second base. In his rookie season with the Braves in 2007, then-manager Bobby Cox told Escobar to start taking grounders at second. Escobar, fearing he could still be sent down the Minors, quickly obliged. He appeared in 21 games there during the season.
Despite Escobar's natural athletic ability, there will be some growing pains. He will have to master new footwork, use a different arm angle and figure out how deep he is comfortable playing on regular and double-play depth.
"We explained we're here to help," Williams said. "If he wants to take grounders at 5 a.m., we'll be here."
Jamal Collier is a reporter for MLB.com. Follow him on Twitter at @jamalcollier. This story was not subject to the approval of Major League Baseball or its clubs.