A-Rod participates in Yankees' first full workout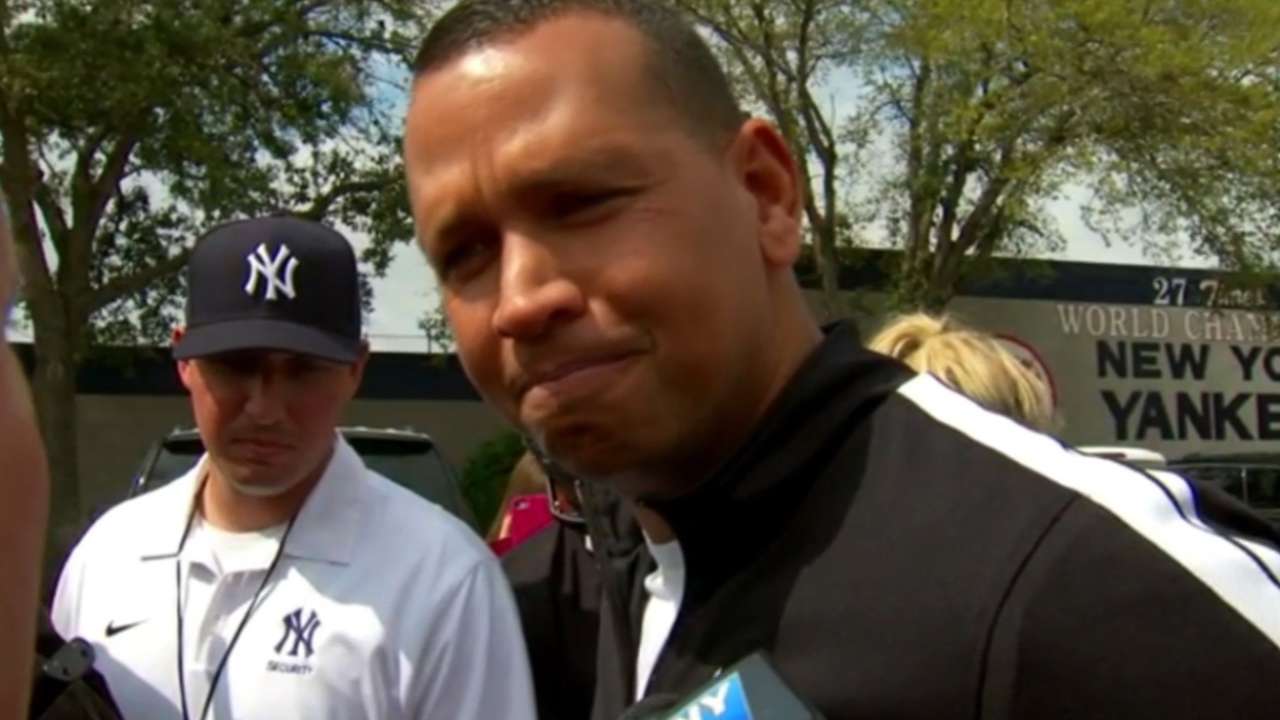 TAMPA, Fla. -- Alex Rodriguez said that he felt "like I'm a rookie all over again" as he slipped the pinstripes for the first time in more than a year Thursday, taking batting practice and fielding drills with his Yankees teammates at George M. Steinbrenner Field.
Rodriguez took 32 swings, smacking three home runs, and heard nothing but encouragement from a small crowd that assembled under overcast skies for the Yankees' first full-squad workout of the spring. Rodriguez said that he felt nervous before pulling on that familiar No. 13 jersey.
"It was pretty awesome," Rodriguez said. "I think sometimes you can take for granted being a Major League Baseball player. Just being able to go out there, catch ground balls, catch ground balls on my knee -- that's stuff that I did when I was 10 years old. At the very least, I hope I get to finish my career up really appreciating the game."
Rodriguez spent time working out at the team's Minor League complex earlier this week and said that his surgically repaired hips feel good. Team officials have said that they will wait to evaluate Rodriguez's progress until the Yankees get into the paces of their exhibition schedule.
"I don't think it's fair to judge him early, I really don't," manager Joe Girardi said. "When you've played as few games as he has the last two years, the speed of the game is what you have to get used to. I don't think it's fair to judge. I don't judge a lot of our players the first two weeks of games."
Yankees general manager Brian Cashman said that it may take until the final two weeks of exhibitions to define what role Rodriguez should serve for the team in 2015.
"We prepared for the worst and we're hoping for the best," Cashman said. "And so, in the ideal situation, [Rodriguez is] a middle-of-the-lineup bat. In the worst case situation, we've got coverage because of a lot of the moves we made this winter. Now it's about, over time, getting a feel for what we've got on our hands."
Limited to just 44 games over the last two years due to injuries and suspension, Rodriguez acknowledged that "this is a hard thing I'm trying to do." As such, he didn't want to take a victory lap for Thursday's display against batting practice pitcher Danilo Valiente.
"I wish it was as easy as hitting Danilo's 55-mph fastball; we can all look like an All-Star at that point," Rodriguez said. "We'll see what happens when you have a guy throwing 95 mph. It's one day at a time."
To prepare for camp, Rodriguez said that he did face live pitching, calling upon former teammate Freddy Garcia to get on the mound in Miami. Rodriguez also hit off a pitching machine and worked out with Barry Bonds in California, but that doesn't replicate the intensity of Opening Day at Yankee Stadium.
"No matter what you do, you can't emulate the energy of being in a stadium against a big league pitcher," Rodriguez said. "That's just going to take repetition."
Rodriguez has repeatedly said this week that he is trying to win a roster spot, and there is a chance that he will battle with Garrett Jones for DH at-bats. The Yankees would also like him to be able to back up at third and first base.
But with $61 million remaining on his Yankees deal through 2017, Cashman rejected the suggestion that Rodriguez might not make the roster out of camp, saying, "He's on the team. He's got a three-year contract."
Told of Cashman's assurance, Rodriguez replied, "I look at it like I need to fight for a spot on the roster. I'm coming in like I'm 18 years old [when I started with the Mariners] and trying to make Lou [Piniella]'s team. That's the approach I'm taking."
Rodriguez did not address the team during their morning meeting on Thursday, and Cashman said it was "all routine" to have Rodriguez back in uniform. First baseman Mark Teixeira said that a speech was not necessary because of Rodriguez's handwritten public apology, as well as his comments in private conversations.
"There's a lot of people that make bad decisions. Alex is not a bad person," Teixeira said. "I'll be the first one to tell you that. I've known Alex for a long time, but Alex has made bad decisions, and he's owned up to them. Hopefully now we can kind of get past it. ... He told everyone he was sorry for what he did."
Bryan Hoch is a reporter for MLB.com. Follow him on Twitter @bryanhoch and read his MLBlog, Bombers Beat. This story was not subject to the approval of Major League Baseball or its clubs.