Encarnacion likely to play more first base than DH
Blue Jays slugger worked on defensive skills, training in offseason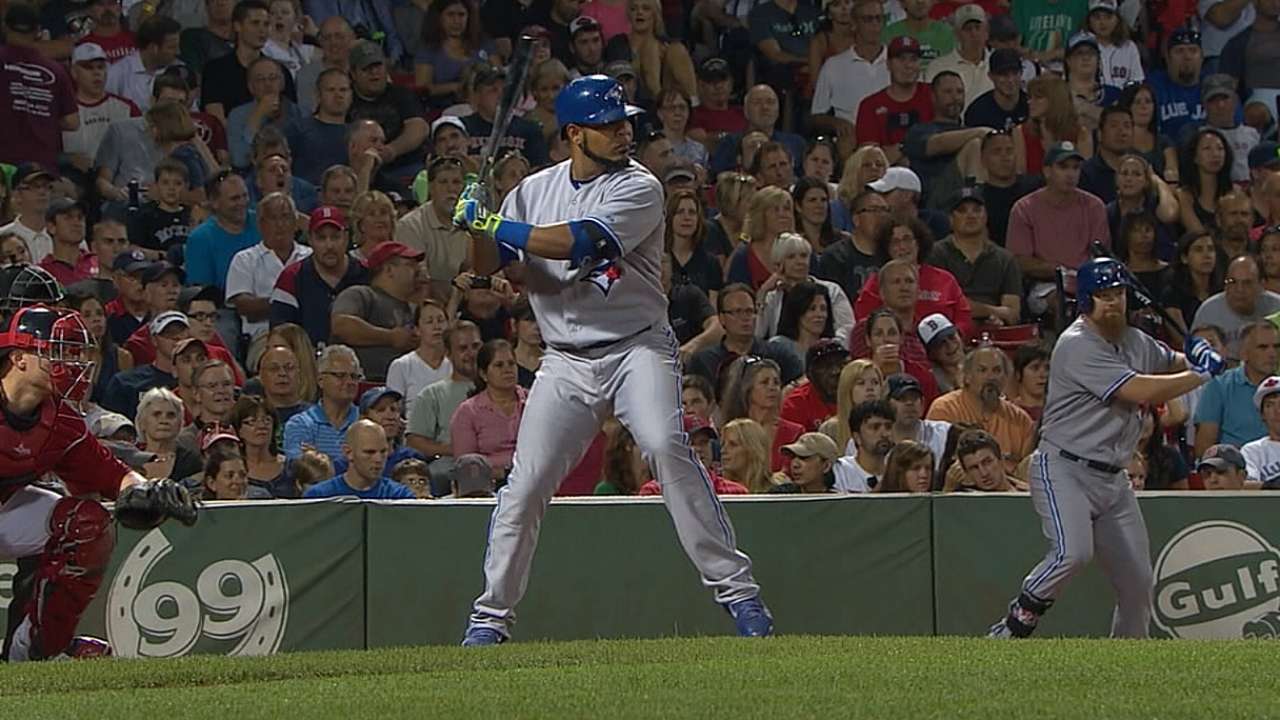 DUNEDIN, Fla. -- Edwin Encarnacion said he is ready for whatever role the Blue Jays have planned for him, whether it's at first base or in the designated-hitter spot.
Encarnacion reported to Spring Training after undergoing a physical Thursday morning. All position players were required to be in attendance in advance of the first official workout Friday.
The veteran slugger has spent the past several years splitting time between first base and DH. This offseason, the club said it intended to primarily use Encarnacion as a DH, but that plan has since changed and it looks like more of his at-bats could come at first base.
"They told me I'm going to be playing more first base," Encarnacion said. "I've worked hard this offseason [because] I knew I'm going to get more time at first. But I'm ready for whatever they need me, if they need more at first base, or if they need me at DH, I'm ready."
Encarnacion's arrival didn't exactly start on a positive note. When he reported, one of the first things he saw was recently acquired outfielder Michael Saunders walking around on crutches. Saunders tore the meniscus in his left knee Wednesday morning and is expected to be out until the All-Star break.
The injury is an early blow to a roster that has been devastated by a series of medical setbacks over the past several years. Encarnacion couldn't help but shake his head about the latest development and almost had a look of bewilderment on his face when talking about the club's string of bad luck.
"When I drove my car in, I saw Saunders with the crutches and I said, 'Wow,'" Encarnacion said. "A little frustrating. When I found out what happened, it's very hard for a player, working hard all winter, then come here and before Spring Training starts get hurt. That's very hard, for him, and for the team. We need him. We just have to try to get everybody healthy."
Saunders' injury means the Blue Jays won't have much margin for error during the first half. Encarnacion knows more than anyone how much the club needs the core of Jose Reyes, Russell Martin, Jose Bautista and Josh Donaldson to remain healthy if Toronto is going to be able to start the year strong.
It was a quad injury to Encarnacion, after all, that played a big role in the Blue Jays' struggles during the second half of 2014. Encarnacion hopes the work he put in this offseason will help avoid some of the issues.
"I worked a lot on my back and my stomach because I know have to get it stronger to get my back right," Encarnacion said. "And working a lot with my leg. Right now I'm 230 [pounds], that's where I want to be, under 230, that's when I feel good and I can be away from the injuries."
Gregor Chisholm is a reporter for MLB.com. Read his blog, North of the Border, and follow him on Twitter @gregorMLB. This story was not subject to the approval of Major League Baseball or its clubs.