Healthy Ross welcomes battle for playing time
D-backs outfielder looks to bounce back from hip injury, subpar year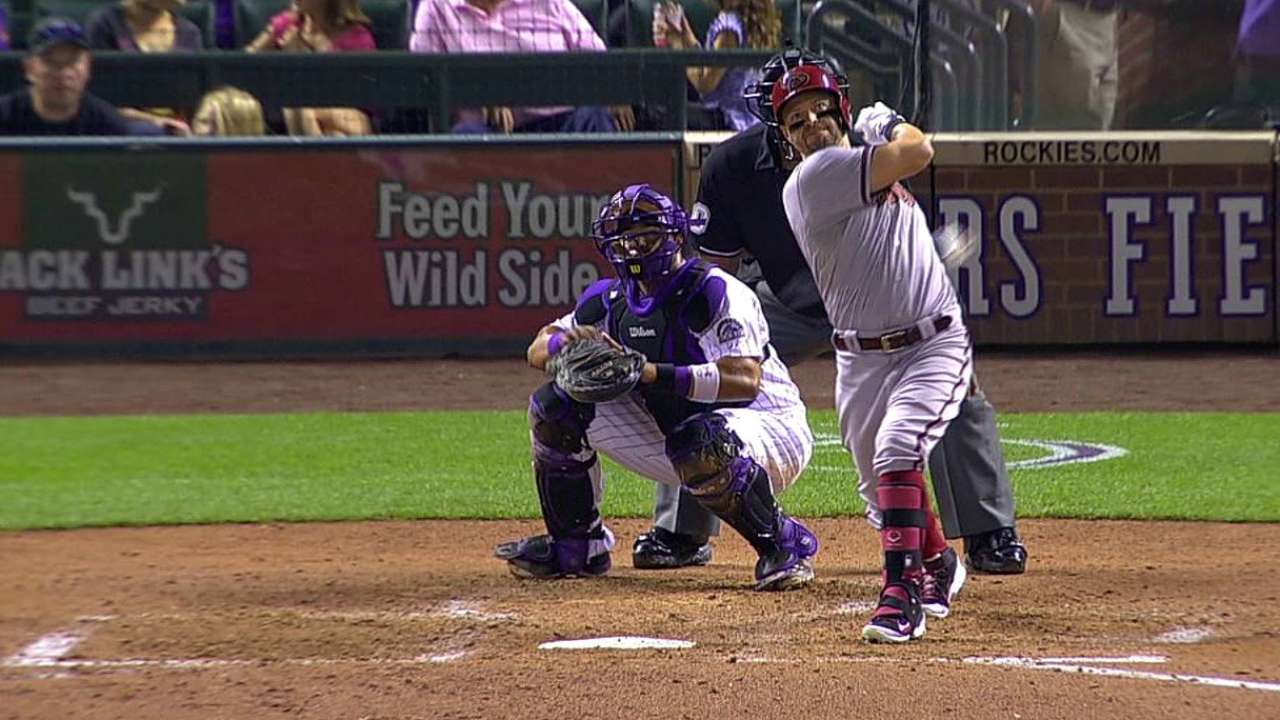 SCOTTSDALE, Ariz. -- If Cody Ross is going to get playing time with the D-backs this year, he's going to have to earn it, and that's fine by him.
"My back is against the wall, which is right where I want to be," Ross said. "That's kind of been like my whole career. I never really had anything handed to me until a couple of years ago and that didn't go so well. Now that my back is against the wall, the real Cody will come out."
The D-backs handed Ross a three-year $26 million deal prior to the 2013 season and after a slow start to the season, he was starting to play better before suffering a gruesome, season-ending dislocation and fracture of his hip. He spent the entire offseason rehabbing the injury in hopes of being ready for Opening Day.
The rehab of his hip did not allow him to spend the time he normally does on his upper body and he was a shell of himself last year hitting .252 in just 219 plate appearances.
"I worked really hard to get back on the field and it still wasn't enough," Ross said. "But just to get back on the field was a win for me after the doctor told me that I possibly couldn't get back on the field. So I just take that for what it was."
This past offseason he was able to focus on his total body, without rehabbing and, as a result, he feels stronger as Spring Training gets underway.
The D-backs have a crowded outfield with Mark Trumbo in right and A.J. Pollock in center. Ross will be battling for playing time in left with Ender Inciarte, David Peralta and possibly Yasmany Tomas. With both Inciarte and Peralta being left-handed hitters, Ross, a righty, could see significant playing time against lefties.
"Cody's a veteran and he knows where he is in his career and he's ready to help us any way he can," manager Chip Hale said. "We have a lot of left-handed pitching in our division and he's going to be leaned on heavily to play in those games and then be a huge bat for us off the bench. We have a lot of competition out there. He's a guy who's been there before and won championships. That's a great guy to have on the club."
Before his hip injury, Ross thought he had another six years left in him. Now, he'd be happy with getting in another three, but more important than the length of the rest of his career is how he finishes it.
"I'm 34 years old and I'm on the latter part of my career and I definitely don't want to go out like that," he said referring to his struggles last year. "I know in my heart I'm going to have a good year and back to where I was before."
Steve Gilbert is a reporter for MLB.com. Read his blog, Inside the D-backs, and follow him on Twitter @SteveGilbertMLB. This story was not subject to the approval of Major League Baseball or its clubs.