MLB.com Columnist
Anthony Castrovince
Halos have options to replace Hamilton's production
With left fielder's status uncertain, Joyce and Cron among Angels' in-house candidates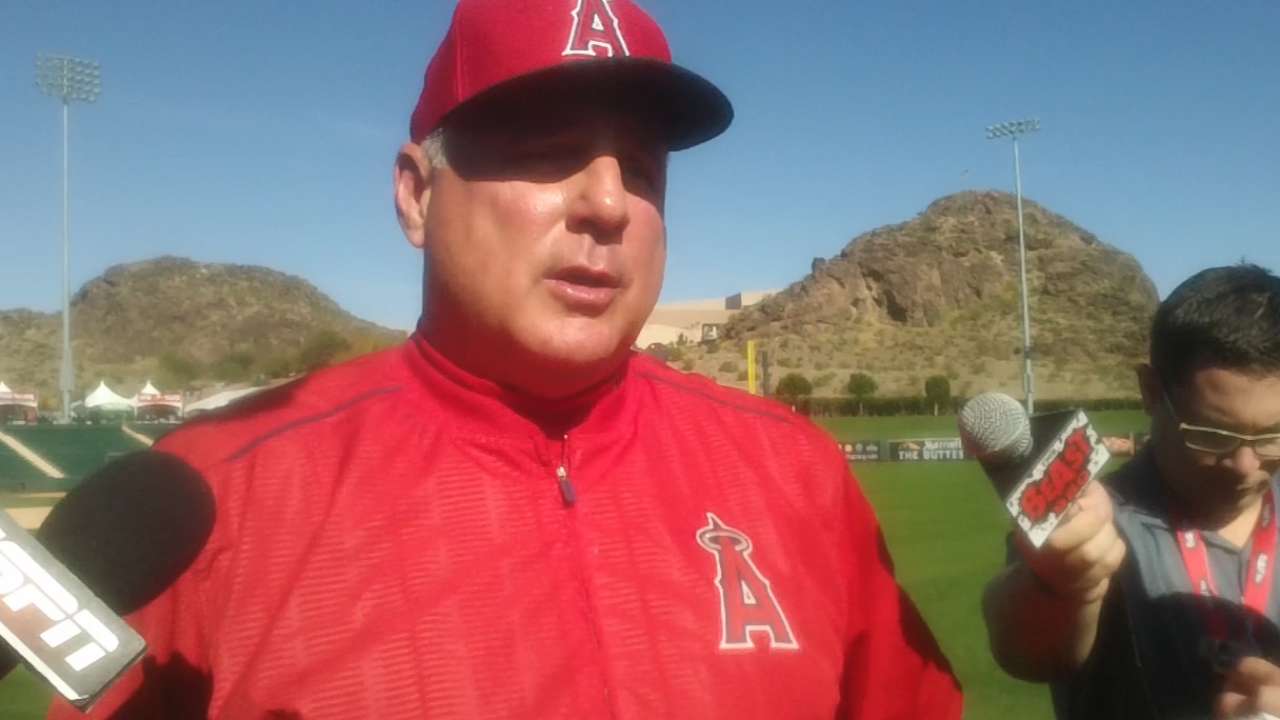 TEMPE, Ariz. -- There are 62 players squeezed into the Angels' clubhouse here at Tempe Diablo Stadium, the quarters cramped enough that there are a couple places where two low men on the totem pole share a locker or a chair. This is the setup even without Josh Hamilton's outsized presence taking part in these spring proceedings, and Hamilton's recovery from shoulder surgery now combines with the threat of a disciplinary suspension from Major League Baseball as reasons for the Angels not to have bothered issuing their left fielder a locker.
We really don't know how long to expect the Angels to be without Hamilton in 2015 (the latest injury-related prognosis had been early May), but his injury history had already compelled general manager Jerry Dipoto to shore up the roster depth in left and at DH this winter. And now, with Hamilton's status truly up in the air, the alternate options assembled here in Arizona and potentially available elsewhere in the annual spring swap market are worth evaluating all the more.
"We feel good about our depth," Dipoto told a gaggle of curious reporters Thursday morning. "We're in the same situation we have been. We're working off the same degree of information we were working off 24 hours ago."
Particularly with Howie Kendrick gone, the Angels need Hamilton's production. They don't necessarily need it to come from Hamilton himself, but they need that kind of power and on-base presence to lengthen a lineup centered around Mike Trout and Albert Pujols.
Now, a lot of you are reading that and saying, "Hamilton hasn't even given them Hamilton's production," and you're absolutely right. His first two years of a five-year, $125 million contract have been a major disappointment. His slugging percentage dropped an alarming 145 points from 2012 to '13, and last year he wasn't even on the field enough for us to get wrapped up in his numbers all that much, especially with the Angels running away with the American League West.
But Hamilton, even at his subpar and injury-ravaged state last season, did contribute an adjusted OPS+ 14 points better than league average in last year's smallish sample (89 games), and, at bare minimum, that's the kind of output the Angels are going to need out of left field this year.
Whatever importance you attached to Matt Joyce before Hamilton's situation grew murkier, you can probably double it now. Joyce was seen as a big enough insurance piece -- one that could allow Hamilton to rest his body at DH or fill that spot itself -- that Dipoto gave up one of his best relievers, Kevin Jepsen, for him.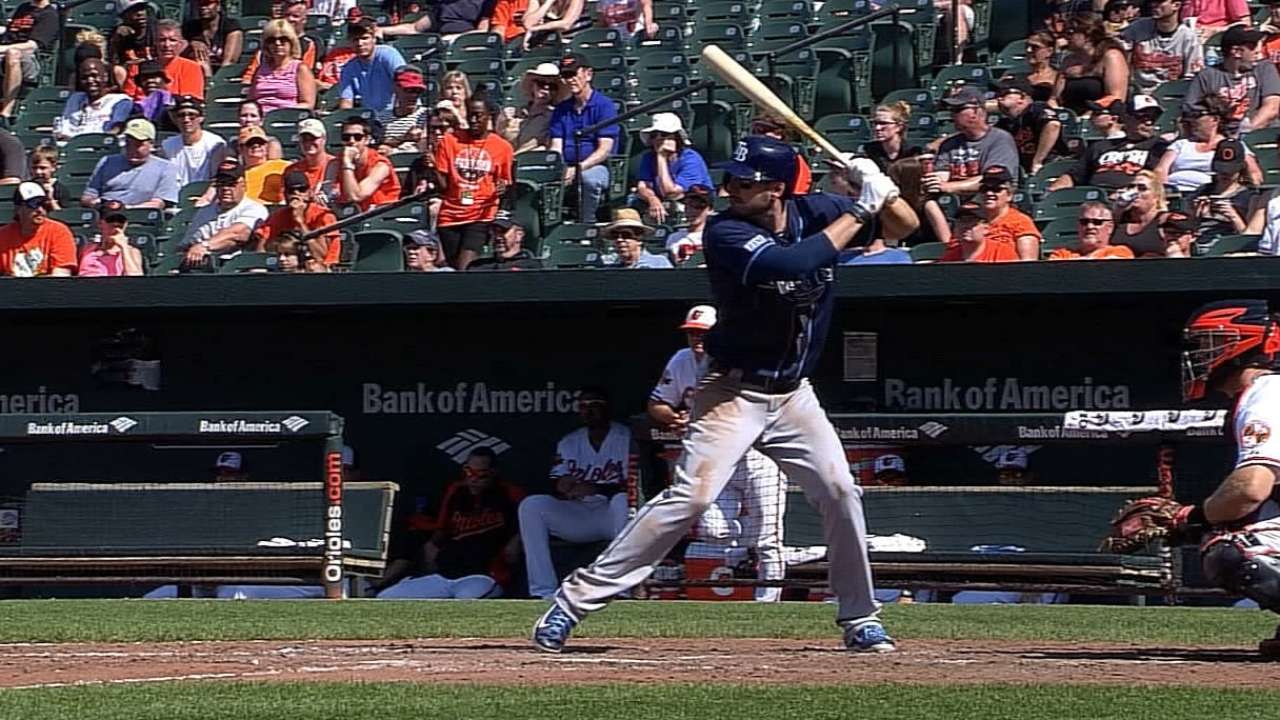 Joyce is an accomplished power hitter in his own right, with a 19-homer, 32-double season (2011) under his belt. What he has not yet done at this level is prove he can be a viable everyday player not just vs. right-handers but also lefties, against whom he has a career .189 average and .573 OPS.
The rub, of course, is that you have to get opportunities to capitalize upon opportunities, and Joyce, to date, has 2,182 career at-bats but only 323 against southpaws.
"That's not an opportunity," hitting coach Don Baylor said. "At all."
On the first day of camp, Baylor sat down with Joyce and put it all out there for him. Baylor told him he's going to work him hard this spring, not just giving him ample at-bats against lefties in games but also scheduling him for extra work in the cage and against the breaking-ball machine.
"I don't want him looking over his shoulder every time a lefty comes in, thinking he's going to get pinch-hit for," Baylor said. "I'm trying to get him out of that mentality. He's on a new ballclub now."
Joyce, as you might imagine, is all for it.
"This is something that I've wanted and asked for for a while," he said. "I really don't feel there's a lot of pressure on me. I've done it in the Minor Leagues. I feel it's something I'm going to have to put some time and extra effort into, but, without a doubt, I know I can do it."
Even if Joyce becomes the defending AL West champ's established, everyday left fielder with Hamilton away (the alternative is a platoon with Collin Cowgill at the position), there's still the matter of filling the DH spot.
The 6-foot-4, 235-pound right-handed power hitter C.J. Cron is the young man best-situated for that opportunity, having broken into the big leagues last summer and shown some decent flashes -- 11 homers, 12 doubles, 37 RBIs and a .739 OPS in 242 at-bats -- in a small sample.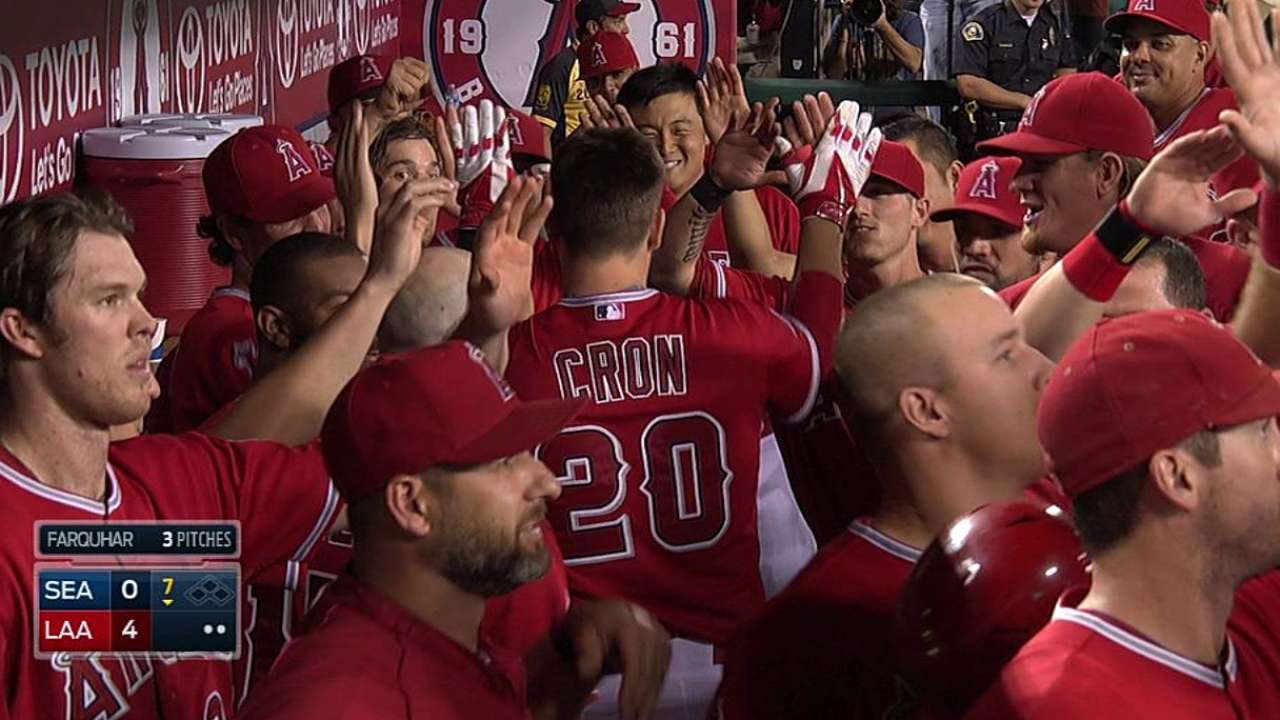 Cron, though, is not known as a patient hitter, as evidenced by his 61 strikeouts against just 10 walks last year.
"His whole thing is recognizing and understanding the strike zone," Baylor said. "I think maybe last year he learned a little bit about being what's known as a free swinger. You can do it in the Minor Leagues, where guys don't have that great control. But when you come to the big leagues, they're switching on you, changing speeds on you."
The Angels' outfield/DH dynamic could be very much subject to change. Dipoto acquired Dan Robertson in a low-profile trade with the Rangers and added Marc Krauss, Roger Kieschnick and Alfredo Marte off waivers this offseason to deepen the organizational pool, but the longer the Hamilton situation lingers, the more you wonder if the Angels might look deeper into other external options.
Any suspension of Hamilton would provide a prorated discount on his $25.4 million salary for 2015, so the Halos might find themselves with additional wiggle room to take on money.
Right now, the outfield/DH market potentially includes the likes of the Rays' David DeJesus, the Indians' David Murphy and the Padres' Carlos Quentin and Cameron Maybin. And as we know, the Phillies would love to find a taker for Ryan Howard and would even foot the bill for a substantial portion of the two years and $60 million remaining on his contract.
"We'll take it day by day," Dipoto said. "Like we would any other spring, we're going to go out, we're going to scout every team, we're going to see if there's players that fit our needs or not."
All winter, the Angels have braced themselves for the possibility of not having Hamilton for the full length of 2015. So, from that perspective, very little has changed. But Hamilton's situation will pervade the Halos' spring camp, every time Joyce faces a lefty or Cron tries to demonstrate more patience or Dipoto scours the waiver wire and his scouts' reports.
The Angels need somebody to provide Hamilton-like production for them this season. And again, it doesn't necessarily have to be Hamilton.
Anthony Castrovince is a reporter for MLB.com. Read his columns and follow him on Twitter at @Castrovince. This story was not subject to the approval of Major League Baseball or its clubs.