Battle Royal: Relievers vying for roster spots
Yost looking at several candidates, including Collins, Finnegan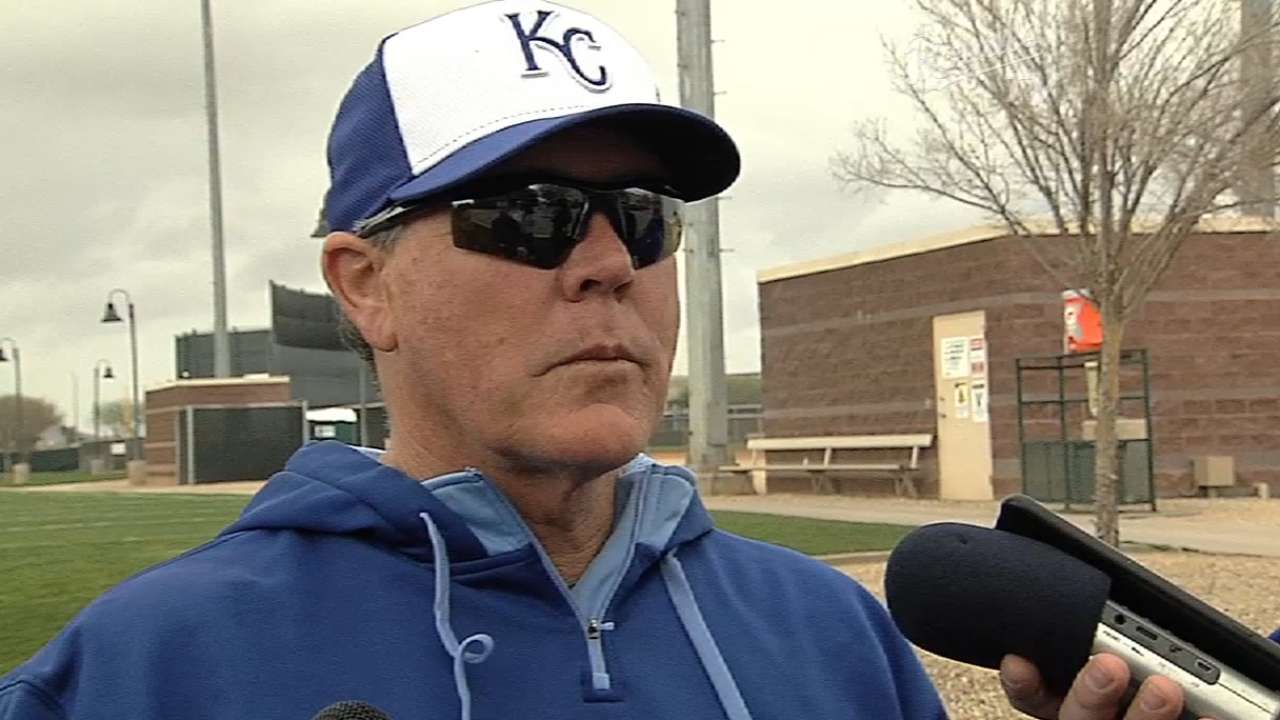 SURPRISE, Ariz. -- There really is only one basic roster battle going on in Royals camp, and that's in the bullpen.
There are two, possibly three, spots up for grabs behind Greg Holland, Wade Davis, Kelvin Herrera, Luke Hochevar, and Jason Frasor, depending on if the club carries seven or eight relievers.
"We'll just be looking for guys with the best stuff and the best command," manager Ned Yost said. "That's basically it."
A look at the candidates:
Joe Blanton, RHP
Blanton is one of the reclamation projects in camp. He hasn't pitched in the big leagues since 2013. "The only way he is really going to help us is in the bullpen," Yost said. "We're not going to stretch him out [to be a starter]."
Ryan Madson, RHP
The other reclamation project, Madson hasn't thrown in the big leagues since 2011. Early reports are good on him -- his changeup is still as good as ever.
Louis Coleman, RHP
Coleman is out of options, and normally that works in a player's favor because the organization generally hates to give up value for nothing. But that might not be the case with Coleman, who lugged around a 5.56 ERA last season.
Tim Collins, LHP
Collins has options and he has plenty of competition in the fight for the left-hander spot in the 'pen. He struggled mightily with command early last season -- 10 walks, two hit batters in 17 1/3 innings -- and then he was demoted. "He was better when we called him up in September," Yost said.
Brandon Finnegan, LHP
The most interesting question in camp: Is the organization better off with Finnegan in the Minors being stretched out as a starter, or with him contributing from the bullpen at the Major League level right now? The Royals claim they are in win-now mode, so ...
Franklin Morales, LHP
The veteran was signed last week to add to the competition in the bullpen. In his career, lefties have hit only .213 against him. He could have value as the situational lefty.
Jandel Gustave, RHP
Whether the Royals carry seven or eight relievers might depend on Gustave's spring. As a Rule 5 guy, he would have to stay on the 25-man roster all season. He's got amazing stuff with a fastball that can reach 101 mph. But his command, though better, is still the issue. And he's never pitched above Class A.
Joe Paterson, LHP
The Royals signed him as a free agent last November and the club finds him a little intriguing. He has a funky side-winding delivery that's really tough on lefties, who have hit .232 in their career against him. And he has yet to allow a homer to a left-hander in 111 plate appearances. "He's on the radar," Yost said.
Jeffrey Flanagan is a reporter for MLB.com. Follow him on Twitter at @jflanagankc. This story was not subject to the approval of Major League Baseball or its clubs.