MLB.com Columnist
Richard Justice
Nearing 40, Torii is more than just a good guy
Often lauded for his leadership and intangibles, veteran can still produce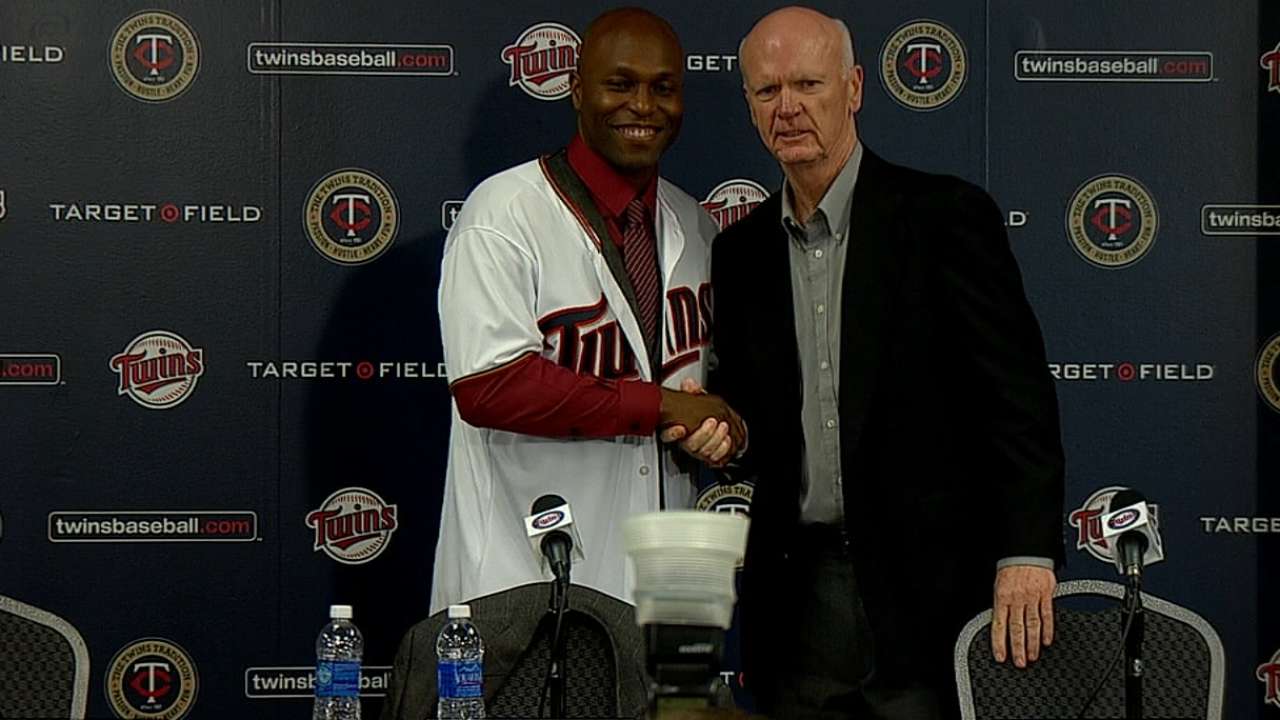 FORT MYERS, Fla. -- Much of the discussion about Torii Hunter's remarkable career has focused on his leadership and personality and work ethic. Every once in a while, one of the best things he has done during 18 seasons in the Major Leagues gets overlooked.
"Sometimes my baseball play gets left behind," Hunter said. "I play the game. I play it the right way. I play it hard, and I put up good numbers. It's tough, because the other [stuff] is all I'm known for. I'd do that stuff anyway."
Right here at the start, let's acknowledge that he has been one of the best players of his generation. In 18 seasons, he has methodically built a resume that includes five All-Star appearances, nine Gold Glove Awards and two Silver Slugger Awards.
Hunter's consistency has been even better. In the past nine seasons, he has hit lower than .278 just once -- in 2011, when he batted .262 for the Angels. In his past 15 seasons, he has averaged 30 doubles, 21 home runs and 12 stolen bases, and he's coming off a season with the Tigers in which he had a .765 OPS in 142 games. Did we mention that he'll celebrate his 40th birthday this summer?
Still, when Twins general manager Terry Ryan grabbed Hunter off the free-agent market this winter, he had more in mind than those offensive numbers and that defense. Ryan wanted all those things, but he wanted the intangibles, too.
When Hunter got to his first Spring Training with the Twins in 1994, he was given a locker between Kirby Puckett and Dave Winfield. They would both be gone by the time Hunter made the big leagues, but the lessons Hunter learned from them have stayed with him his entire career.
"They sat me down and talked to me about everything -- about playing the game, and life, and how to carry myself -- basically how to be a pro," Hunter said. "I really appreciate that. Me coming up, my dad was out there in the world, a drug addict. I didn't have that male figure in my life [in Pine Bluff, Ark.]. Just to have to two guys like that, I was more likely to listen to them."
Hunter believes everything he has become in his career begins with those basic lessons. And some of those same values are the things for which he's most proud.
"When people tell you they respect the way you play the game and the way you carry yourself, it's a testament to all the guys before me that showed me the way," he said. "I was able to stay consistent and clean -- away from drugs, steroids. I've never been linked to that and never will be."
Now, as the Twins build around top young players like Byron Buxton and Miguel Sano and Aaron Hicks, as they begin an era of optimism and expectation, Ryan turned to an old friend.
"Because it was Terry Ryan, it was pretty easy," Hunter said. "He's somebody I respect so much and trust. I know he's going to make the right decisions and get the right players on the field to win. Hey, it was a no-brainer."
Hunter spent 14 years with the Twins organization in all, including all or parts of 11 seasons in the Major Leagues. In returning, he's finding familiar faces in new places. For instance, former teammate Paul Molitor is now the manager.
"It's awesome," Hunter said. "Just to come where it all began for me. Just seeing Chad Allen and Doug Mientkiewicz and all the guys, Mollie as manager. Sometimes I think, 'I'm still around?'"
Now, about that attitude. He's one of those people who never seems to have had a bad day. He's also one of those people who is thankful for the way it has all turned out. At a time in his life when his three sons are all in college and when he has more yesterdays than tomorrows as a big league player, he's able to put things in perspective.
"I thank God every day for blessing me with the life that I have," he said. "I appreciate it, and that's why I don't take it for granted. Every day when I come to the park, it's a new day. You might as well enjoy it, because one day this is going to be over with. You don't want to look back and have regrets and say, 'I didn't have any fun. I didn't enjoy the game.' That's not going to be me."
Richard Justice is a columnist for MLB.com. Read his blog, Justice4U. This story was not subject to the approval of Major League Baseball or its clubs.