Command, efficiency on display by young prospect Moscot
Right-hander in big league camp for first time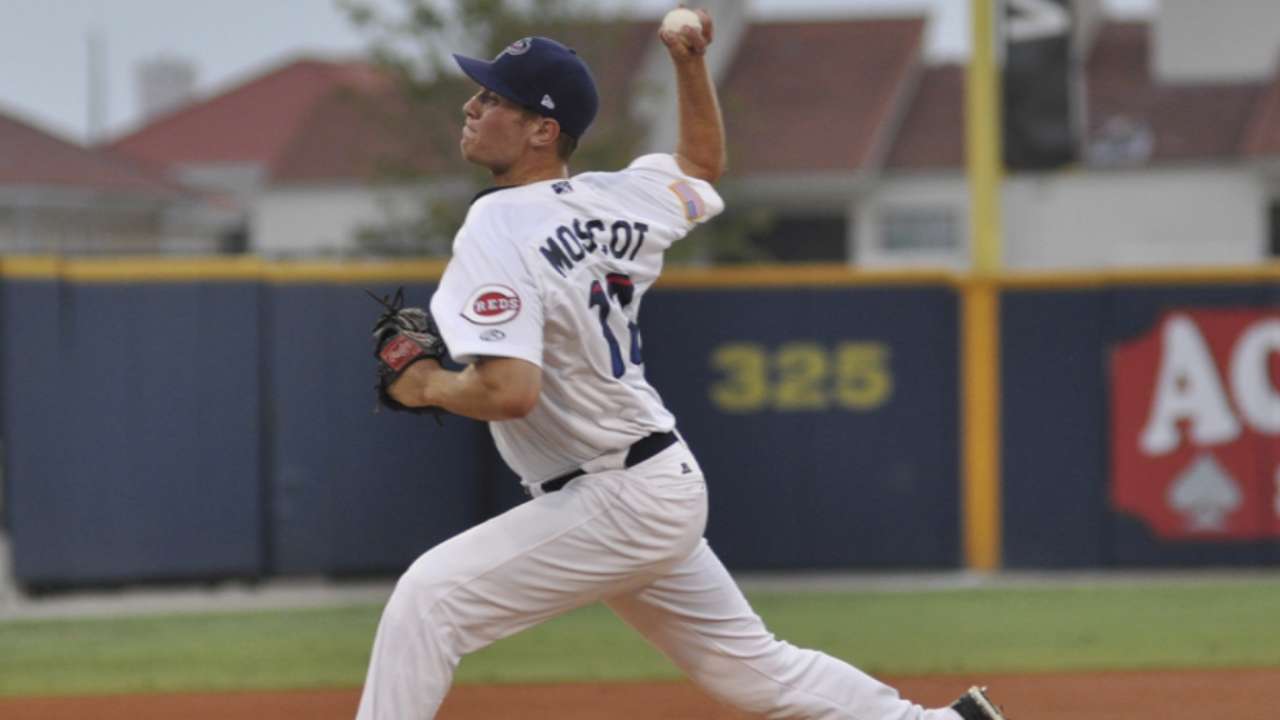 GOODYEAR, Ariz. -- They have the upper hand to begin with and add in the fact that they've been in camp longer, and pitchers are usually pretty well ahead of the hitters in the first couple of days of live batting practice. That doesn't mean pitchers don't stand out, however.
During Reds live BP on Wednesday, one of the pitchers that manager Bryan Price identified was right-handed prospect Jon Moscot. The 23-year-old was ranked the 16th-best prospect in the organization by MLBPipeline.com.
"He throws efficiently," Price said. "He throws plenty hard enough. He's an 89-92 [mph], maybe a touch better at times. It's command. It's bottom-of-the-zone command, side to side. A very, very good slider. His changeup has made great strides over the last season. As I tell the starters, if you're going to start, you need that offspeed pitch, some kind of change-of-pace pitch, but primarily a changeup, if you're going to be really good."
In 25 starts last season for Double-A Pensacola, Moscot was 7-10 with a 3.13 ERA. He allowed 145 hits and 43 walks over 149 1/3 innings with 111 strikeouts. In three starts for Triple-A Louisville after a mid-August promotion, he was 1-1 with a 5.71 ERA.
Moscot, who was the Reds' fourth-round pick in the 2012 First-Year Player Draft, wasn't aware that Price was watching. The manager was roving from field to field and caught about three or four minutes of Moscot's approximately 10-minute session.
"They're all walking around. We've got three fields going on," Moscot said. "Everyone is trying to make an impression, so I just know that any moment, you can turn a head. Keep your head down and work hard."
Power pitchers often get the most attention because of their velocity, but Price feels there is value to pitchers who have stuff like Moscot's.
"What's interesting is we target the Robert Stephenson or Michael Lorenzen, the Nick Travieso, Amir Garrett -- the big, hard-throwing guys," Price said. "They're great because arm strength is a great starting point. And when push comes to shove, efficiency wins.
"You look at Moscot and he's got good velocity. But what people talk about is his efficiency, his command, his ability to pitch inside, his ability to throw a quality breaking ball for a strike when behind in the count, maturity, a presence on the mound. When you talk about his attributes and what we like about him, it's not about being a raw power guy. It's about being a true pitcher. That quite often plays more than the overpowering velocity."
Moscot has enjoyed his experience at Reds camp to this point.
"My first big league camp, coming in and getting to all this leadership from the clubhouse, you're seeing a lot of people," he said. "We've got a lot of good arms and everyone is throwing the ball well. We've got a lot of people in good shape. Obviously, I'm not going to say it's not cool."
Mark Sheldon is a reporter for MLB.com. Read his blog, Mark My Word, and follow him on Twitter @m_sheldon. This story was not subject to the approval of Major League Baseball or its clubs.