Banister reinforces contender potential in first meeting
New Rangers manager says team has 'shut the door on last year,' is ready to rebound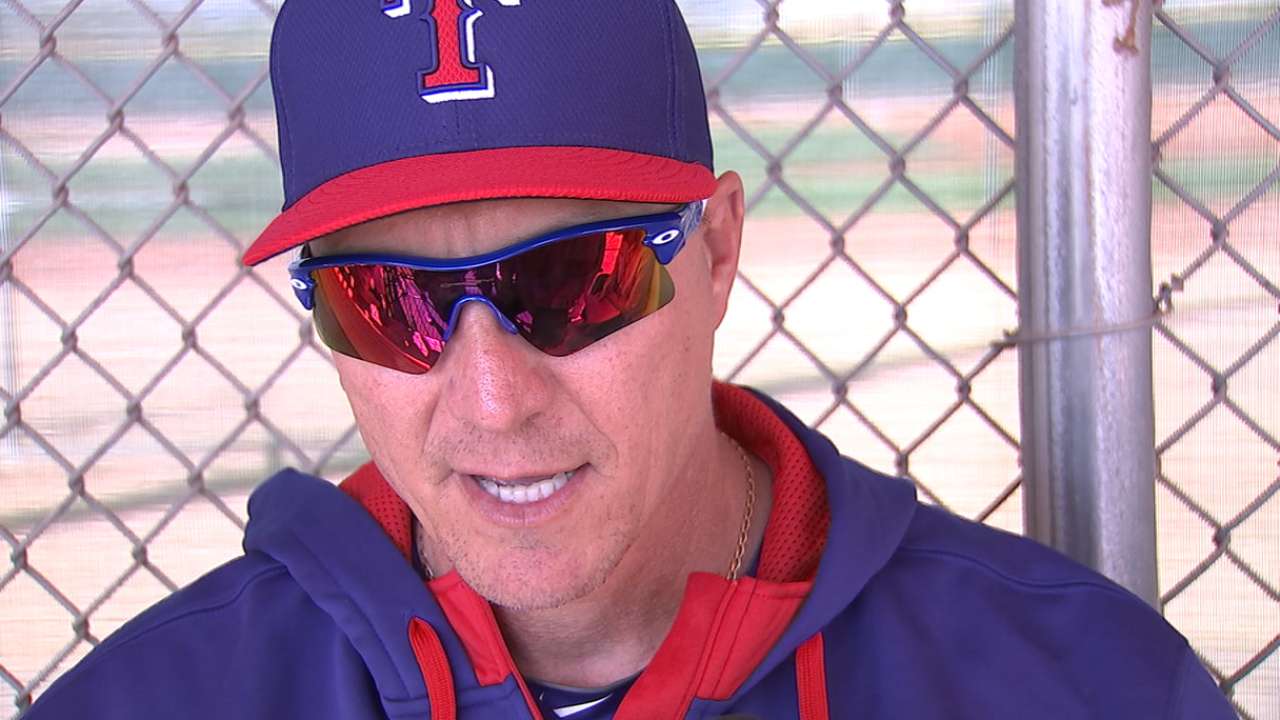 SURPRISE, Ariz. -- Rangers manager Jeff Banister had a simple message for his team in his meeting before the first full-squad workout on Thursday.
Why not us?
The Rangers lost 95 games in 2014, but prior to that, they had four 90-win seasons and two trips to the World Series. The Rangers may be coming off a disappointing season, but they have come to Spring Training with the idea of being contenders this year.
Banister reinforced that in his first team meeting.
"My assessment is we have shut the door on last year," Banister said. "Everybody was allowed the opportunity to reflect, and anytime you have the opportunity to reflect on the past and understand it, you can grow from it. This group of men needs to shut the door and move on. I'm going to allow them to do that, this coaching staff is allowing them to do that and hopefully our fans will allow them to do that.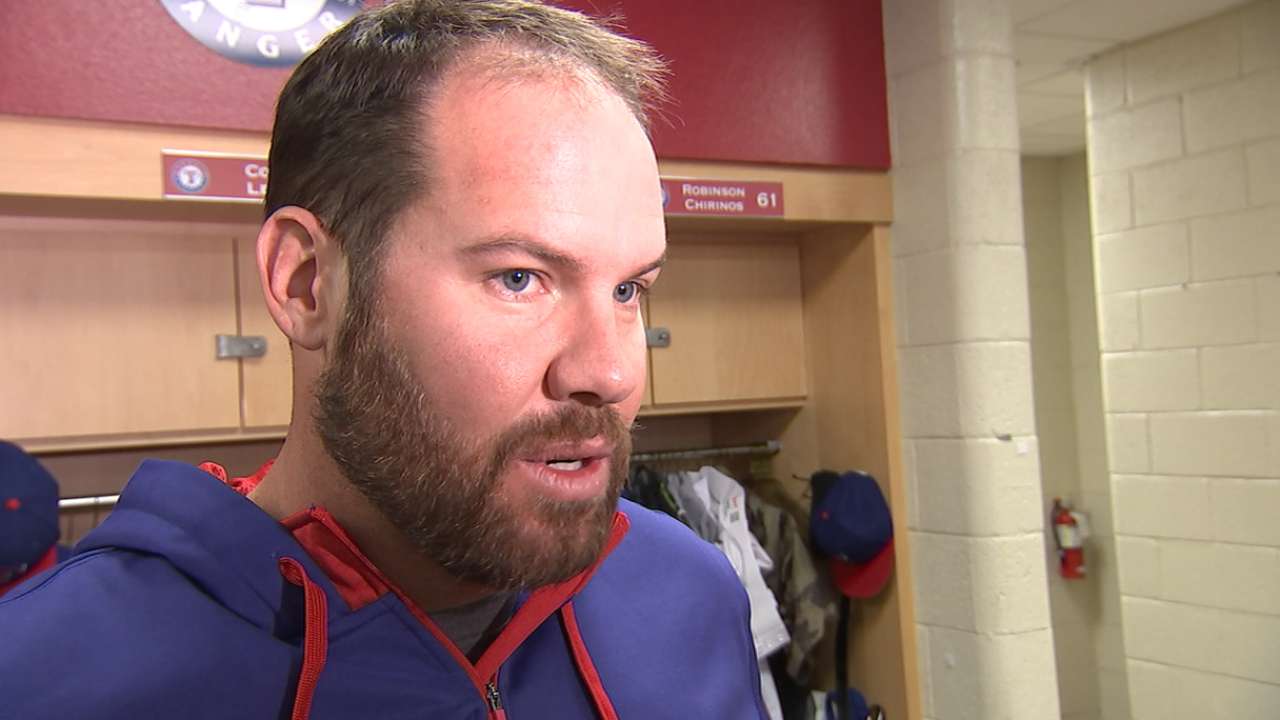 "I see a group of men who showed up with focus, desire, passion and hunger. Hopefully there is some taste of blood in their mouth from getting punched in the face, because that creates hunger and desire too."
The Rangers didn't completely forget about 2014. Banister showed a video with some meaningful moments. One showed Derek Holland pitching in a triumphant September return from knee surgery. Another is Banister's favorite: Adrian Beltre's last at-bat of the season.
Beltre batted in the final game with the Rangers trailing 4-0 with two out in the ninth against Athletics pitcher Sonny Gray. The Athletics needed the win to get into the playoffs. Beltre singled on a 1-2 pitch to keep the season alive for one more batter.
"If you want to know where the heart and soul of this ballclub is, watch that at-bat," Banister said. "It wasn't a home run, it was a single. Play it, replay it, last at-bat of the season, there was no quit in him. 'It's not going to happen. Not on my watch.'"
Most important for the Rangers is they are relative healthy. For the first full-squad workout, the Rangers are missing infielder Jurickson Profar, who is out for the season after undergoing shoulder surgery, while first baseman Kyle Blanks is limited in his running because of inflammation in both Achilles heels.
All other position players are healthy, most notably Prince Fielder, Mitch Moreland and Shin-Soo Choo. All three had their seasons cut short by injuries that required surgery. They were all full-go on Thursday, although the Rangers are going to monitor them carefully and not push them too hard early in camp.
"It was a tremendous offseason," shortstop Elvis Andrus said. "Not just me. Half the team in Dallas, we were working out every single day. You can see that edge that they've got in their eyes this year. That's what I believe: That if we stay healthy, it's going to be a really good year for us. You go through a year like that, you know you have to prepare twice as hard as the year before. We took that attitude."
T.R. Sullivan is a reporter for MLB.com. Read his blog, Postcards from Elysian Fields, and follow him on Twitter @Sullivan_Ranger. This story was not subject to the approval of Major League Baseball or its clubs.