Reliever Smith claimed on waivers by A's
V-Mart arrives at camp; Verlander, Price throw batting practice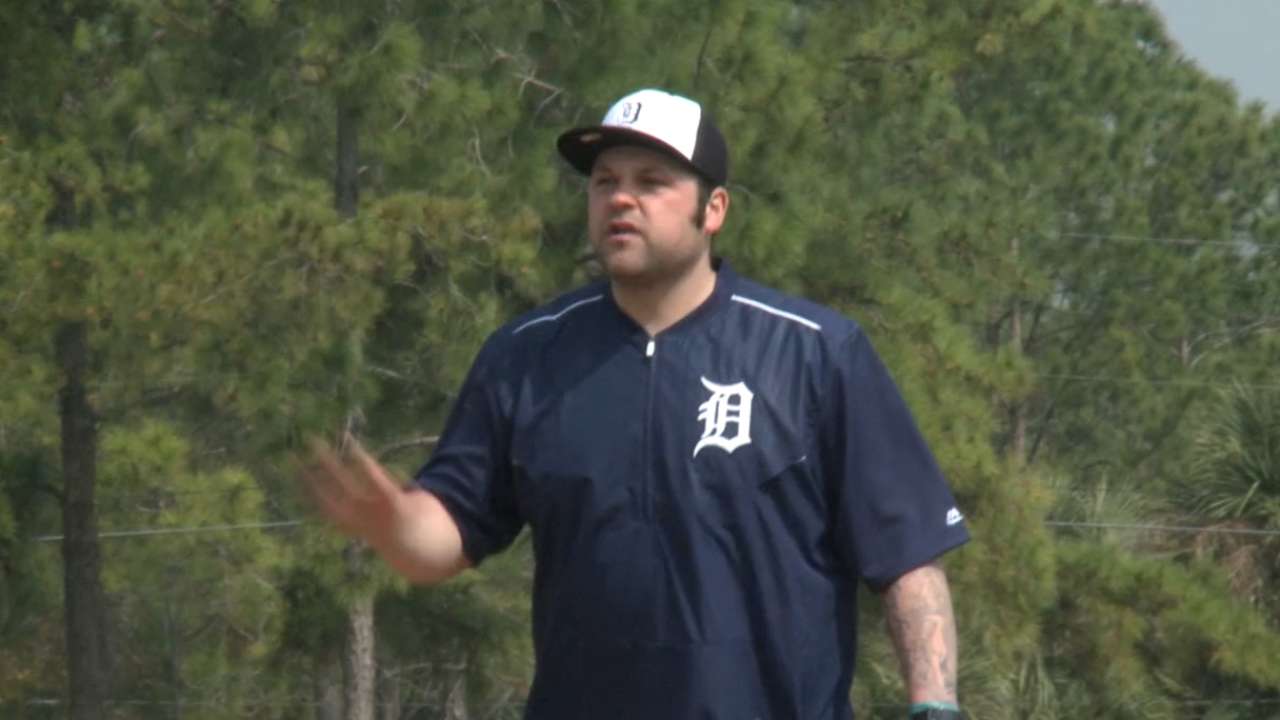 LAKELAND, Fla. -- Two days after designating Chad Smith for assignment, the Tigers lost the right-handed reliever to the Oakland A's on waivers.
Detroit designated Smith for assignment on Tuesday to make room for the return of reliever Joba Chamberlain, giving the club 10 days to trade, release or outright Smith. It took only two for Oakland to make a claim on the 25-year-old right-hander.
"I really wished he would have made it through," Tigers president/general manager Dave Dombrowski said. "But you've got to take somebody off your roster at the time."
Smith made his Major League debut last year with the Tigers, compiling a 5.40 ERA in 11 2/3 innings over 10 appearances. He recorded a 1.35 ERA in 12 outings at Double-A Erie and a 5.00 ERA in 22 games for Triple-A Toledo last year as well.
Before getting the news from the Tigers on Thursday, Smith said he gained a great deal of confidence from his brief stint in the Majors last season.
"It may have only been a month, it may have only been 11 2/3, but I've been up there and I kind of know how it goes," he said. "I've been up there and obviously it is a different game. At the same time, it's just baseball. Finding that consistency and looking at guys that have been doing it for a long time was very helpful for me, just getting that experience."
Around the horn
• Victor Martinez made his first appearance at Joker Marchant Stadium on Thursday morning, but it was a brief one. Martinez drove to Tigertown from his home near Orlando, Fla., to attend a mandatory team meeting regarding domestic violence.
According to Tigers manager Brad Ausmus, Martinez went through his personal rehab session at 5 a.m. ET on Thursday so he could attend the meeting. Martinez is expected to join the Tigers next week.
• Justin Verlander and David Price were among the pitchers to throw live batting practice during Thursday's workout. After completing his session, Price walked onto another field and stood behind the cage and watched Verlander pitch.
Ausmus also watched Verlander pitch and came away impressed.
"I thought the ball was coming out of his hand good," Ausmus said. "I thought he had a little bit more on it today, even in the bullpens and live BP, compared to last year."
• Yoenis Cespedes put on a show during batting practice, as expected. The slugging outfielder launched several home runs over the batter's eye in center field, 420 feet away.
"He's got some power," Ausmus said, smiling as he added: "He had a little bit of wind behind him today, though."
" Adam Berry is a reporter for MLB.com. Follow him on Twitter at @adamdberry. This story was not subject to the approval of Major League Baseball or its clubs.