Frustration fuels Cozart's motivation for 2015
Shortstop determined to rebound offensively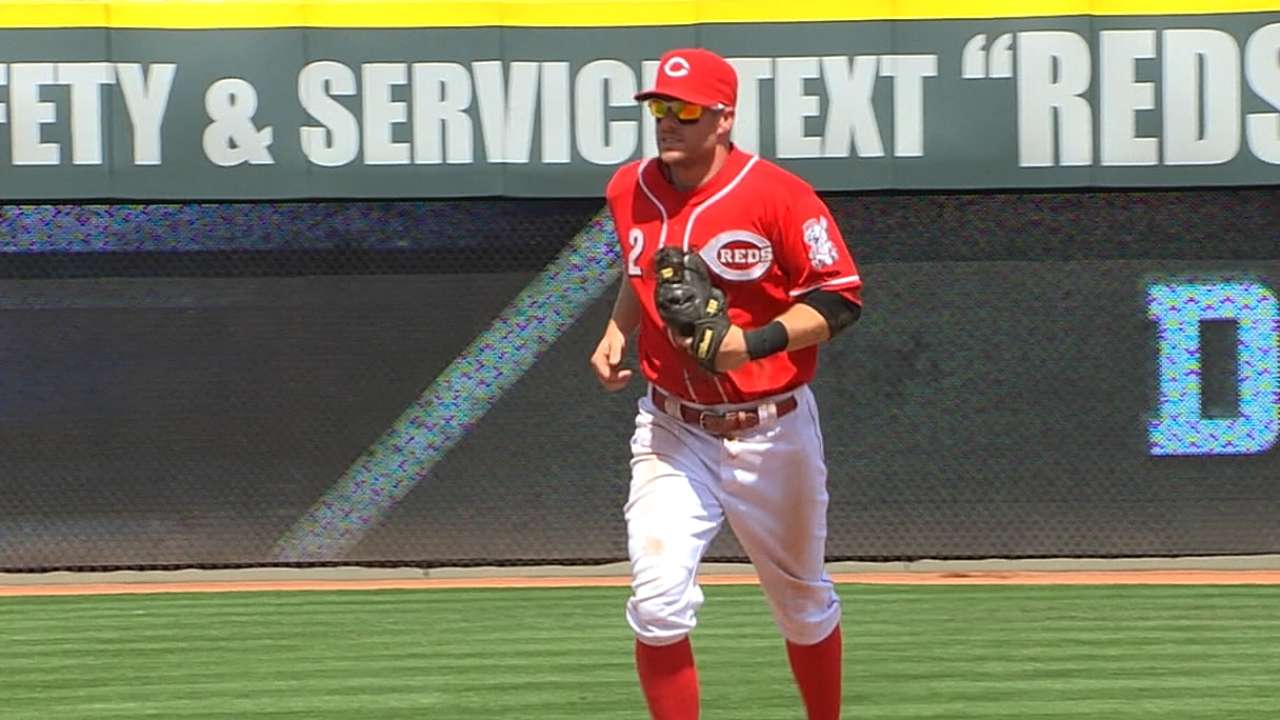 GOODYEAR, Ariz. -- A lack of offensive production often killed the Reds last season, leaving many hitters with a lot to prove during the 2015 campaign. Coming off of the worst year of his career, shortstop Zack Cozart is one of them.
"I tell everyone that I'm at the top of the list," Cozart said. "I want to prove I'm the hitter I was before last year. I look at last year and throw that one out of the door."
Cozart, 29, was never viewed as a top offensive weapon for Cincinnati, but he did provide 15 home runs as a rookie in 2012 and batted .254 with 12 homers and 63 RBIs in 2013. It all fell apart for him in 2014, however.
In 147 games last season, Cozart batted .221/.268/.300 with four homers and 38 RBIs. His average, on-base percentage, slugging percentage and .255 batting average on balls in play (BABIP) ranked last among the 22 shortstops that qualified, according to fangraphs.com.
Cozart went home to Tennessee in the offseason feeling quite frustrated.
"I didn't have the season I wanted to have, individually and as a team," he said. "Not that I took it for granted the years before going into the offseason, but this offseason, I paid attention to detail a little better. Even when I was doing my workouts, I was so much more motivated. I'm excited to prove people wrong, individually, and I know that this team is excited to prove how good we're going to be."
During the winter, Cozart studied video of his swing from last year and compared it to his better days. He finally noticed a glitch, not previously spotted, where his front shoulder was not turning in like it should.
"I looked to find that one little thing I was doing different. It was something really small and it was an easy fix," said Cozart, who will likely bat eighth most often in manager Bryan Price's lineup. "That's a huge positive when you find something like that."
Defensively, Cozart ranked near the top of the league in several metrics and helped save the team some runs. However, the Reds also want him to pull his weight offensively, and it wasn't too subtle of a message when general manager Walt Jocketty acquired shortstop Eugenio Suarez in the trade that sent pitcher Alfredo Simon to the Tigers. The 23-year-old Suarez doesn't have the fielding reputation of Cozart, but he has a good bat and a track record of hitting in the Minors.
"I don't need him to motivate me," Cozart said of Suarez. "It's a given I have to play better than I did last year. I motivate myself. I expect myself to have a lot better year, for sure."
Mark Sheldon is a reporter for MLB.com. Read his blog, Mark My Word, and follow him on Twitter @m_sheldon. This story was not subject to the approval of Major League Baseball or its clubs.