Kelly at spring camp, feeling good after minor stroke
Ex-Twins manager lending assistance to Molitor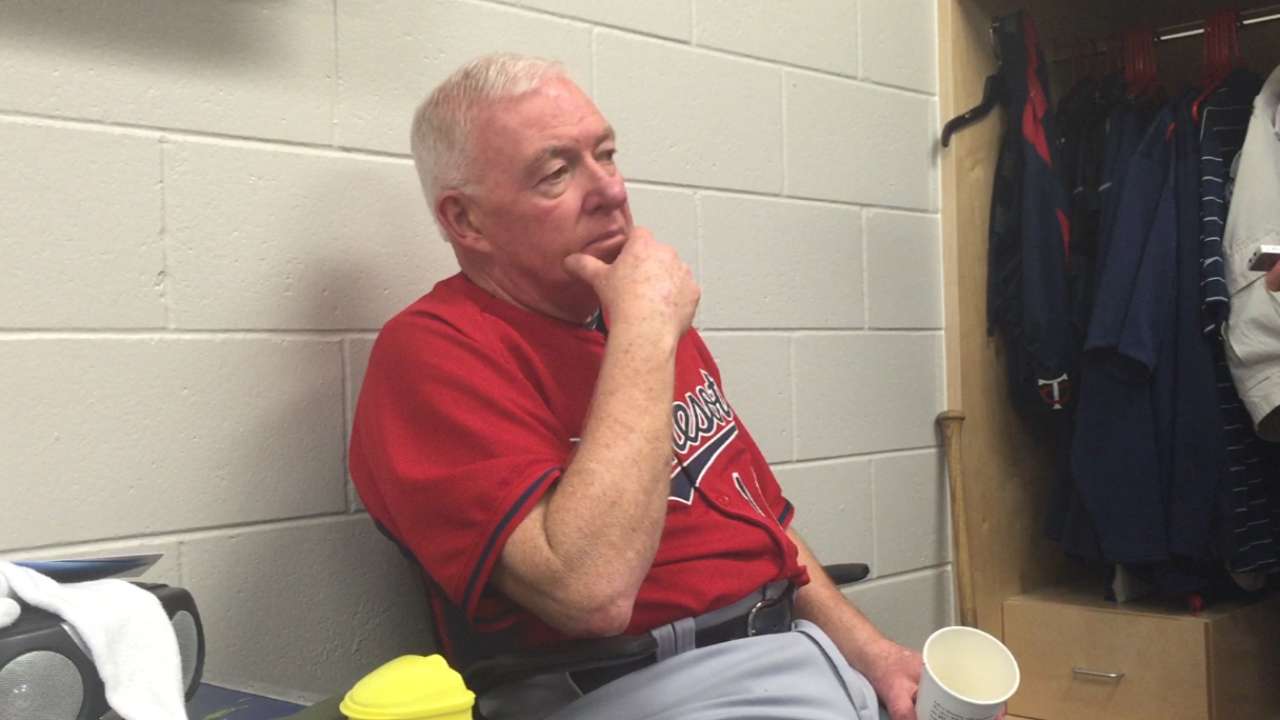 FORT MYERS, Fla. -- Former Twins manager Tom Kelly arrived at camp Thursday and said he's doing well since suffering a minor stroke in late September.
Kelly, who managed the Twins to two World Series titles in his 16 years as manager from 1986-2001, will assist manager Paul Molitor this spring, but just has to be careful not to overexert himself.
"I'm fine," Kelly said. "I seem to do really well when I operate at my own pace. It's a good pace. It's maybe not the same pace I had when I was 25 years old. A gentleman reminded me that I was 64 years old, and not 25. But I have a decent, working pace. But to turn that notch to 10, that's not going to work. Maybe in a couple weeks, it might. The doctors keep reminding me I'm at five months, and they say it's a six-month thing."
Kelly said he has been swinging a bat in preparation for Spring Training, as he usually hits ground balls to infielders during drills, but that he overdid it last week and had to rest for a day or two. So he'll be more mindful this time around, as he doesn't want to overwork himself.
Kelly added that he's also decided that he won't be doing color commentary for Fox Sports North this year after serving as a guest broadcaster in recent years.
"I'm pretty much retired from that business," Kelly said. "Fox called the other day. I don't know how good I do at that. Some people enjoy it, I'm not sure if I enjoy it as some people may."
Kelly will also be around to give Molitor advice this spring, as the two are close with Kelly serving as Molitor's manager from 1996-98. One of the key pieces of advice Kelly offered was to try to treat a few games during the last week of Spring Training as regular-season games to get a feel for how to manage given his inexperience.
"He's in a position where he should manage a game or two," Kelly said. "So at least when you start Opening Day, you've got in your mind that you've done this and you've handled it."
Molitor said he was happy to see Kelly back in Fort Myers, as he's the one who created the blueprint for the way they run things during Spring Training.
"It's a good thing for me," Molitor said. "The understatement of the year is that he has a wealth of knowledge. He just sees things in a different light. He just experienced everything you can experience up here, obviously."
Rhett Bollinger is a reporter for MLB.com. Read his blog, Bollinger Beat, and follow him on Twitter @RhettBollinger. This story was not subject to the approval of Major League Baseball or its clubs.