MLB.com Columnist
Lyle Spencer
Jackson an X-factor for motivated Mariners
Center fielder's glove work, speed add dimension to playoff-hungry squad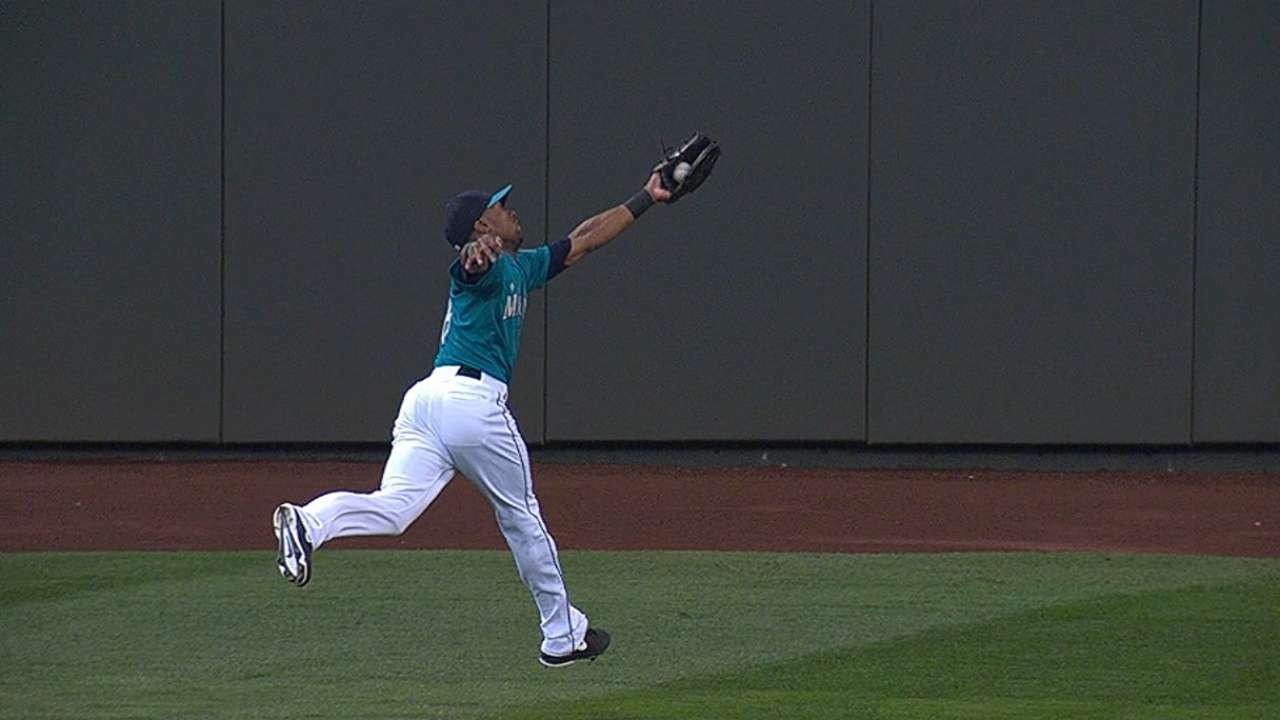 PEORIA, Ariz. -- The stars have aligned in Seattle, where Felix Hernandez, Robinson Cano and Kyle Seager welcome Nelson Cruz to the troupe. With the national media focused on a big four the Mariners will stack up against any in the game, the key to the whole operation could be Austin Jackson, the center fielder Seattle acquired from Detroit last July 31.
Jackson struggled offensively in his new environment, but he's proven goods: an exciting leadoff catalyst who steals runs with his glove.
"I've been the leadoff guy for some good lineups," Jackson said, referring to the Tigers outfits that appeared in seven postseason series, including the 2012 World Series against the champion Giants, in three years. "It's great being here from the start this year.
"You look at the offseason moves that were made, you see an organization moving in a direction to win -- not just win a division but go deep in the playoffs. That's how this team is being built."
While his .229/.267/.260 slash line in 54 games the final two months with the Mariners might concern fans, the big picture -- a .274/.336/.402 career line -- gives a more accurate measure of Jackson's production level.
He strikes out too often to be a prototypical leadoff man, but only 14 hitters in the Majors saw more pitches than Jackson in 2014. He works counts and manufactures runs with aggression and speed.
Getting comfortable at Safeco Field will help. After hitting .312 with a .371 OBP in 54 games at Comerica Park last year, he fell to .243 and .270, respectively, in 27 games at Safeco.
"Any field you play on, you've got to make adjustments with how you're hitting," Jackson said. "The best thing there is trying to stay out of the air. A lot of balls get run down. You want to hit line drives and put it on the ground as much as possible."
Locked in, Jackson can be a force. In 2012, his best season, he hit .300 with a .377 on-base percentage, leading the AL for the second time in triples with 10 to go with 16 homers, 66 RBIs and 103 runs.
Defensively, only Carlos Gomez, Lorenzo Cain and Juan Lagares have saved more runs in center than Jackson's 50 the past five seasons, according to Baseball Info Solutions. In a division that puts a premium on defense with spacious parks, his wheels and glove are essential components for manager Lloyd McClendon.
"He didn't play as well as he could have when he came over from an offensive standpoint, but I think he won a lot of games with his defense," McClendon said. "He's a better player from the offensive side of the ball than he showed in September.
"We probably played him a little bit more than we should have down the stretch, because I just had so much confidence in his defense. I think he's the type of player that probably needs a game off to stay strong throughout the year. You look at his frame and he's such a greyhound. The grind can get to him a little at times. So I would suspect that we'd rest him at least once a week."
McClendon, a straight shooter, has Jackson's full respect.
"There are not going to be a lot of meetings," Jackson said. "Just go play hard. He expects you to be a professional -- to be prepared and do your job. That's all you can ask for."
In his prime at 28, Jackson is surrounded by an ideal blend of good humor men -- notably quirky closer Fernando Rodney and King Felix -- and those who quietly go about their business. In Detroit, he played alongside Torii Hunter and Miguel Cabrera, two of the game's great leaders, and senses the same kind of chemistry brewing in Seattle.
"When I got here last year, the guys accepted me, made me feel comfortable from the start," Jackson said. "We've got a lot of different personalities. I think when guys know you want to win, they welcome you as one of their own."
The common thread is a determination to take it one step beyond their 2014 finish, when the Mariners were one win shy of tying for an AL Wild Card spot that would have ended a postseason drought stretching to 2001.
"Getting that close and coming up short, it puts a spark in guys," Jackson said. "It's definitely a motivational factor. We can't wait to get started."
Lyle Spencer is a reporter for MLB.com. This story was not subject to the approval of Major League Baseball or its clubs.