McCutchen declares Pirates' outfield baseball's best
Former MVP states case for Pittsburgh trio over Kemp's group in San Diego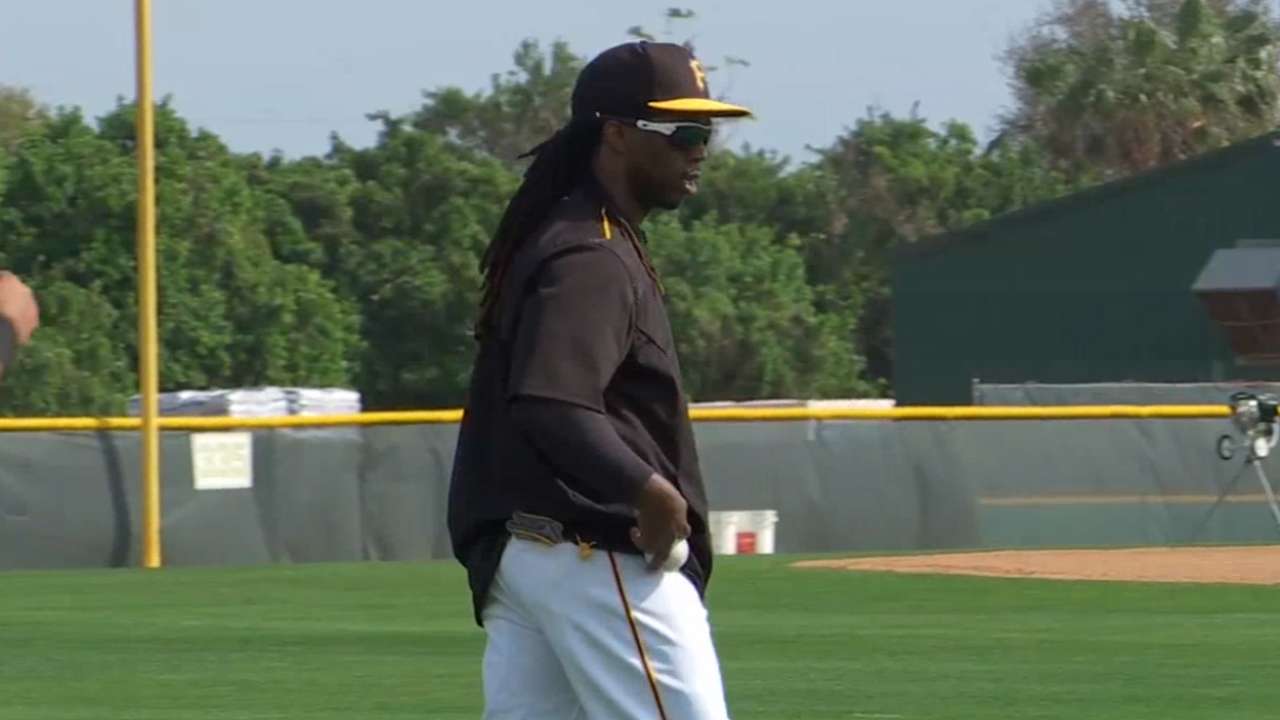 BRADENTON, Fla. -- Three years ago, when Matt Kemp showed up for Spring Training with a National League Gold Glove in his bag, Andrew McCutchen had a message for his buddy.
"You've got it now, but I'm coming to get it," warned McCutchen, who sure enough ousted Kemp from the NL's Gold Glove outfield in 2012.
Kemp is at it again -- playing the one-upmanship game -- and so is McCutchen.
The day after Kemp claimed the Major Leagues' best outfield for his new San Diego Padres, McCutchen was quick to object.
"That's a lie. Not on paper they aren't," McCutchen said Thursday morning.
Nor on grass, McCutchen and others here are convinced. He will take Starling Marte to his right and Gregory Polanco to his left.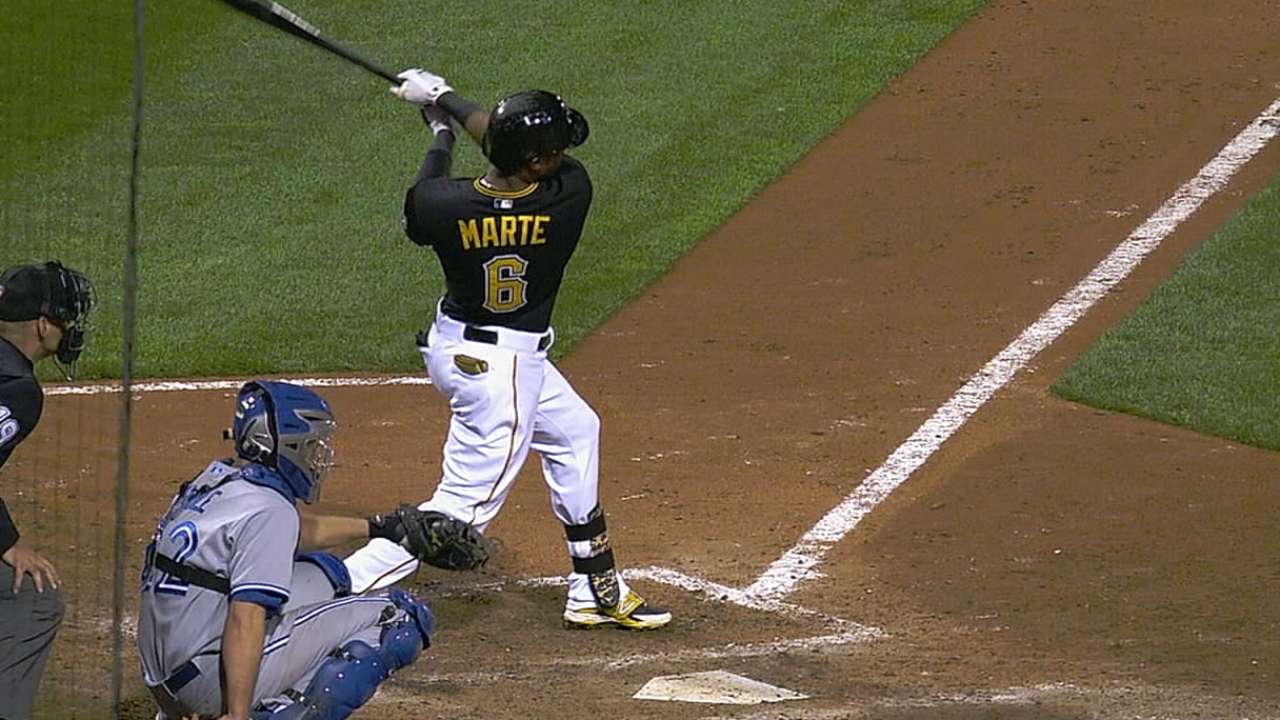 Kemp, slated to occupy right field for the Padres, spoke up for his neighbors, Justin Upton in left and Wil Myers in center, when asked for his opinion of the best outfield in the Majors.
"It's right here," he said. "Right here in San Diego. You can write it down -- and print it."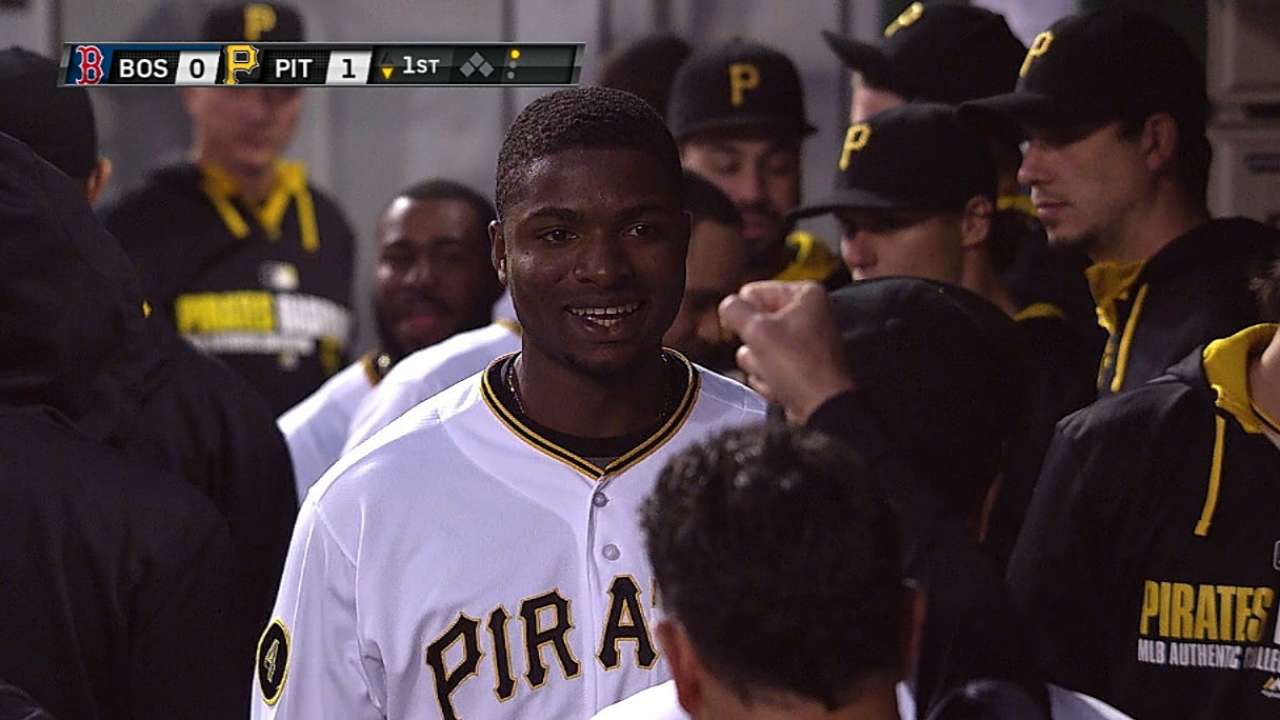 McCutchen took that quote as a correct reflection of where Kemp was coming from -- yesteryear. These days things get posted, and the new outfield age belongs to the Bucs.
Having three natural center fielders in the outfield would be overkill in many ballparks. But not in PNC Park, where a North Side notch in left-center and challenging nooks in right put a premium on line-to-line speed.
"Their ability to go get a ball, to read balls off the bat … if there is some air underneath a ball, we have three men more than capable of running it down and getting it in leather," Pirates manager Clint Hurdle said. "All have strong, accurate arms. When they're on the field, it lifts up our entire defensive game.
"It will be a very exciting outfield to watch develop, from the start of the season. Look at what we had last year when all three were on the field."
That happened relatively few times, even though Polanco arrived from Triple-A Indianapolis on June 10. Between back-to-back DL stints by Marte and McCutchen and Polanco's second-half slump, the trio shared the starting lineup in only 38 games. The Bucs won 24 of them -- a .632 winning percentage, or 102 wins across a full season.
Tom Singer is a reporter for MLB.com and writes an MLBlog Change for a Nickel. Follow him on Twitter @Tom_Singer. This story was not subject to the approval of Major League Baseball or its clubs.