Stolen-base king Gordon focused on runs, not running
JUPITER, Fla. -- Swiping a Major League-most 64 bases in 2014 doesn't have Dee Gordon thirsting for more. You won't hear the Marlins second baseman boasting that he is aiming for some astronomical number like 100.
What matters most to Gordon is getting on base, and ultimately scoring runs. As much attention as he received for being the stolen-base king a year ago with the Dodgers, the fleet-footed second baseman brings up the fact he also scored 92 runs.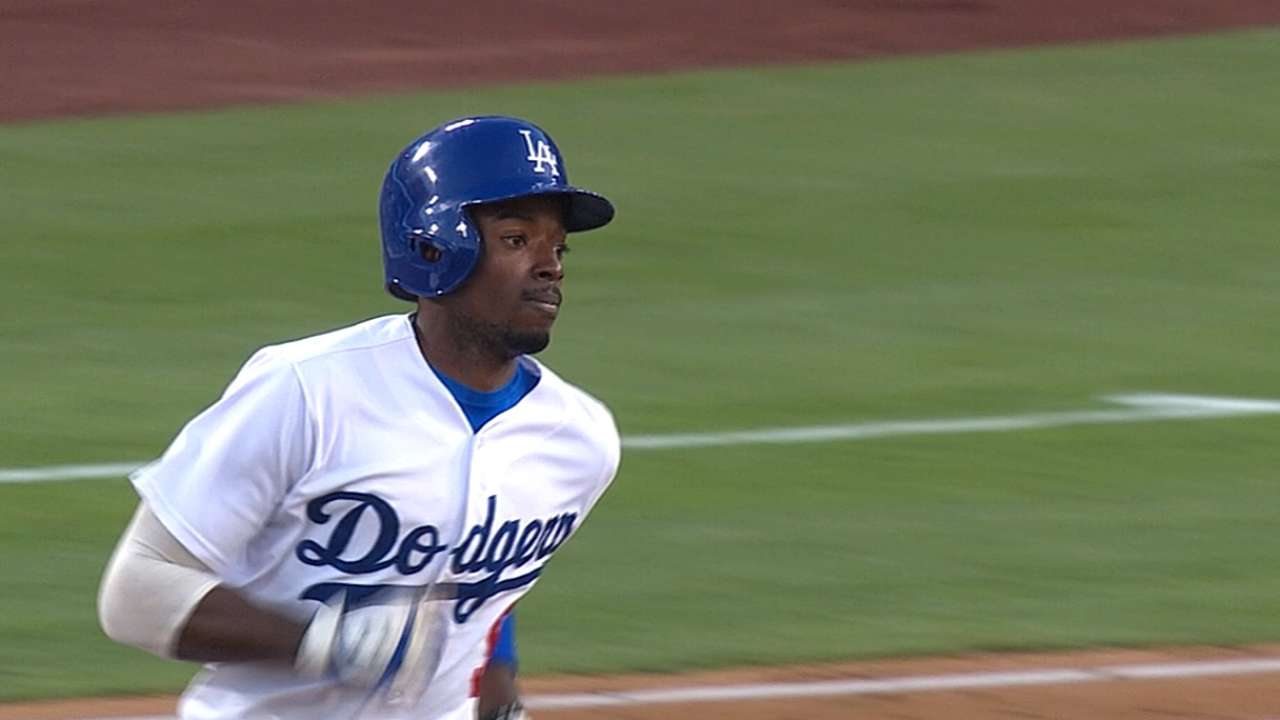 If stealing bases best enables him to eventually cross the plate, then he will swipe as many bases as necessary.
"No goal," Gordon said on stolen bases. "I just want to score runs. That's it. I scored a lot of runs last year, and I don't think nobody realizes that. Whatever [stolen bases] I get is what I get. Whatever is going to make me score is what I want to do."
Gordon's 92 runs were tied with Yasiel Puig for eighth most in the National League.
Gordon had a breakout season with Los Angeles in 2014, becoming an All-Star for the first time. When the Marlins learned the speedster was available in the offseason, they acted quickly to make him their regular second baseman. At the Winter Meetings in December, Gordon became a centerpiece of a seven-player trade.
An Avon Park, Fla., native, Gordon is glad to be in Miami. In Los Angeles, he was part of a playoff team, as well as in a mass-media market. With the Marlins, there is a more subdued setting for the 26-year-old.
"Totally different," he said. "It's definitely a more relaxed atmosphere. That's just kind of how I am. I'm laid-back."
In assembling their roster, the Marlins targeted players who have experienced winning. Gordon, Dan Haren, Michael Morse, Mat Latos, Martin Prado and Ichiro Suzuki each have been on playoff teams. Morse won the World Series last year with the Giants.
What do the Marlins need to do to reach the next level?
"Listen to Michael Morse," Gordon said. "He won a World Series last year, so he knows something."
To develop a similar edge, Gordon noted the team must stay united and remain loose.
"The atmosphere is relaxed," the second baseman said. "Winning ballclubs have that. When you're always panicking or overthinking the situation, it's hard to win that way. Cohesion. It starts from the top, [president of baseball operations] Mike Hill, [general manager] Dan Jennings, the owner [Jeffrey Loria]. Everybody has been pretty cool."
Joe Frisaro is a reporter for MLB.com. He writes a blog, called The Fish Pond. Follow him on Twitter @JoeFrisaro. This story was not subject to the approval of Major League Baseball or its clubs.