Murphy focused on task at hand with Mets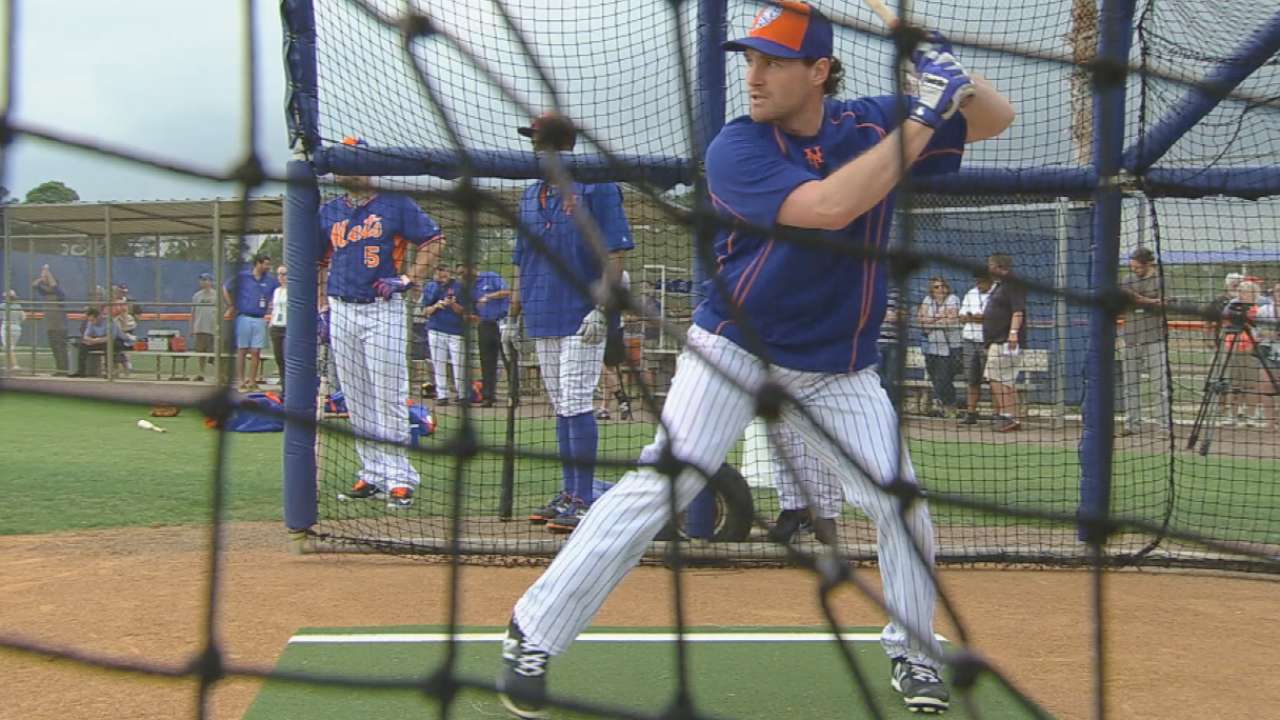 PORT ST. LUCIE, Fla. -- Six and a half years ago, Daniel Murphy arrived in Houston as a little-known 13th-round Draft pick trying to help the Mets win a pennant race. He spent much of the next half-decade trying to prove he belonged -- first in the big leagues, then at second base. Consistently, Murphy defied the odds.
Yet while the Mets have always appreciated Murphy's old-school skill set and attitude, they never rewarded him with a long-term contract extension. Instead, Murphy enters this season on an $8 million arbitration settlement, with no guarantees beyond it.
"$8 million is a lot of money," Murphy said, discussing his contract situation at length before the Mets' first morning of full-squad workouts. "That's a lot of scratch. I didn't think I'd make that much money ever. My wife and I looked at each other when we signed that deal, looking at each other kind of cross-eyed. 'They're going to pay us this much money to play baseball? Woof.'"
And so Murphy will play out what could be his final season as a Met under an expiring contract, ostensibly satisfied to test free agency this winter. Though Murphy said multiple times that he would be happy to discuss an extension with the only team he has known, the Mets have never broached the topic with his agents, Sam and Seth Levinson, in any formal way. Nor do they seem likely to. Mets general manager Sandy Alderson loathes long-term contracts in general, and particularly for players on the wrong side of 30 (Murphy will celebrate his 30th birthday before Opening Day).
More than that, Murphy does not possess standout power and has long been a defensive liability at second base. While he has remained remarkably healthy over the past three seasons, averaging 153 games per year, he struggled through a series of major injuries earlier in his career. All of which makes it unlikely that chief operating officer Jeff Wilpon, in Murphy's words, will discuss extending him over a dinner with the Levinsons at Tao.
"I'm getting fairly well-compensated this year, so it's not like they're not paying me," Murphy said. "The organization has a direction. Just because I'm not locked up to a multiyear extension doesn't mean I'm not a part of that direction right now. And I am a part of what's happening in 2015, which is exciting, and which is what myself and the organization and everybody in that locker room is most concerned with."
For Murphy, that means trying to improve upon the .289 average and .734 OPS he posted last season, predominantly from the No. 2 hole to which he has grown accustomed. Beyond that, he does not know.
"I'm a Met for this year, for sure," Murphy said. "I'd love to be here in the future, but that is way in the distant future. I've got too much anxiety about today to worry about what happens in November."
Anthony DiComo is a reporter for MLB.com. Follow him on Twitter @AnthonyDicomo. This story was not subject to the approval of Major League Baseball or its clubs.