Brewers' deal with K-Rod shakes up bullpen
Broxton moves down to setup role, while others contend to make team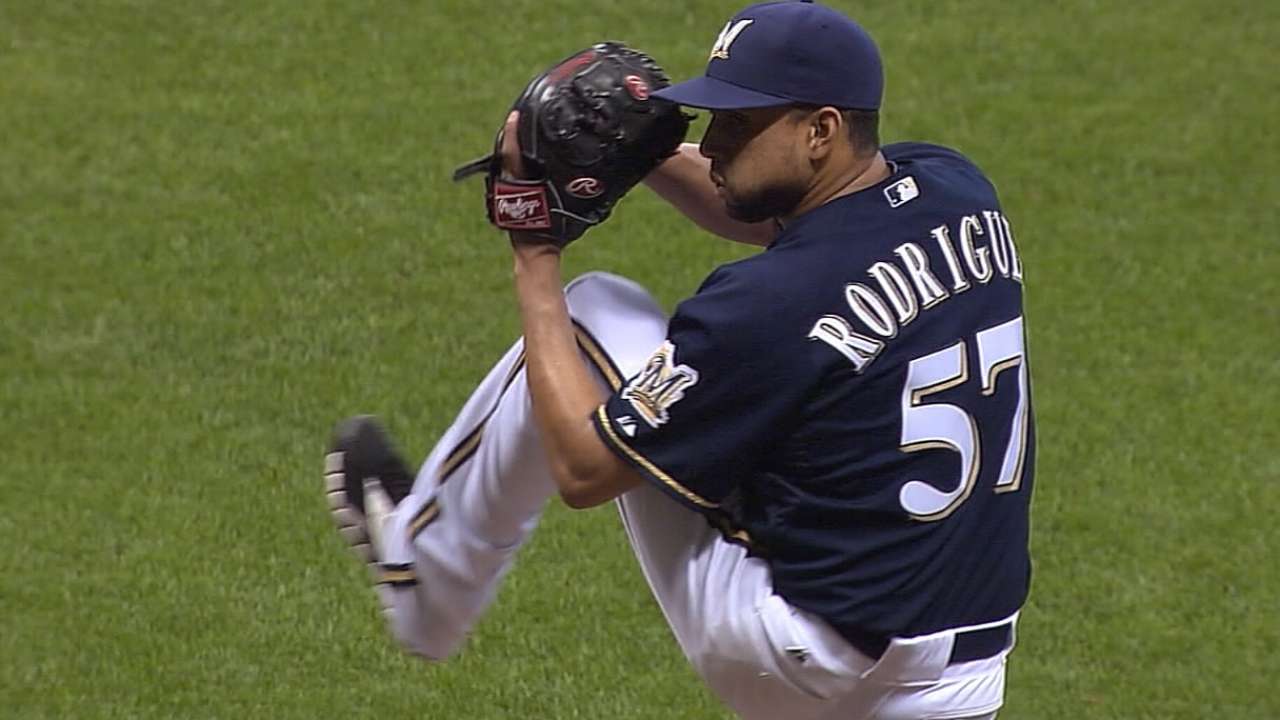 PHOENIX -- The Brewers' two-year deal with Francisco Rodriguez caused a ripple effect throughout the rest of the bullpen, but if the man most affected was feeling down about a potentially reduced role, he didn't let on.
"As long as we win, I don't care," said Jonathan Broxton, who was positioned to be the closer before Rodriguez returned Thursday on a two-year, $13 million contract. "I haven't paid attention to it. Somebody said something this morning, so I looked it up. That was it.
"We have a lot in the bullpen. Like I said the other day, there are important outs in the seventh, eighth and ninth innings."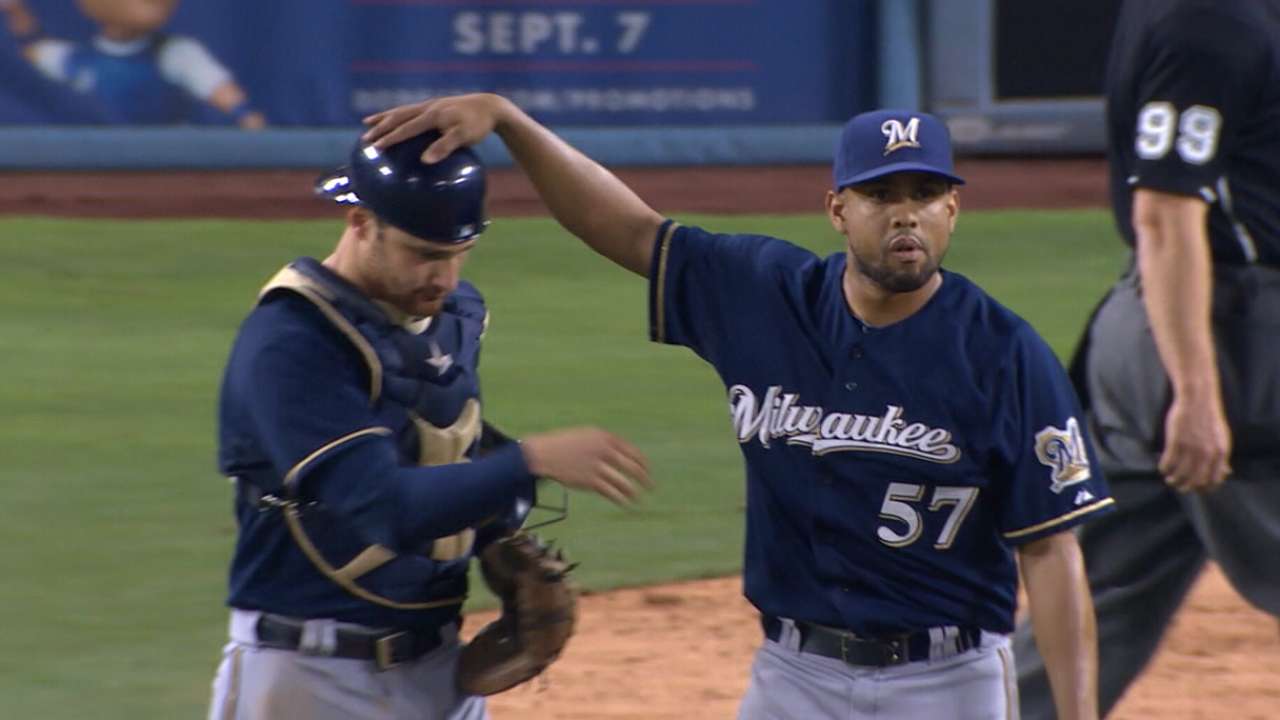 The Brewers have a growing list of options for those innings. With Rodriguez back in the fold, Broxton returned to a setup role with left-hander Will Smith, and Jeremy Jeffress dropped to the seventh inning alongside Brandon Kintzler. Neal Cotts is positioned to be Milwaukee's second left-hander, and former closer Jim Henderson and 2014 early-season standout Tyler Thornburg have been making encouraging strides back from injuries.
That's eight names for what is expected to be a seven-man bullpen.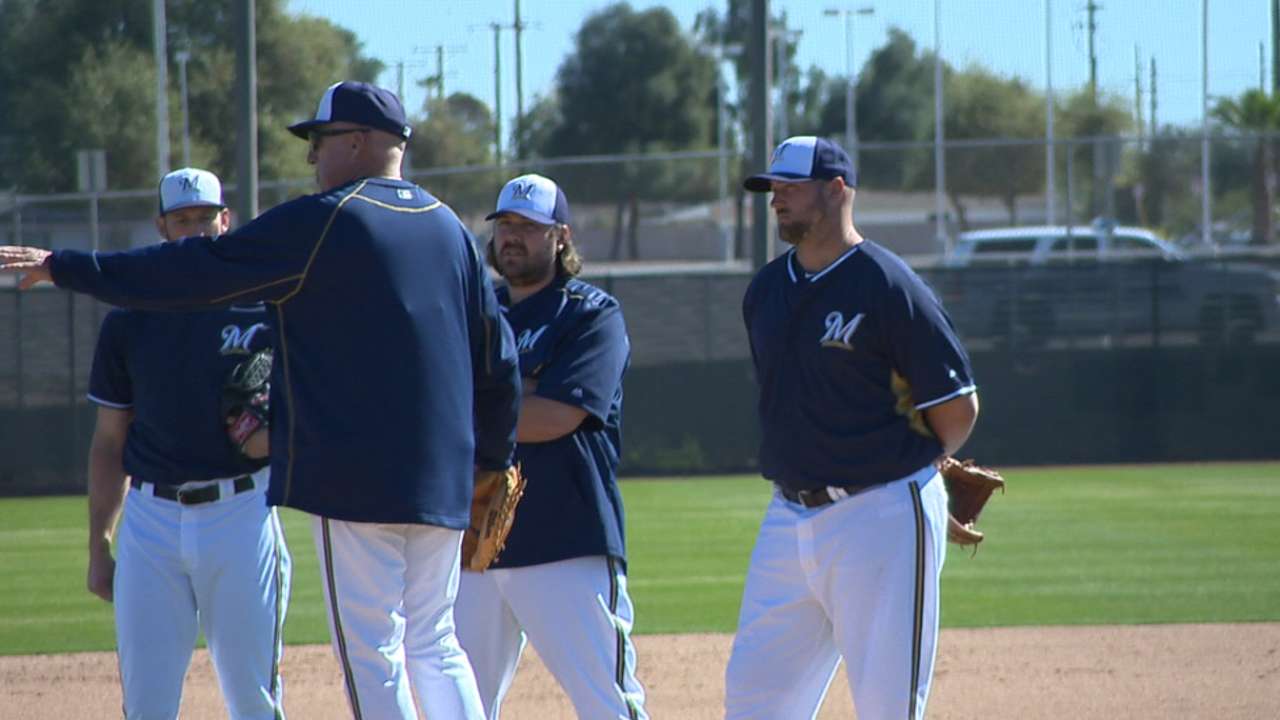 Other notables in camp vying for a bullpen job include Rob Wooten, who was fifth on the team last season with 40 appearances, and non-roster invitees Chris Perez and Dontrelle Willis. Perez has closing experience.
"It's the same," Perez said of how Rodriguez's return could influence his bid. "I have to make the team. I wasn't trying to get the closer's spot anyway. It's just one less spot to be won."
Perez has some "outs" built into his deal. Because of his level of Major League service, the Brewers must pay him a $100,000 bonus five days before the season or release him. If they retain his rights and Perez goes to the Minor Leagues, he has the choice to opt out on May 1 and June 1.
Adam McCalvy is a reporter for MLB.com. Read his blog, Brew Beat, and follow him on Twitter at @AdamMcCalvy. This story was not subject to the approval of Major League Baseball or its clubs.