Over injury hurdle, Beckham excited to be at camp
Former No. 1 overall pick missed nearly all of 2014 with torn ACL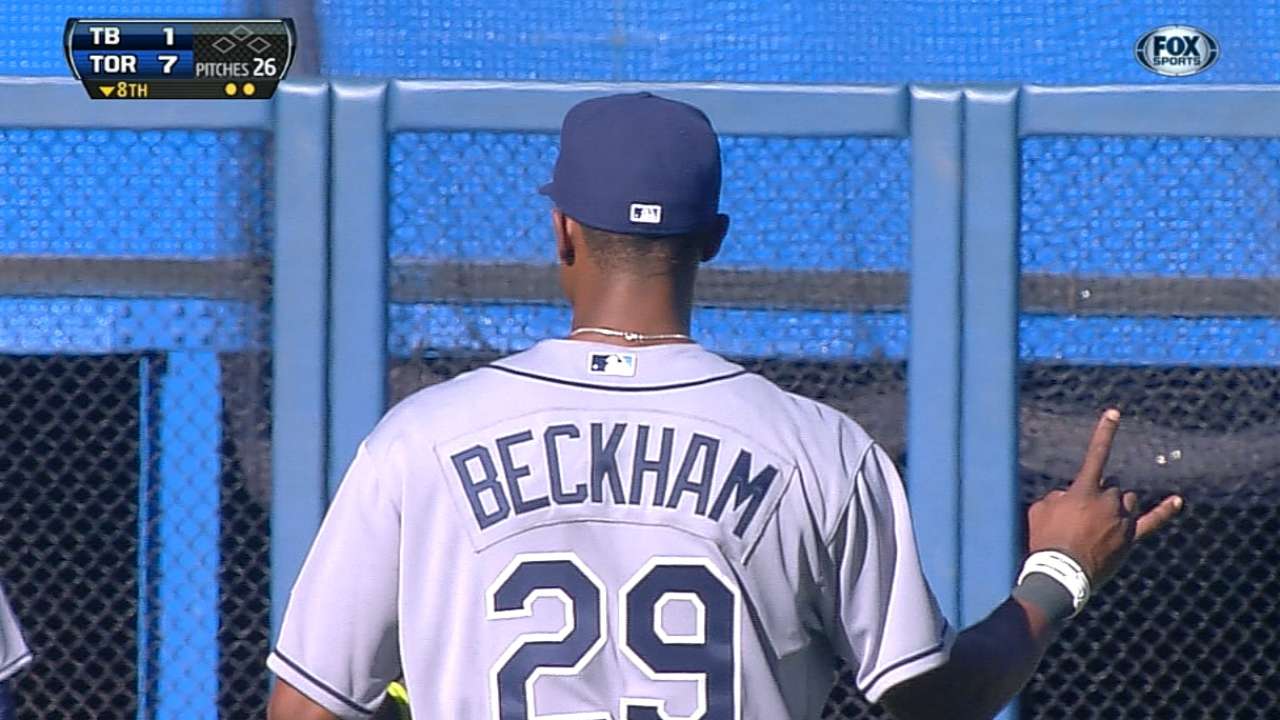 PORT CHARLOTTE, Fla. -- Tim Beckham doesn't look in the rearview mirror.
Missed opportunities, different situations and twists of fate aren't important to Beckham, who chooses to stay in the present.
The past is "not anything I think about," said Beckham, the top player selected in the 2008 First-Year Player Draft. "That's not anything I want to think about right now. I'm here, I'm healthy, and I'll take it one day at a time. Just to be able to be out there with the guys, laughing and taking ground balls, swinging, that's what the game's about, having fun. That's what we started out doing as kids. This is the game we love."
Beckham, 25, tore his right anterior cruciate ligament, which required surgery on Dec. 17, 2013. After being shut down for most of the 2014 season, he joined Triple-A Durham on Aug. 12 and promptly went 4-for-6 at Rochester and hit safely in his first nine games back.
A shortstop for most of his career, Beckham has added second base to his resume the past couple of years and now finds himself in the mix to claim a middle-infield spot this spring.
"It's a blessing to be back on the field with the fellas," Beckham said. "It's a blessing knowing I had reconstructive ACL surgery last year and I'm able to move around. Some guys don't bounce back from that. Just happy to be back with the team and not playing with a [knee] brace."
Rehabbing from knee surgery can be grueling mentally, as well as physically. Beckham believes last season's stint with the Bulls worked wonders for him.
"Coming back and playing last year, playing that month and a half, producing and helping the team out a lot," Bekcham said. "And we went pretty far in the playoffs. So that brought a lot of confidence back my way.
"Just sliding, jumping, those are big hurdles. Just doing stuff you don't do every day off the baseball field. I wouldn't be sliding if I wasn't in a game. So that month and a half was big for me."
Beckham allowed that he now has a different outlook on the game than he had prior to his injury.
"Definitely," Beckham said. "Sitting out a year, seeing your boys out here playing, at the end of the day this is what we love to do. This is what we were put here to do. I'm definitely ready to go and ready play every day."
Bill Chastain is a reporter for MLB.com. This story was not subject to the approval of Major League Baseball or its clubs.